This post may contain affiliate links. If you buy thru these links, we may earn a commission at no additional cost to you.
---
There are a lot of different kinds of dog chews out there… but are you wondering what the best and most long lasting dog chews are?
I've been on this mission for a few years now. And I'm happy to say that I've finally found the longest lasting dog chews that last months in our house with 3 strong chewers.
About my dogs… We have two 50-lb Australian Shepherd / Golden Retriever mixed breed siblings that are 3 years old. They're not power chewers who tend to destroy things — but they do like to chew hard for long periods at a time! Until recently, we also had an 80-lb Black Lab / Great Pyrenees mix who loved to chew bones — he just passed at the age of 14. And before that, we had an American Eskimo and a Black Lab that were avid chewers.
Below are my findings, after comparing some of the most popular dog chews out there. Hopefully, this will give you a few good options the next time you're shopping for long lasting dog chews for your fur babies.
Dog Toys vs. Dog Chews
As for dog toys that are often considered "long-lasting dog chews"… many dogs like to chew on Nylabones.
Not my dogs!
Nylabones are safe and durable — but if your dog won't spend time chewing on them, then they're not worth it as dog chews.
I've even tried the Nylabones with nubs and various flavors, but none of my dogs (specifically, 5 dogs over the past 30 years) have ever enjoyed them.
The closest bone-like toy that my dogs will spend a fair amount of time chewing on is this Benebone Real Flavor Dental Dog Chew Toy. (It's made in the USA, by the way.) We also have the wishbone shaped Benebone, but my prefer this shape:
The only other "toy" that I would put into the "long lasting dog chews" category is a Kong toy — the classic dome shaped one with a large hole on one end (to fill with tasty dog treats) a small hole on the other end (to prevent suction issues with your dog's tongue). If your dog is a power chewer, then you'll want the black Kong Extreme instead.
I've never had to throw away a Kong toy after my dog bit into the rubber or chewed it up. So in our house, Kong toys are considered long lasting. Keep in mind, I don't leave Kongs lying around the house (like I do dog toys and the Benebone) — so my dogs are not in the habit of chewing on Kongs after they're empty.
Of course, there are other dog toys that are made specifically for aggressive chewers (here's my list of the best indestructible dog toys). But in my mind, most dog toys are not durable, hard, bone-like objects that are intended to be chewed on consistently — day in and day out for long periods of time.
Plus, I know most people don't do this… but I try to make it clear to my dogs that dog toys (especially plush toys and dog toys with movable parts) are to be played with gently, while dog chews can be gnawed on relentlessly. That way, the toys in our house last a lot longer. I also rotate the dog toys — so my pups are always excited to get a "new" toy to play with that they haven't seen in awhile.
So, I set out to to my own experiment to find the best long lasting dog chews (not toys) for my dogs. I'm including the 2 longest-lasting dog toys mentioned above (Benebone and Kong Classic) on the following lists simply because they are good alternatives, long-lasting, and relatively inexpensive options — but they are not "technically" considered dog chews.
Now, let's see what makes each type of dog chew unique and how long lasting each one really is…
Longest Lasting Dog Chews – In Order Of Time
Just to be clear… when I'm talking about long lasting dog chews, I'm referring to something that will last several weeks… months… or even years before it's gone!
Because dogs that love to chew will want to chew a lot — and they need something that is strong, durable, and long-lasting. Otherwise, you'll go broke satisfying their need to chew.
TIP: If you're a first-time dog owner, then you might not realize how important it is to always supervise your dog whenever they are gnawing on something that could come apart — like a toy, a bone, or a dog chew. Small parts with rough edges could get caught in your dog's throat, or get stuck inside your dog's intestines making surgery inevitable. Try this… any time you see shards of bones or pieces of toys come off, calmly tell your dog to "drop it" and then immediately give them a treat for doing so. (That's what I do — works every time.)
Obviously, every dog will not enjoy every type of dog chew — so you'll want to try a couple different ones from top end of this list first, until you find the ones that your dog enjoys chewing on the longest and most often.
These are
the longest lasting

dog chews in our house:
Benebone dog dental chew toy — years
Raw bones from the butcher — months to years
Whole elk antlers — months to years
Split elk antlers — months to years
Goat horns — months to years
Cow hooves — weeks to months
Pressed rawhide (not the traditional rolled rawhide!) — weeks
Beef trachea — days to weeks
Bully sticks — hours to days
Himalayan chews (also called Yak cheese chews) — hours to days
Cow ears — hours
Kongs stuffed with treats — hours
NOTE: Items #6 thru #12 in this list could be chewed away completely in a much shorter time IF you don't remove it from the dog each time one-fourth of it gets chewed away (which could happen over several hours, or several days — depending on the dog). I rarely let my dogs have #6 thru #12 above for longer than 1 hour or so at a time. This serves 2 purposes: (1) It prevents an upset tummy from too much being ingested at a time; and (2) It makes the dog chew last even longer. For the record, I treat dog chews the same way that I treat dog toys — I rotate them, so they're always seen as "new" chews to my dogs over time.
And now, just for fun, following are my dogs' personal preferences — in order…
Long Lasting Dog Chews – In Order Of My Dogs' Favorites
Just like humans, no two dogs are alike. Every single dog will have a different order for their favorite dog chews.
I currently have two 50-lb Golden Retriever/Australian Shepherd mixed breed dogs who are strong chewers.
The order of this list remains generally the same even when I factor in the types of chews that my previous dogs enjoyed — an American Eskimo, a Black Lab, and a Black Lab/Great Pyrenees mix.
So this list summarizes my experience with 5 dogs over the past 30 years!
These are
my dogs' favorite

chews… the ones that they gravitate to first:
Cow hooves — because of the smell right away, and the chew factor after that
Beef trachea — because of the ease of gnawing off small, chewy bits at a time
Kongs stuffed with treats — because of the variety of dog treats inside
Raw bones from the butcher — because of the bits of fresh meat attached to raw bones
Bully sticks — because the smell is so strong and they're relatively easy to chew small pieces off
Pressed rawhide — because of the ease of gnawing off small, chewy bits over time
Whole elk antlers — because of the rough edges that make it easier to grab on and chew for long lengths of time
Split elk antlers — because of the marrow in the middle that's easily accessible, but it's very hard and not that strong of a draw for my dogs
Himalayan chews — because of the ease of chewing off bite-sized pieces and eating them quickly
Cow ears — because of the ease of biting off small pieces (which I don't let my dogs eat) — they just chew them off, spit them out, and leave them on the rug for me to pick up
Goat horns — because of their "slickness", they're harder to hold onto for long periods of time, and the hard marrow in the center doesn't seem to be much of a draw
Benebone dog chew toy — because it's next to impossible to chew parts of it off, yet they like the rough nubs that are built into it and the even rougher spots where they've chewed on it
The Bottom Line
Longer lasting dog chews mean:
Longer periods of healthy chewing
Less boredom
Greater brain stimulation
Less destruction (chewing on things they shouldn't)
Plus, they're great for your dog's teeth!
That is, unless your dog is an overly aggressive chewer…
An aggressive chewer is a dog that chews mainly for the purpose of destroying. If your dog tends to bite down (rather than gnaw) when chewing, then your dog is an aggressive chewer.
TIP: If your dog chews to destroy, then you need to supervise very closely to see how your dog chews on each of the items above. Be sure to check your dog's teeth regularly — for fractures and/or excessive wear — as both would require a visit to the veterinarian's office.
Here are a few interesting things that I've learned from doing this experiment:
Bigger bones and chews are not necessarily preferred by my dogs — they like medium-sized dog chews that they can more easily maneuver.
Odd-shaped elk antler dog chews are the best ones according to my dogs, because they have more places to grab onto the antler — so now I look for lots of bulges at the base and irregular-shaped antlers.
Split antlers that have the marrow easily accessible are not necessarily preferred by my dogs — so I tend to buy split antler dog chews only when they're on sale and buy whole antlers most of the time instead.
The smellier the better, in my dogs' opinion!
Are you wondering which size dog chews you should be buying?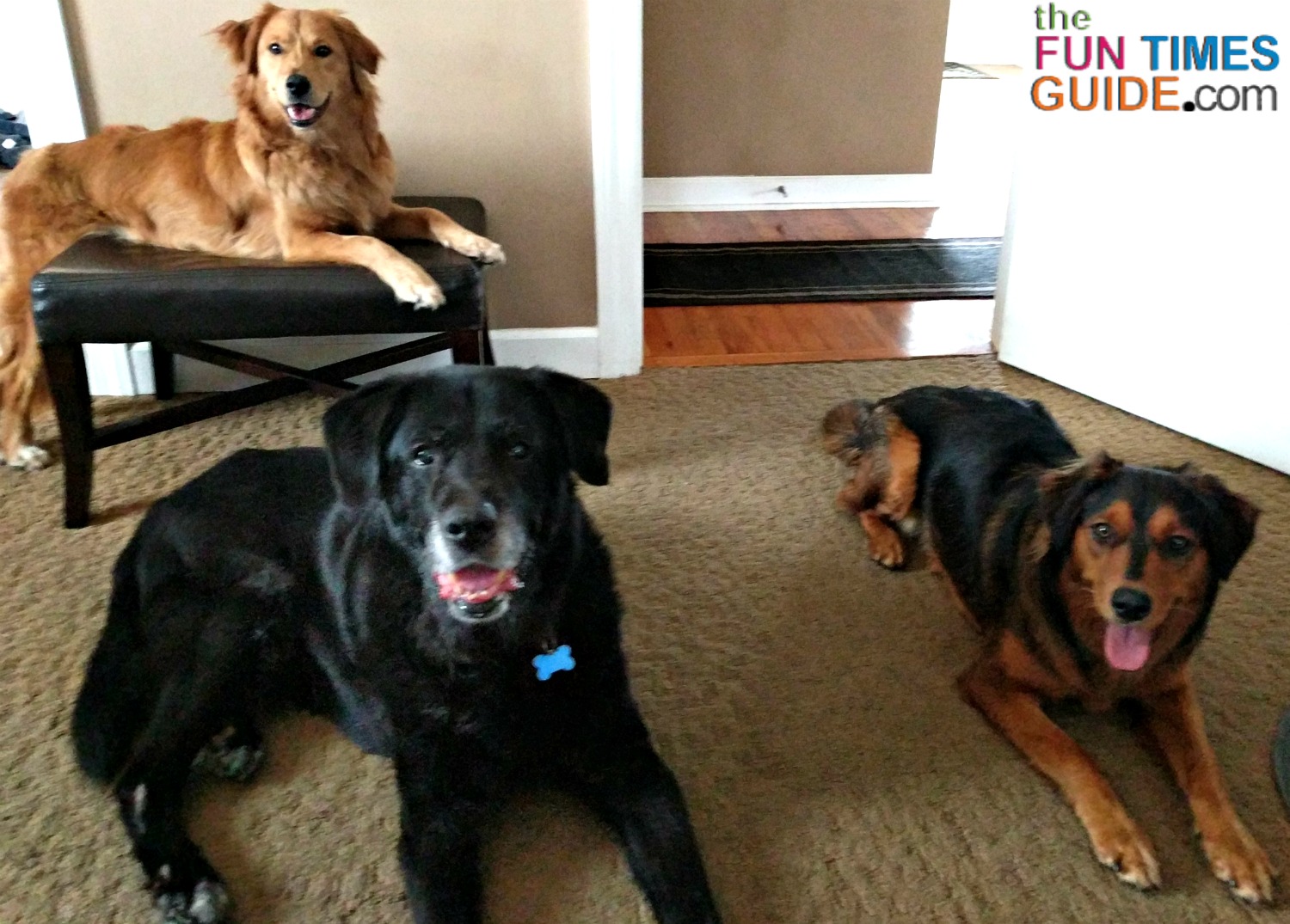 Here's a good size guide:
Small size dog chews — best for 10 to 20 lb. dogs
Medium size dog chews — best for 20 to 45 lb. dogs
Large size dog chews — best for 45 lb. dogs and larger
The right sized bones can save Fido a lot of dental trouble and save you tons of money. I usually recommend feeding lamb or goat bones twice a week [instead of beef, buffalo, or bison shank bones]. The abrasive action of these hard, but not too thick, bones is perfect for keeping your dog's teeth shiny without the risk of dental fractures.

~Dr. Peter Dobias, DVM
I've tried to include every single type of long lasting dog chew in my experiment. I personally cannot think of another type of dog chew that would be considered long-lasting.
If I've missed one, please let me know in the comments.
Other types of dog chews do exist — but, unfortunately, they are more like a quick snack than a long lasting dog chew for my dogs!
What About Rawhide Bones?
While I don't give my dogs rawhide bones (I stopped that back in 1990-something), I can appreciate the following quote from the American Kennel Club regarding dogs and rawhide bones.
I think it's a good explanation as to why some dogs may be fine with rawhide and others may not. (Mine are not. Although some of my friends have dogs that are only light chewers — and they can make a whole rawhide dog chew last a few months.)
Rawhides are meant to be long lasting chews that break down into tiny, soft pieces over time. However, strong chewers are typically able to break off large chunks that can pose a major choking hazard or cause an intestinal blockage — both are life-threatening events. You can help prevent this from happening by offering an appropriately sized rawhide, but it's best to avoid them if your dog is a very heavy chewer. For dogs that are soft chewers, rawhides are generally considered to be safe treats because these dogs don't break them down into chunks.

~American Kennel Club (AKC)
Actually, the entire article from the AKC att the link above provides thorough details about the safety of rawhide bones for dogs.
This video starts out "silly", but it actually shows the entire process of making rawhide dog chews:
---
(…and here's the Facebook post he refers to in the video.)
What If Your Dog Doesn't Like Chews?
Here are a few things you can do to get your dog interested in a dog chew:
Use sandpaper or a nail file to file down a few areas on elk antlers to refresh the scent.
Dip dog chews in organic coconut oil for some added flavor — plus healthy gums, and teeth! (Coconut oil has antibacterial properties.)
Smear some peanut butter into the nooks and crannies of a dog bone.
Soak dog bones and chews in beef broth or chicken broth.
Freeze it before giving to your dog. Sometimes the chill factor makes it feel better on a dog's teeth and gums.
Stuff holes and large areas of bones and chews with tasty treats (just about anything that you would normally put inside a Kong toy).
Try removing dog chews (and toys) for some time period — either weeks or months. Then, re-introduce them to your dog later. (I rotate all toys, chews, and bones in our house… because variety is the spice of life!)
Like this post? Save it to read again later… or share with others on Pinterest!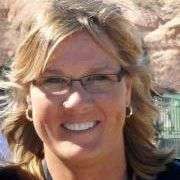 I like to help Dog Parents find unique ways to do things that will save time & money — so I write about "outside the box" Dog Tips and Dog Hacks that most wouldn't think of. I'm a lifelong dog owner — currently have 2 mixed breed Golden Aussies that we found abandoned on the side of the road as puppies. I've always trained my own dogs and help friends train theirs, as well. Professionally, I worked at a vet and have several friends who are veterinarians — whom I consult with regularly. (And just because I love animals so much, I also worked at a Zoo for awhile!) I've been sharing my best ideas with others by blogging full-time since 1998 (the same year that Google started… and before the days of Facebook and YouTube). My daily motivation is to help first-time dog owners be better prepared from the first day your new puppy enters your home. I like to help dog owners understand what's 'normal' and what you can expect in terms of living with and training your dog — how to get through the ups & downs of potty training, chewing, teaching commands, getting your dog to listen, and everything else that takes place during that hectic first year! When I'm not training, walking, grooming, or making homemade treats for my dogs, you will find me at the corner of Good News & Fun Times as publisher of The Fun Times Guide (32 fun & helpful websites). To date, I've written over 600 articles for dog owners on this site! Many of them have upwards of 200K shares.