This post may contain affiliate links. If you buy thru these links, we may earn a commission at no additional cost to you.
---
Does your dog travel with you on car rides? Mine too.
We have 2 dogs — so all of our dog travel necessities are automatically doubled.
Before our baby arrived, we would take our dogs everywhere with us. I mean, literally everywhere — including to work and on long motorcycle trips. It was a rare sight to see us without our dogs.
The dogs are still important members of our pack, but we simply don't travel like we used to.
We do, however, frequently travel to visit family — and we still always bring the furbabies with us. I mean, what's a road trip without man's best friend in tow?
I thought I'd share some of the unusual dog travel items we take along whenever we're in the car with our dogs. Perhaps you'll find them useful as well!
Following are the most important things to pack for dog travel adventures, plus a few clever dog car accessories that you probably haven't thought of:
7 Useful Dog Travel Accessories For The Car
#1 – Shower squeegee
I know it seems odd to use a shower squeegee in your car. But our one dog is a Husky/Pitbull mix — and he sheds something crazy! I mean both dogs shed unbelievably, and the evidence is clear from all the dog hair on the seats, carpet, and on the floor. But our Husky/Pit has the type of hair which gets woven into the fabric and carpet. It's practically impossible to remove — even with a vacuum or lint roller!
We've discovered the rubber strip on a shower squeegee will grab most of those woven hairs and loosen them enough to aid in removal while vacuuming.
We do have leather seats (and definitely prefer them over cloth seats for the easy-clean factor), but the dog hair still weaves itself into the carpet, the roof lining, and the cloth material behind the leather seats!
My husband is constantly vacuuming every time we go through the car wash, and we've found that if we use the squeegee first, the length of time spent vacuuming is significantly reduced.
BONUS: The squeegee works great on other fabrics too — such as a couch or duvet cover in your house.
#2 – Car dog bed
I made my own memory foam dog beds. They fit great in the back of our SUV, and they give the dogs a soft place to rest while traveling in the car.
We also bring the dog beds into wherever we are staying — so the dogs have their own bed when we reach our destination.
#3 – WeatherTech Car Mats
We use WeatherTech cargo floor liners for the back area — to protect the carpet as best we can.
Our dog travel area is in the back of a Cadillac Escalade, with the third row of seats folded up as a barrier between the 2nd row passenger seating.
We load the dogs in and out of the SUV back hatch. They basically jump in and out themselves. We may consider a dog car ramp for our one older dog eventually, but she still is able to jump in and out for now.
#4 – Dog ball launcher
One of the best dog car travel toys is the Chuckit dog ball launcher. This dog toy and extra tennis balls make it possible to play a game of fetch with the dogs anywhere we stop along the way.
Having this dog ball launcher readily available is a great way to exert some of the dogs' energy quickly — like when there's no time for a 20-minute walk!
#5 – Extra towels
Every now and then, one of our dogs will get into something nasty. Our Black Lab especially loves to find the most foul thing on the ground — and then she'll roll in it and be so proud of her newly acquired stench!
The extra dog towels help with incidents which require clean-up before the dogs are allowed back in the car.
#6 – Plastic shopping bags
We like to have a few self-dispensing plastic bag rolls on hand whenever we have the dogs with us. They give you a place to put messy towels — in the event one of the dogs gets into something dirty or smelly, or after swimming.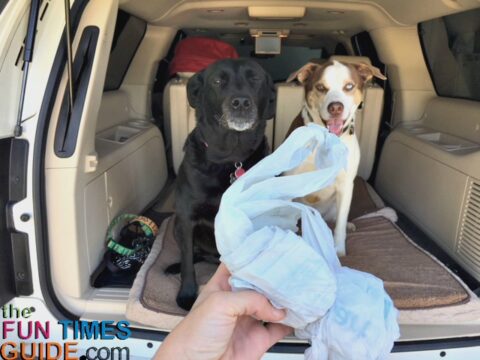 The plastic shopping bags are also great for car trash, toting small items in and out of lodging places, etc.
#7 – Dog waste bags
We try to be mindful about picking up after our dogs — so we always keep dog waste bags on hand.
Our favorite brand is Gorilla Supply pet waste pickup bags.
So those are our must-have dog travel accessories for the car. Now, onto important dog car safety items…
7 Basic Dog Travel Safety Items For The Car
#1 – Dog collar and ID tag
We make sure to put our dogs' collars on them whenever they're traveling in the car. In the event of a breakdown or needing roadside assistance, we want to be able to handle the dogs and keep them safe.
We also keep their ID tags up-to-date with current phone numbers too — because you just never know.
#2 – Vaccination records and vet contact
We like to keep an updated copy of the dogs' vaccination records inside the dog food storage container at all times. (It's taped under the lid.) This way, we have it whenever we travel with them. So if we ever need dog boarding for some reason, we have the proper papers ready — along with their food.
Since the veterinarian's phone number is on the dogs' vaccination records, we also have a way to contact our vet if a pet emergency should arise while we're on the road.
#3 – Dog leash
We use a double dog leash because our dogs are like 2 peas in a pod.
They basically are side by side for practically everything!
#4 – No-pull collar for walking on a leash
My dogs tend to pull when walking on a leash with just their regular collars. The prong collars keep them on their best behavior when we are out in public or on a walk.
(The prongs mimic the nip of the pack leader when given a gentle tug to correct pulling or unwanted behavior.)
#5 – Water dish and extra water
We keep a spare dog water dish in the SUV and give the dogs a chance to drink water whenever we stop for potty breaks. We always keep bottles of water in the car, too.
We use a Tupperware container with a lid filled with ice so the water stays cold. The lid helps with easy transport if the dogs decided they weren't thirsty.
#6 – Food dish and dog food
We tend to pack enough dog food for the duration of the trip in their usual dog food storage container. It's generally big enough to keep the food, tennis balls, food dishes, and dog treats all together.
We try to feed the dogs before traveling — because they tend to not want to eat on the road.
#7 – Dog treats
Milk Bone dog treats are easy to pack and give to the dogs while traveling.
Tips For Staying In Hotels That Allow Dogs
We've found that it's best to research the general vicinity where you are heading for pet friendly hotels ahead of time. Not all hotels are pet friendly and the ones that are typically charge a non-refundable pet fee of some sort.
We like to know what we're getting into beforehand, rather than searching desperately for a pet-friendly hotel, exhausted after a long day's drive. (We've tried to "just wing it" before and found that it can be stressful.)
It's best to make hotel arrangements ahead of time — so you have a reservation and confirmation number in hand when you arrive.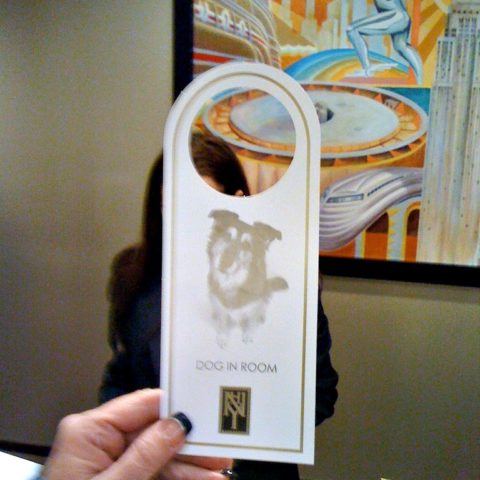 Bring Fido is a great resource to find pet-friendly hotels as well as pet-friendly activities, businesses, parks, etc. when you're planning your next dog travel adventure.
How To Keep Dogs Cool In The Car On Hot Summer Days
There are some times (like stopping for a meal when we're traveling out of town, or running errands in our hometown) when I will need to leave the dogs unattended in the vehicle.
I always check the temperature outside first — to determine if I should leave the vehicle running with the AC on, or not.
If the temperature outside is above 65 degrees Fahrenheit, I always leave the vehicle idling with the AC on & the doors locked.
I set a timer on my phone and try to either:
Be back within 15 minutes — to keep myself on task; or
Abort the mission — if there are unforeseen factors (such as a long checkout line).
If I know ahead of time that I will have a lot of stops (or long waits) while running errands and I know it's going to be a hot day, then I will just leave the dogs at home.
Truth of the matter is… it is never really safe to leave the dogs in a running vehicle. You run the risk of the vehicle getting stolen with the dogs in it. Or God forbid, the AC quits working and the temperature soars to a dangerous level.
Since our dogs really enjoy going for rides and we live in the South where it's generally always hot, there are times that we choose to take the risk (versus leaving them in the vehicle with no AC on).
There was an interesting study done on the temperatures of parked cars by the Department of Meteorology & Climate Science at San Jose State University. The results showed that the average temperature rise for a parked car is:
19 degrees Fahrenheit within 10 minutes
29 degrees Fahrenheit within 20 minutes
34 degrees Fahrenheit within 30 minutes
So even a low 60's day can be detrimental to dogs — if the car is parked directly in the sun!
Here's what you need to know about dog hot car laws.
Well, that's how we tackle dog car travel issues in our family, and our favorite dog car accessories too.
I hope you discovered some fun tips to help you travel with your dog.
Now… get out there and enjoy the adventure together!
See how we go Jeepin with 2 dogs and a baby.
I'm a first-time mom. I work from home and write — mostly about my outdoor adventures, DIY projects, newly discovered products, and helpful tips as a first-time mom. I also like to share details about the alternative choices I'm exploring, as I enjoy this journey called motherhood. My family includes a toddler, 2 stepchildren, 1 dog, 1 cat, and a wonderful husband. My pre-pregnancy life was full of freedom and adventure, so I have a fresh new perspective when it comes to walking away from a career to become a full time stay at home Mama.