This post may contain affiliate links. If you buy thru these links, we may earn a commission at no additional cost to you.
---
I was recently given a Cujo leash to review with my 95 lb dog, Tenor.
The Cujo leash by EzyDog is different from most dog leashes because it has a springy, shock-absorbing section that 'gives' a little bit (like a stiff bungee cord) when your dog pulls or tries to walk faster than you.
This type of shock absorption in a leash is great for reminding your dog that he's supposed to be walking right by your side, heeling rather than pulling. It also has the bonus of not hurting your dog whenever he tugs. It gives just enough resistance to remind your dog that he's on a short leash.
Here's a little about the 2 dog leashes that I was using, followed by my point-by-point review of the EzyDog Cujo no pull dog leash.
My 2 Favorite Leashes For Dogs
Before receiving the Cujo Leash, I was using these 2 leashes with my dog at different times:
One is a short leash (5-foot) that I attach to a dog harness which goes all the way around my dog's chest. I use this leash whenever we're going on shorter walks where we are likely to see other dogs and people. Although there's no shock-absorbing section in this leash, it's short enough that he immediately feels my grip on the other end any time he starts to walk faster than me. I've always credited a short leash (and training your dog to heel) for the reason that my dog walks right by my side, without pulling.
The other is a long retractable leash (26-feet). Sometimes, I attach it directly to my dog's collar. Other times, I attach it to a dog harness that goes all the way around his chest. I use this leash whenever we're going on long, leisurely walks where we're not likely to see a bunch of other dogs or people — like hikes, walks in the country, etc. The reason: it's harder to quickly gain control of your dog when he's on a long, retractable leash. A shorter leash gives you immediate control when there are a lot of distractions.
My Review Of The Cujo EzyDog Leash
My dog is 95 lbs. We have the 40-inch Cujo leash and a 24-inch Cujo leash extension.
There is also a shorter 25-inch Cujo leash. The extensions for both are the same.
The 25-inch version is best for dogs over 40 lbs that pull hard.
The 40-inch version is better for dogs under 40 lbs or that do not pull very hard.
From the handle grip, there's a short section of leash before and after the actual shock-absorbing part that makes up the largest center portion of this dog leash.
There is no shock-absorption in the extension part.
To reduce the impact of a pulling dog, there are short, tight, shock-absorbing sections in the Cujo leash — these help to ease "jerking" sensation while maintaining control of your dog.
There are 6 inches of tight shock-absorbing stretch in the Cujo 25-inch dog leash.
There are 12 inches of less tight stretch in the Cujo 40-inch dog leash.
The resistance that's created by the shock-absorbing sections encourages the dog to come back to you — because the stretch is working to return to its resting state.
The EzyDog shock-absorbing leash itself is made of polypropylene nylon — which is extremely strong.
And for nighttime safety, there's a reflective strand of cordage that's weaved throughout the entire dog leash.
PROS
The Cujo leash is way better than traditional dog leashes without shock absorption!
I also like the added flexibility you get with the 24-inch extension and how quick & easy it is to attach (or detach) it.
I really like the small amount of shock absorption that the EzyDog leash provides — it's just enough to minimize the stress and tension on your dog's neck & shoulders and your arms! The best part: it's not super obvious that the stretchy part is even there. It looks just like a regular dog leash.
The Cujo leash is weather and water resistant. The nylon material that the leash is made from combines strength and durability with the advantage of not constricting when wet. It will last a good long time!
The handle is soft and grippy — so it's comfortable to hold onto the entire time that you're walking your dog. The handle itself is what they call a 'pyramid pull handle' — which is very different from the handles on most other dog leashes. It's similar to the handles you find on the tension cords of a workout machine or a water ski handle — where you firmly grip it with all of your fingers at once, and the palm of your hand wraps entirely around the handle. This is a safe, secure, and comfortable way to walk your dog for long periods of time. I really like it!
The EzyDog leash comes in lots of fun colors and even has a reflective trim that becomes noticeable whenever light shines on it at night.
It's a tangle-free dog leash — because the cord is rather thick and won't loop or bind. Likewise, if you add a Cujo extension, it swivels on the clip a full 360-degrees, rather than creating slack or getting caught while in use. 
You can turn the Cujo leash into a 2-dog leash simply by attaching 2 extensions to the metal ring, rather than just one. Genius! This is exactly what I did when we added another dog to our family. I bought an additional Cujo leash extension — so I can now walk my 2 dogs on the same leash together without tangling!
CONS
Basically, these are the same downsides that come with using any short leash…
You have to want your dog walking right by your side (heeling) when you're using the Cujo leash. Otherwise, you're likely to be tripping all over your dog and complaining that it's too short. The 40-inch length is just enough to give your dog room to walk near you — without enabling him to roam and explore on his own.
The handle fits a woman's hand better than a man's. The handle grip isn't as comfortable for my husband as it is for me — because the palm of his hand spills over the sides of the cushy center part of the handle and rests on the harder plastic part. It's not terrible, just different than it is for me.
Gripping a handle like this while you're walking your dog can take some time to get used to for some people. Personally, I like it, but it is different. And there's basically only one way to hold it — so there's less flexibility when it comes to changing your grip throughout the walk. To remedy this, I will sometimes slip my entire wrist through the open triangle below the handle for a temporary change. Depending on the size of your hand, it may or may not fit that way to begin with. Likewise, you may or may not be able to slip your wrist back out very easily.
My Top 2 Tips When Using The EzyDog Cujo Leash:
When training a dog to walk on a leash without pulling, it's best to start with the short Cujo leash by itself to get your dog used to the fact that he's walking on a very short leash and he's expected to heel (walk right by your side) the entire time. This is a good habit to get into — because consistency is key with dog training! So if you want your dog to be a pro at heeling (walking by your side), you need to be very clear and expect it from him most of the time.
After an hour or so of short-leash walking, if you're going to be out for much longer, then add the 24-inch extension for the Cujo leash. It's just enough to give your dog some space to smell the smells and have a bit of freedom — without being far from your side. Again, using the Cujo extension is not recommended at the start of your walks — because it gives your dog too much room to roam on his own and become distracted from his current task, which is simply to heel.
What Makes The Cujo Shock-Absorbing Leash Unique
After 30+ years of making pet supplies that last, the EzyDog has become one of the most popular manufacturers of durable outdoor dog gear!
The Cujo leash a great solution for walking 1 or 2 dogs.
We recently found 2 puppies on the side of the road, and I'm training them to walk together on a leash. I like how the Cujo leash eliminates the tangled leashes that occur when you're using 2 separate leashes — and it gives you more control of both dogs.
Does your dog pull hard on when walking on a leash?
The constant pulling can leave both you and your dog tired and sore — because the static pull you feel from a "regular" dog leash creates a strain on your arms and shoulders. It also puts a strain on the relationship between you and your dog during walks.
With the Cujo dog leash, you and your dog will both feel less strain whenever your dog pulls — because the EzyDog shock absorbing leash creates a barrier between you and your dog!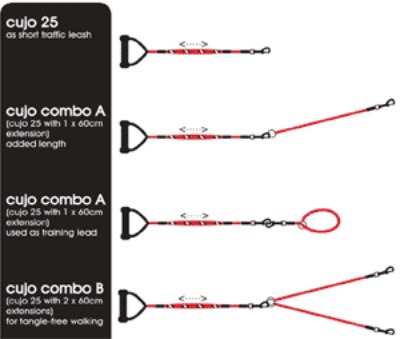 The resistance that's created naturally encourages your dog to come back to you — as the stretch of the leash itself works to return to its resting state.
The Pyramid Pull System Handle on the Cujo dog leash resembles a waterski handle because that's exactly what is it! Yes, it is indeed a cut down version of a water ski handle.
With this style of handle, you have more control — because it more evenly disperses the load.
Plus, the leash handle feels comfortable in your hand. The soft molded EVA handle provides a nice, cushy grip.
The pyramid design also eliminates any pinching that can occur with a traditional loop-handled dog leash.
The Bottom Line
Overall, I like the Cujo leash a lot!
I've had my Cujo EzyDog leash for over 7 years now, and I continue to use it on all short walks with my large dog.
Also, whenever I'm walking the 2 puppies at the same time, the Cujo leash is the one I grab.
I really like how you can add 1 extension to increase the length of the Cujo dog leash — or you can add 2 extensions for double-dog walking without tangling!
Sometimes, I even clip 2 Cujo leash extensions onto the end of our 25-foot retractable leash! I usually do this when I'm taking both pups to the vet at the same time — so they'll have the space they need to pee & poop before walking inside the office, yet I still have good control over them without giving them any length from the retractable leash at all.
The EzyDog Shock Absorbing Leash is available in 6 different colors and 2 different lengths — 25 inches and 40 inches.
I love my EzyDog Cujo leash and I know you will too.
There are SO many options, it's like having your own customizable dog leash!
Here are a few other unique dog items from EzyDog that caught my eye as well:
There are some good tips for using the Cujo leash in this video from EzyDog:
---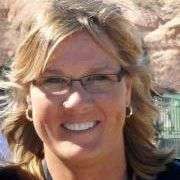 I like to help Dog Parents find unique ways to do things that will save time & money — so I write about "outside the box" Dog Tips and Dog Hacks that most wouldn't think of. I'm a lifelong dog owner — currently have 2 mixed breed Golden Aussies that we found abandoned on the side of the road as puppies. I've always trained my own dogs and help friends train theirs, as well. Professionally, I worked at a vet and have several friends who are veterinarians — whom I consult with regularly. (And just because I love animals so much, I also worked at a Zoo for awhile!) I've been sharing my best ideas with others by blogging full-time since 1998 (the same year that Google started… and before the days of Facebook and YouTube). My daily motivation is to help first-time dog owners be better prepared from the first day your new puppy enters your home. I like to help dog owners understand what's 'normal' and what you can expect in terms of living with and training your dog — how to get through the ups & downs of potty training, chewing, teaching commands, getting your dog to listen, and everything else that takes place during that hectic first year! When I'm not training, walking, grooming, or making homemade treats for my dogs, you will find me at the corner of Good News & Fun Times as publisher of The Fun Times Guide (32 fun & helpful websites). To date, I've written over 600 articles for dog owners on this site! Many of them have upwards of 200K shares.