I was recently given a Cujo leash to review with my 95 lb dog, Tenor.
The Cujo leash by Ezy Dog is different from most dog leashes because it has a springy, shock-absorbing section that 'gives' a little bit (like a stiff bungee cord) when your dog pulls or tries to walk faster than you.
This type of shock absorption in a leash is great for reminding your dog that he's supposed to be walking right by your side, heeling rather than pulling. It also has the bonus of not hurting your dog whenever he tugs. It gives just enough resistance to remind your dog that he's on a short leash.
Here's a little about the dog leashes that I'm currently using, followed by my point-by-point review of the Cujo no pull dog leash.
My 2 Favorite Leashes For Dogs
I currently have 2 leashes that I use with my dog at different times:
One is a short leash (36-inches) that I attach to a dog harness which goes all the way around his chest. I use this leash whenever we're going on shorter walks where we are likely to see other dogs and people. Although there's no shock-absorbing section in this leash, it's short enough that he immediately feels my grip on the other end any time he starts to walk faster than me. I've always credited a short leash (and training your dog to heel) for the reason that my dog walks right by my side, without pulling.
The other is a long retractable leash (26-feet). Sometimes, I attach it directly to his dog collar. Other times, I attach it to a dog harness that goes all the way around his chest. I use this leash whenever we're going on long, leisurely walks where we're not likely to see a bunch of other dogs or people — like hikes, walks in the country, etc. The reason: it's harder to quickly gain control of your dog when he's on a long, retractable leash. A shorter leash gives you immediate control when there are a lot of distractions.
Cujo Leash For Dogs
My dog is 95 lbs. We have the 40-inch Cujo leash and a 24-inch extension.
There is also a shorter 25-inch Cujo leash. The extensions for both are the same.
The 25-inch version is best for dogs over 40 lbs that pull hard. The 40-inch version is better for dogs under 40 lbs or that do not pull very hard. –EzyDog
From the handle grip, there's a short section of leash before and after the actual shock absorbing part that makes up the largest center portion of this dog leash.
There is no shock-absorption in the extension part.
Six inches of tight shock absorbing stretch is used in the Cujo 25 and 12 inches of less tight stretch in the Cujo 40 to reduce the impact of a pulling dog. The resistance created also encourages the dog to come back to the walker as the stretch is working to return to its resting state. –EzyDog
PROS
It's way better than other dog leashes without shock absorption…
I like the added flexibility you get with the 24-inch extension and how quick & easy it is to attach (or detach) it. Here are 2 tips:
I always start with the short leash itself to get my dog used to the fact that he's walking on a short leash and he's expected to heel (walk right by my side) the entire time. This is a good habit to get into — because consistency is key with dog training! So if you want your dog to be a pro at heeling (walking by your side), you need to clearly expect it from him most of the time.
After an hour or so of short-leash walking, if we're going to be out for much longer, I will add the 24-inch extension for the Cujo leash. It's just enough to give your dog some space to smell the smells and have a bit of freedom, without being far from your side. Again, using the extension is not recommended at the start of your walks — because it gives your dog too much room to roam on his own and become distracted from his current task — which is simply to heel.
I like the small amount of shock absorption that this leash provides — it's just enough to minimize the stress and tension on your dog's neck & shoulders and your arms! And the best part: it's not super obvious that the stretchy part is even there. It looks just like a regular dog leash.
It's weather and water resistant. The nylon material that the leash is made from combines strength and durability with the advantage of not constricting when wet. It should last a good long time!
The handle is soft and grippy, so it's comfortable to hold onto the entire time you're walking your dog. The handle itself is what they call a 'pyramid pull handle' — which is very different than the handles on most other dog leashes. It's similar to the handles you find on the tension cords of a workout machine or a water ski handle — where you firmly grip it with all of your fingers at once and the palm of your hand wraps entirely around the handle. This is a safe, secure, and comfortable way to walk your dog for long periods of time.
It comes in lots of fun colors and even has a reflective trim that becomes noticeable whenever light shines on it at night.
It's a tangle-free dog leash — because the cord is rather thick and won't loop or bind. Likewise, if you add an extension, it swivels on the clip a full 360-degrees, rather than creating slack or getting caught while in use.
You can turn the Cujo leash into a 2-dog leash simply by attaching 2 extensions to the clip, rather than one. Genius!
CONS
Basically, you'll have the same cons that come with using any short leash…
You have to want your dog walking right by your side (heeling) when using this leash. Otherwise, you're likely to be tripping all over your dog and complaining that it's too short. The 40-inch length is just enough to give your dog enough room to walk near you, without enabling him to roam and explore on his own.
The handle fits a woman's hand better than a man's. The handle grip isn't as comfortable for my husband as it is for me because the palm of his hand spills over the sides of the cushy center part of the handle and rest on the harder plastic part.
Gripping a handle like this takes some time to get used to for some people. Personally, I like it, but it is different. And there's basically only one way to hold it, so there's less flexibility when it comes to changing your grip over time. However, you could temporarily slip your entire wrist through the open triangle below the handle for a slight change. Depending on the size of your hand, it may or may not fit that way to begin with. Likewise, you may or may not be able to slip your wrist back out very easily.
SUMMARY
Overall, I like the Cujo leash a lot. I will continue to use it on our short walks.
There are a few other unique dog items from Ezy Dog that caught my eye as well:
There are some good tips for using the Cujo leash in this video from Ezy Dog: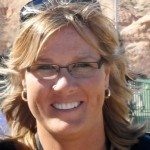 I like to help people find unique ways to do things in order to save time & money — so I write about "outside the box" ideas that most wouldn't think of. As a lifelong dog owner, I often share my best tips for living with and training dogs. I worked in Higher Ed over 10 years before switching gears to pursue activities that I'm truly passionate about. I've worked at a vet, in a photo lab, and at a zoo — to name a few. I enjoy the outdoors via bicycle, motorcycle, Jeep, or RV. You can always find me at the corner of Good News & Fun Times as publisher of The Fun Times Guide (32 fun & helpful websites).
,