This post may contain affiliate links. If you buy thru these links, we may earn a commission at no additional cost to you.
---
We love our furbabies… and we love our new extra-large dog beds made from a leftover Memory Foam Pad.
Hubby and I started our family with our beloved, original "biker dog" — who motorcycled everywhere with us riding in a trailer pulled behind one of our motorcycles.
Then, we added 2 cats to our then RV lifestyle — who also lived in many places all over North America with us.
A few years later, we ended up rescuing another dog — who became our second "biker dog".
Just when we thought our little family was complete, along came our baby… as well as home ownership.
I'm going to show you how we ended up creating a separate dog mudroom area in our house (to keep the dirt and mud to a minimum inside) and how we made cheap extra large dog beds ourselves to keep them comfortable in their new space.
Our "Dog Mudroom" Space
With a baby crawling everywhere, we decided that we need to change out our hard floors with some new carpet. (But ultimately it was the sound of the dogs' nails on the laminate flooring which made it a done deal.)
We have 2 large indoor dogs who love to romp and wrestle in our backyard. It's a full time job cleaning the house after them and all the dirt and mud they track inside!
My initial goal was to keep the new carpet cleaner for baby to crawl on.
I was up for anything to reduce the amount of dirt and mud tracked in the house and on the new carpet. Personally, I would be all for wiping their paws before entry into the house each time — but these days, my hands are full with the baby.
In the end, we found a way to keep the dirt and mud confined in one area of the house by creating a dog mudroom of sorts — a place to keep the dogs contained in the area where they come in from outside, muddy paws and all:
First, I installed an expandable pet/baby gate that was easy to put up with mounting hardware (basically 4 eye-hooks) in multiple places.

Next, I was going to need 2 cheap dog beds for this area — since this would be a place they could come inside, lay down, dry off, clean their paws, etc. (I had a few DIY dog bed ideas in mind.)
---
TUTORIAL: Orthopedic Memory Foam DIY Dog Beds
Since they are both large dogs, they need extra large dog beds. To buy extra large dog beds with any decent amount of memory foam inside would be quite expensive!
So I found a King size 4-inch memory foam pad — which is enough to make 4 extra large dog beds.
That's 2 new extra large dog beds for each of our large dogs!
Here's how we're using them:
The first 2 new dog beds would be for the dog mudroom area.
The 2 "additional" new dog beds would become their new beds in the bedroom.
I re-homed their 2 existing memory foam dog beds into the back of the SUV — because we were constantly moving the dog beds back and forth every time we took the dogs with us somewhere. (Our dogs really are part of the family, and they go almost everywhere we go!)
Here's how I made 2 extra large dog beds (35″ x 40″) for less than $50 each:
#1 – I bought a "like new" 4-inch thick King size memory foam pad on Craigslist for $80.
---
I knew I could get 4 extra large dog beds out of 1 King size memory foam pad — and $20/bed for 4-inch memory foam was a great price! There are good deals like this to be found if you're patient and constantly looking. In our case, the Craigslist person bought it new, tried it, and didn't like it for their own bed.
#2 – I ordered 4 new washable pet bed covers from DogBed4ForLess for $28 apiece in size XL. (They have other sizes that cost less if you have smaller dogs.)
---
In addition to the high quality, double lined, removable cover, there's also a waterproof liner which protects the memory foam from any moisture, accidents, or nasty dog odors. The interior liner is slippery — which makes sliding the outside cover on and off for washing simple and easy.
#3 – I laid out the foam and measured my cut lines to make 4 dog beds to fit into the 35″ x 40″ dog bed covers.
---
A sharp knife cuts through the foam with relative ease.
#4 – I inserted the foam beds into each of the pet bed liners and then into the pet bed covers.
---
Voila!… We now have 4 new orthopedic dog beds which will last many years and provide great support for our resting furbabies.
Find cheap memory foam online
---
Explore dog bed covers online
---
The Bottom Line…
Our dogs have always had memory foam pet beds.
We believe they deserve a good night's sleep. And, like us, they can be prone to pressure points too.
The memory foam helps alleviate some of those pressure points — allowing for better rest and healing while they sleep.
As a result, we get more energetic and healthier dogs, possibly resulting in fewer vet bills as they continue to age.
And who doesn't want a happier, healthier, longer life for their dog?
READ NEXT: How To Prolong Your Dog's Life (Senior Dog Tips)
If you found this DIY Dog Bed post helpful, it would mean the world to me if you would share with others on Pinterest: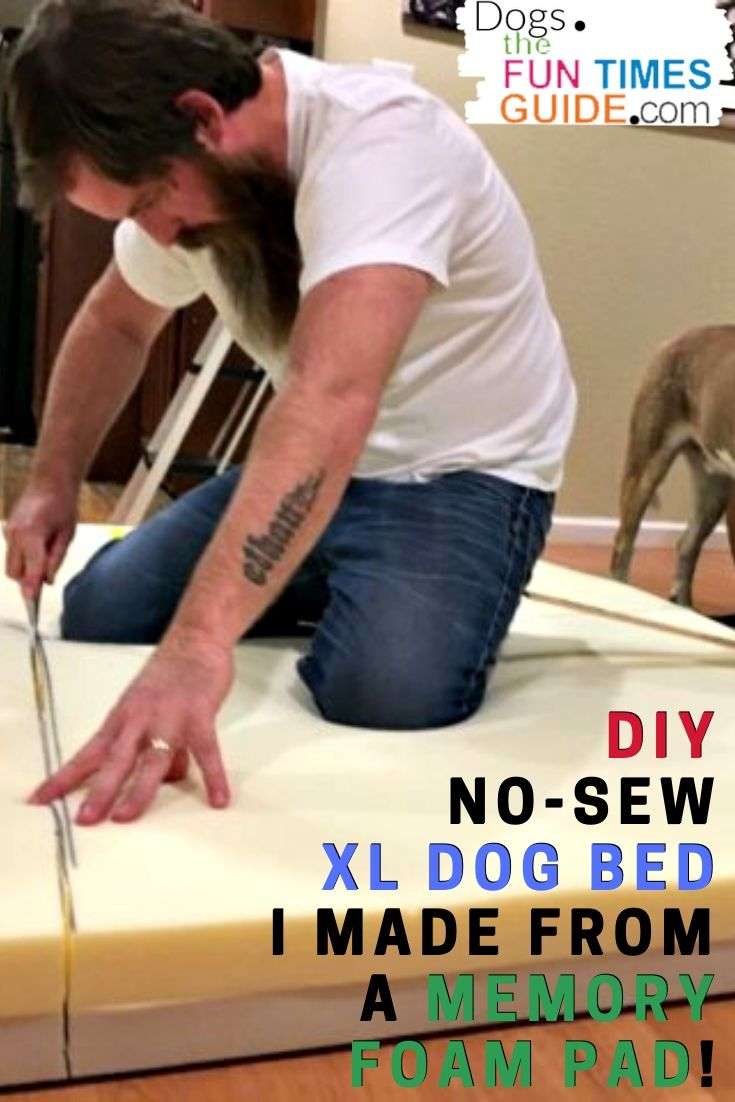 ---
I'm a first-time mom. I work from home and write — mostly about my outdoor adventures, DIY projects, newly discovered products, and helpful tips as a first-time mom. I also like to share details about the alternative choices I'm exploring, as I enjoy this journey called motherhood. My family includes a toddler, 2 stepchildren, 1 dog, 1 cat, and a wonderful husband. My pre-pregnancy life was full of freedom and adventure, so I have a fresh new perspective when it comes to walking away from a career to become a full time stay at home Mama.