This post may contain affiliate links. If you buy thru these links, we may earn a commission at no additional cost to you.
---
If you haven't already purchased a pet bed for your dog, here are a few reasons you may want to get a dog pillow for your canine friend…
We currently have 3 overstuffed dog pillows in our home.
Why?
Because they're so multi-purposed in our home.
Our dogs love 'em and they use their dog beds daily (…though rarely as a pet bed).
Fun Uses For A Dog Bed
With our dogs, the pet beds serve the following purposes:
a throne – where the dogs take their favorite treats to be eaten and they know they won't be disturbed.
a placemat – for some reason, one of our dogs insists on taking his very first bite of dog food from his bowl (each and every time) and placing those pellets on the dog pillow which is near his food bowl.
a time-out spot – whenever one of the dogs thinks he's in trouble, he slowly meanders over to the nearest doggie pillow.
a drip cloth – we make our dogs stay on their beds whenever they're chewing on hickory-smoked bones, rawhide bones & Kong chew toys that have been stuffed with messy treats
an armrest – the most "pillow-like" use for dog pillows in our home are those times when they'll simply lean on a small corner of the pet bed,while they're lying adjacent to the pillow on the carpet.
a chin rest – another common sight: one of our dogs lying comfortably on the floor, while stretching his neck in order to rest his chin on the dog pillow.
home base – in games of tag whenever the dogs are chasing each other around the house, they frequently use one of the dog pillows as a safe time-out spot to catch their breath.
a drying spot – after a bath, each of our dogs instinctively gravitates to his respective doggie pillows and starts rolling around all over it — drying off their fur? adding their scent to the pillow? expelling some pent-up energy!
a comfort zone – whenever the dogs are completely tuckered out, they usually find their way to the nearest doggie pillow for some much-needed rest & relaxation.
a grooming station – whenever it's time to trim your dog's nails, or give him a good brushing, or investigate a sore spot, or remove a tick, or clean his ears, or brush his teeth… I've found it's easier if you make it a habit to do these things on your dog's pillow. First off, It's a comfort spot for him, helping to put him at ease during the process. And, if the pillow is bulky and shapable, you can bunch it up in places to give you more leverage or a different angle when grooming your dog.
So, what does your dog use the pet bed for?…
If you haven't already purchased a pet bed for your dog, you may want to get a doggie pillow for your canine friend, too. As you can see, they serve many purposes!
More Fun Stuff About Dog Beds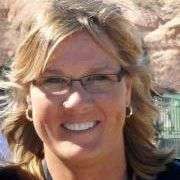 I like to help Dog Parents find unique ways to do things that will save time & money — so I write about "outside the box" Dog Tips and Dog Hacks that most wouldn't think of. I'm a lifelong dog owner — currently have 2 mixed breed Golden Aussies that we found abandoned on the side of the road as puppies. I've always trained my own dogs and help friends train theirs, as well. Professionally, I worked at a vet and have several friends who are veterinarians — whom I consult with regularly. (And just because I love animals so much, I also worked at a Zoo for awhile!) I've been sharing my best ideas with others by blogging full-time since 1998 (the same year that Google started… and before the days of Facebook and YouTube). My daily motivation is to help first-time dog owners be better prepared from the first day your new puppy enters your home. I like to help dog owners understand what's 'normal' and what you can expect in terms of living with and training your dog — how to get through the ups & downs of potty training, chewing, teaching commands, getting your dog to listen, and everything else that takes place during that hectic first year! When I'm not training, walking, grooming, or making homemade treats for my dogs, you will find me at the corner of Good News & Fun Times as publisher of The Fun Times Guide (32 fun & helpful websites). To date, I've written over 600 articles for dog owners on this site! Many of them have upwards of 200K shares.