This post may contain affiliate links. If you buy thru these links, we may earn a commission at no additional cost to you.
---
Is your dog in need of a cushy new pillow or dog bed?
Here's a simple idea that worked for us.
It's a no-sew way to make your very own dog pillow — that cost next to nothing!
As I mentioned earlier, you could revive an old pet bed by making a new cover for an old doggie pillow.
Or… you could try this: Make your own dog pillow for just a couple of bucks!
TIP: Visit a local thrift store — like the Goodwill Store.
That's what I did.
You'll not only save a bundle, but you can also find a bunch of different styles and colors all in one place!
No-Sew Dog Pillows You Can Make Yourself
1. Purchase a large, no-frills pillow sham (a cover for larger sized pillows that decorate your bed).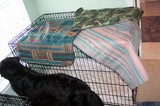 New, these sell for $20 to $40. But at Goodwill, I found these three (and plenty more) for only 99 cents each! The day I went, all green tags happened to be an additional 50% off, so I scored THREE pillow shams for just $1.50.
I would venture to guess that you could find some really good deals on clearance racks at most department stores, and at quality discount stores like Steinmart, TJMaxx, Marshalls, Ross, etc. But nothing beats "less than a dollar" from thrift stores like the Goodwill Store!
2. Inside the pillow sham place one of the following:
1 old bed pillow
2 old decorative sofa pillows
batting or "polyester fill"
an old dog pillow or liner that you already have
If you can't find an old bed pillow or a couple of small decorative pillows lying around the house, then you'll want to purchase something similar — for cheap — elsewhere.
At the Goodwill Store, I found a "gently used" full-size bed pillow for $1. They also had 2 cushy sofa/chair pillows for $1 each.
You could also use some good old-fashioned batting that you might have lying around the house. (You may want to layer it inside an old standard pillowcase first — because pillow shams don't typically close perfectly shut. Instead, the material on the back kind-of "layers" itself shut.)
Or, if you have an old egg-crate style foam mattress cover or foam pillow… you could cut it to fit perfectly inside the pillow sham.
I ended up stuffing an old dog pillow inside one of them, and a regular "gently used" bed pillow in the other one.
That's it! Some viable options for a do-it-yourselfer who wants to make a comfy pet bed for your dog to enjoy.
How To Sew An Even Fluffier Dog Pillow
I must admit, I also purchased a "gently used" bed comfortor from the Goodwill Store (because I loved the design and thought it would make an adorable pet bed), but I returned it the next day because I didn't want to go through with the minor "sewing" part.
Here was my theory: Old Comforter Turned Dog Bed Cover
You could use an old bed comforter — that has some batting in it to make it slightly "cushy" — or buy one for cheap from a thrift store. (At the Goodwill Store, I found one I liked for $10, and of course the size is basically irrelevant.)
I had initially planned to "wrap" the comforter (cut to size) around an old pet bed I have that's old and discolored. My dogs still love it — probably because it's thicker than most, and oversized.
I figured this would add a nice layer of plush cushiness to an already comfy dog bed. Of course, you would have to cut it to size and then sew it shut on at least three sides — all of which overwhelmed the non-sewer in me.
Then, I thought, "Well I like the pattern to much on this particular comforter, and it was cheap enough ($10), and it would make such a cute dog bed, that I may go so far as to rip the seams from one side of the comforter and just place my dog pillow inside — on top of the batting itself. This way, I would only need to sew TWO sides — you may have to "see" this to grasp what I'm talking about. But just trust me on the fact that you'd still have to be handy with the sewing machine to make this option work.
Finally, even though I ended up returning the cute comforter that I'd purchased for this project, I had yet another "frugal" idea:
Just imagine how many individual pet beds you could make from one single comforter! By using one, or both of the methods mentioned above… OR simply by folding the comforter over in half one or two times then sewing together the layers to make thick "pads" for your dog's bedding.
Ah, the possibilities are endless! You are only limited by your imagination (…and your willingness — or ability — to sew).
Another No-Sew DIY Dog Bed That's Easy To Make
This video provides a fun twist (fringe!) for a boring yet easy to make dog bed: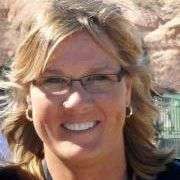 I like to help Dog Parents find unique ways to do things that will save time & money — so I write about "outside the box" Dog Tips and Dog Hacks that most wouldn't think of. I'm a lifelong dog owner — currently have 2 mixed breed Golden Aussies that we found abandoned on the side of the road as puppies. I've always trained my own dogs and help friends train theirs, as well. Professionally, I worked at a vet and have several friends who are veterinarians — whom I consult with regularly. (And just because I love animals so much, I also worked at a Zoo for awhile!) I've been sharing my best ideas with others by blogging full-time since 1998 (the same year that Google started… and before the days of Facebook and YouTube). My daily motivation is to help first-time dog owners be better prepared from the first day your new puppy enters your home. I like to help dog owners understand what's 'normal' and what you can expect in terms of living with and training your dog — how to get through the ups & downs of potty training, chewing, teaching commands, getting your dog to listen, and everything else that takes place during that hectic first year! When I'm not training, walking, grooming, or making homemade treats for my dogs, you will find me at the corner of Good News & Fun Times as publisher of The Fun Times Guide (32 fun & helpful websites). To date, I've written over 600 articles for dog owners on this site! Many of them have upwards of 200K shares.