Do you have an animal license plate?
If you love animals — especially dogs and cats — then you might be interested in getting a pet-friendly license plate for your car.
See all states where you can get pet license tags below.
Did You Know?
In 1993, New Jersey became the first state to create a specialty license plate in support of the family pet, specifically cats and dogs.
The Prevent a Litter Coalition, Inc. (PALC) now lists all states with animal-friendly plates, as well as other state fundraising tools and pet population programs.
The cost for a pet-friendly license plate in each state is also listed.
Check it out here.
And, check out this summary detailing the nationwide status of Animal-Friendly license plates, so you can see what your state is currently doing.
Check out these fun license plates: (click to view all)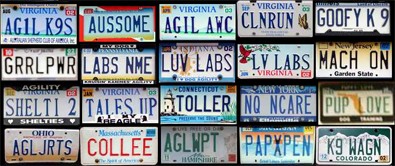 ,