This post may contain affiliate links. If you buy thru these links, we may earn a commission at no additional cost to you.
---
Perhaps you've got a moody dog or an anxious dog. Or maybe you're dealing with some more serious behavior issues… or even dog health issues.
Aromatherapy could be the perfect answer — for you and your pet.
Here's how you and your dog can get the most from aromatherapy…
Dog Aromatherapy Safety
Dogs can benefit from the healing and uplifting properties of aromatherapy from Essential Oils, exactly as humans do! That's why pet aromatherapy is such a hot topic these days.
Just as certain scents will make you feel calmer, or more alert, less moody, or more energized — the same is true for your dog.
Dog owners everywhere are rushing to try a particular Essential Oil scent (or combination of scents) to see if it has any effect on their dog's moods or behaviors.
Truth be told, you can't hurt anything by trying — UNLESS you use the wrong Essential Oils (because some are not safe for dogs). OR you don't use 100% pure therapeutic grade Essential Oils (because cheaper grades and many "blends" aren't safe for dogs).
Many liquid potpourri products and essential oils, including oil of cinnamon, citrus, pennyroyal, peppermint, pine, sweet birch, tea tree (melaleuca), wintergreen, and ylang ylang, are poisonous to dogs. Both ingestion and skin exposure can be toxic. — VCA Animal Hospitals
What it all comes down to is this…
It comes down to an issue of the quality of the essential oils used – just as many things in veterinary medicine come down to quality. For example, pet food. When we see pets that have become ill thanks to a poor diet, we recommend the owner upgrade the diet as soon as possible. We don't outlaw all pet food because there are low quality brands on the market – we just pick a better food. — Melissa Shelton, DVM
In the end, as long as you're using Essential Oils that are safe for dogs, then even if the aromatherapy didn't have any effect on your dog, you alone would appreciate the pleasing aromas that would enhance your mood & well-being!
Reasons To Try Pet Aromatherapy
Aromatherapy has been used to help dogs in the following ways:
to tame aggression
to lessen the effects of arthritis
to ease pain from cancer
to decrease coughs, congestion & respiratory problems
to help with digestion problems
to stop diarrhea
to treat dry skin & itching
to repel fleas & other insects
to help with gingivitis & bad breath
to help your pet deal with grief
to temper hyperactivity
to treat insect bites & stings
to help with nervousness & anxiety
to end nausea
to treat Ringworm
to end motion & travel sickness
to stop vomiting
Essential oils are very safe and much less toxic than the chemical filled shampoos and flea collars out on the market. As long as you don't use too much and stay away from oils like wintergreen (Gaultheria procumbens) and mustard (Brassica nigra), you will be fine. — Natural Dog Health Remedies
>Here's a simple list of healing aromatherapy blends for dogs.
How To Use Aromatherapy With Your Dog
1. The most popular way to take advantage of aromatherapy is to simply "diffuse" the scent into a room — or your entire house — allowing you and your dog to breathe in the scent naturally.
2. You could also place a drop or 2 of Essential Oil (mixed first with a vegetable oil as a base) directly on your dog's skin and massage it in — for the fastest results.
Here's how to do both…
#1 – How To Use Essential Oils With A Diffuser
With a diffuser, you are combining the Essential Oil with a heat source. Some diffusers are electric. Others require candles. There is also a ring-shaped device that can be put on top of a light bulb. Here's how to use a diffuser with pets:
Apply a few drops of Essential Oil to the diffuser — the aromatherapy scents will immediately begin to fill the room.
Leave your dog in the room with the diffuser for about 30 minutes, and your dog will breathe in the Essential Oils as they evaporate into the air.
Do this twice a day for best effects.
The results will be very subtle.
TIP: Those plug-in kit air freshener kits found at grocery and department stores actually contain a mixture of fragrance oils that are synthetic (rather than pure Essential Oils). As a result, they put out the least potent scents, and thus, yield the least meaningful results. However, many people still call this a form of aromatherapy.
#2 – How To Apply Essential Oils By Massage
Before applying to your dog's skin, always dilute the Essential Oil in a base oil first. You'll want to combine 2-3 drops of the Essential Oil (or combination of Essential Oils) of your choice with 1 teaspoon of carrier oil. Then, massage gently into a hairless (or least hairy) area of the skin — such as the armpit, groin or inner thigh — for 3 to 4 minutes.
When applying Essential Oils directly on your dog, only apply to areas from the neck down to the tail.
NEVER apply anywhere near the eyes, nose, or face.
And never ever should Essential Oils be given internally to your dog.
Likewise, if at all possible, you want to avoid placing the oil in a spot that your dog could lick.
Do not use Essential Oils on pregnant or seizure-prone dogs without checking with your vet first.
Good carrier oils to consider when massaging Essential Oils onto your pet:
Olive oil
Safflower oil
Jojoba oil
Grapeseed oil
Sunflower oil
Hazelnut oil
Avocado oil
Sweet almond oil
Practically any other vegetable oil
TIP: Grapeseed oil and Avocado oil tend to penetrate the skin the quickest.
The Best Essential Oils To Use With Dogs
TO REPEL INSECTS:
Eucalyptus
Cedarwood
Citronella + Lemongrass
TO EASE PAIN ASSOCIATED WITH ARTHRITIS:
Juniper
Thyme
Rosemary
Sandalwood
Rosemary + Lavender
TO LESSEN AGGRESSION:
Sandalwood
FOR CALMING & RELAXING HYPERACTIVITY:
(more about the use of aromatherapy to calm anxious dogs here)
Bergamot
Frankincense
Lavender
Jasmine
Chamomile
Lemon
Neroli
Marjoram
TO TREAT A COUGH:
Eucalyptus
Myrrh
Thyme
TO HELP IN TIMES OF GRIEF:
Basil
Bergamot
Orange Blossom
FOR NAUSEA, TRAVEL & MOTION SICKNESS:
Chamomile
Sweet Fennel
TO RELIEVE DRY, ITCHY SKIN:
Myrrh + Patchouli
FOR CUTS, SCRAPES & BRUISES:
Myrrh + Patchouli
FOR SORE MUSCLES:
Lavender + Marjoram
TO STOP VOMITING:
Lavender
Tarragon
Where To Find Essential Oils
You can order pre-mixed Essential Oil blends that have been proven effective with dogs under certain conditions (e.g. dogs that need calming, or energizing, or etc.) online. Just make sure those blends only include Essential Oils that are widely considered safe for dogs.
You can also stop by any health food store to find virtually any Essential Oil you might be interested in. Just make sure you're buying 100% pure therapeutic grade Essential Oils.
These days, you can find practically anything for dogs that comes in an aromatherapy version as well — such as dog shampoos and sprays.
Helpful Resources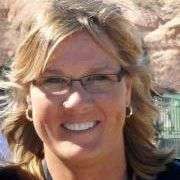 I like to help Dog Parents find unique ways to do things that will save time & money — so I write about "outside the box" Dog Tips and Dog Hacks that most wouldn't think of. I'm a lifelong dog owner — currently have 2 mixed breed Golden Aussies that we found abandoned on the side of the road as puppies. I've always trained my own dogs and help friends train theirs, as well. Professionally, I worked at a vet and have several friends who are veterinarians — whom I consult with regularly. (And just because I love animals so much, I also worked at a Zoo for awhile!) I've been sharing my best ideas with others by blogging full-time since 1998 (the same year that Google started… and before the days of Facebook and YouTube). My daily motivation is to help first-time dog owners be better prepared from the first day your new puppy enters your home. I like to help dog owners understand what's 'normal' and what you can expect in terms of living with and training your dog — how to get through the ups & downs of potty training, chewing, teaching commands, getting your dog to listen, and everything else that takes place during that hectic first year! When I'm not training, walking, grooming, or making homemade treats for my dogs, you will find me at the corner of Good News & Fun Times as publisher of The Fun Times Guide (32 fun & helpful websites). To date, I've written over 600 articles for dog owners on this site! Many of them have upwards of 200K shares.