---
This page may contain affiliate links. In addition to sharing our personal experiences, we often write about products and services that we use ourselves or that we believe would be a helpful resource for you. To support our work, and remain a free website, we receive a commission from some of the links we share.
The absolute best smelling dog shampoo I've ever found is called Spa 4 Pawz Aromatherapy Foaming Dog Shampoo.
NOTE: Spa4Pawz is now sold as Spaw Essentials.
It's a dog shampoo & conditioner… in one.
Why It's Different
It's a highly concentrated foaming shampoo & conditioner for dogs that is made from top-of-the-line plant extract therapy products derived from nature itself.
The Essential Oils in this product lend themselves to some amazing aromatherapy benefits!
What I Like Best:
Unique foamer top/foaming dispenser with wider-than-normal pump top so it's easier to depress
No spill container
Vitamin & protein enriched for a healthier coat
Only takes a couple of pumps to lather up a full-size adult dog
Smells great (yes, it's worth repeating!)
pH balanced for your dog's skin and coat
Can easily dispense the foaming shampoo into your hand, or directly onto the dog's fur
Smells great (…oh, did I already mention that?)
Deep-cleansing properties available using only a small amount of shampoo
Comes in a convenient smaller-sized bottle, so it's easier to handle (and store)
Highly concentrated, so the little bottle lasts a long time
The Best Aromatherapy Dog Shampoo
This Essential Oil dog shampoo is perfect for pampered pets and their owners who like to "go the extra mile" to make their pet look (and smell!) great.
I say that because you could certainly get a bigger, industrial-sized bottle of standard dog shampoo that would do the job of cleaning your dog's fur and conditioning his skin, but Spa 4 Pawz takes it a step beyond that by creating a cleansing product that's "nature-inspired for healthier pets". By adding a unique blend of Essential Oils, you and your dog both benefit from the aromatherapy properties that result.
The best part: it's less expensive than most other aromatherapy dog shampoos. So you can indulge your dog (and your senses) and not feel guilty!
To my knowledge, Spa 4 Pawz is currently only available in Target stores. It sells for approximately $7 for a 19-ounce bottle and is made by Royal Pet Incorporated.
From the back of the bottle:
Spa 4 Pawz features top of the line plant extract therapy products derived from nature itself, resulting in a safer, healthier, and happier canine companion. One treatment of this specially blended shampoo and conditioner will leave your dog's coat regenerated and invigorated without heavy oil residues.
My Favorite Scents
There are 3 different scents available in the Spa 4 Pawz Aromatherapy Foaming Dog Shampoo line.
My favorites are "Whispering Lavender" (aka Lavender) and "The Woods" (aka Juniper).
The other one (that I haven't tried yet) is "Invigorating Mint".
From the "Whispering Lavender" bottle:

This special blend of Lavender and Chamomile helps calm irritated skin, ease anxiety, and relieve muscle pain. Lavender helps alleviate motion sickness for dogs on the go!
Naturally Beneficial Ingredients: Extract of Lavender, Chamomile and Kelp, Mint, Juniper, Seaweed, Sweet Almond Oil, Jojoba Oil, Aloe Oil, Grapefruit Seed Extract, Wheat Protein, Oat Protein, Vitamins A & D, Vitamin E, and a proprietary blend of Essential Oils.
From "The Woods" bottle:

Helps relieve anxiety and soothe itchy, insect bitten skin. Juniper also acts as a natural insect repellent.
Naturally Beneficial Ingredients: Extract of Juniper, Aloe Vera Oil, Mint, Seaweed, Chamomile and Kelp, Sweet Almond Oil, Jojoba Oil, Aloe Oil, Grapefruit Seed Extract, Wheat & Oat Protein, Vitamins A & D, Vitamin E, and a proprietary blend of Essential Oils.
From the "Invigorating Mint" bottle:

The Invigorating Mint ingredient is a combination of Cucumber to soothe itchy, dry skin and Mint Essential Oil to invigorate and energize. Specially blended for the mature canine.
Naturally Beneficial Ingredients: Extract of Blue Maliva, Aloe, Sage, Mint, Cucumber, Seaweed, Kelp and Chamomile, Sodium Laureth Sulfate, Lauryl Glucoside, Cocoglucoside, Cocamidophy Betaine, Glyceryl Oleate, Glycerol Stearate, Sweet Almond Oil, Jojoba Oil, Polyquaternium 10, Dimethicone Copolyol, Aloe Oil, Grapefruit Seed Extract, Methylparaben, Propylparaben, and a proprietary blend of Essential Oils.
The 2 new scents recently added to the Spaw Essentials line are:
UPDATE #1:  Thanks to a heads-up I received from a visitor to this site (…thanks, Randy!), I was able to scoop up an ample supply of Spa 4 Pawz dog shampoo from the Clearance aisle at Target!
This picture is a testament to the fact that I absolutely LOVE this dog shampoo. (Destin does too.) I purchased every bottle of Whispering Lavender and The Woods that the three Target stores near me had. (I decided to pass on the Invigorating Mint scent… not my favorite.)
UPDATE #2: Thanks to the research of another loyal visitor (…thanks, Santos!), it appears that Spa 4 Pawz is now being sold as Spaw Essentials. (It was also sold as Spa Essentials for a short time at Petco.)
UPDATE #3: This dog shampoo is vet-approved, too! I asked our vet for his opinion of the shampoo and its ingredients. He said it looks like "really good stuff." He said there are even a few extra ingredients that are good for dogs like the vitamins & aloe, etc.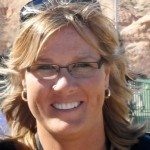 I like to help Dog Parents find unique ways to do things that will save time & money — so I write about "outside the box" Dog Tips and Dog Hacks that most wouldn't think of. I'm a lifelong dog owner — currently have 2 mixed breed Golden Aussies that we found abandoned on the side of the road as puppies. I've always trained my own dogs and help friends train theirs, as well. Professionally, I worked at a vet and have several friends who are veterinarians — whom I consult with regularly. (And just because I love animals so much, I also worked at a Zoo for awhile!) I've been sharing my best ideas with others by blogging full-time since 1998 (the same year that Google started… and before the days of Facebook and YouTube). My daily motivation is to help first-time dog owners be better prepared from the first day your new puppy enters your home. I like to help dog owners understand what's 'normal' and what you can expect in terms of living with and training your dog — how to get through the ups & downs of potty training, chewing, teaching commands, getting your dog to listen, and everything else that takes place during that hectic first year! When I'm not training, walking, grooming, or making homemade treats for my dogs, you will find me at the corner of Good News & Fun Times as publisher of The Fun Times Guide (32 fun & helpful websites). To date, I've written over 500 articles for dog owners on this site!