This post may contain affiliate links. If you buy thru these links, we may earn a commission at no additional cost to you.
---
After our post about caring for a dog with no teeth, the next logical question is: What about toys for dogs with few teeth?
I rescued a 9 year old dog recently. He had all his top teeth removed and some bottoms missing. Any toys that you found were fun for your dog without being painful or stressful?

~ Courtney
If your dog has very few teeth (or no teeth), as is often the case with senior dogs, it's still important for your dog to have some toys of his own to play with.
Following are 10 types of dog toys that are best for dogs with no teeth…
While dogs with no teeth may not "play" with toys in quite the same way as other dogs, they still like (and need!) to interact with play things on a regular basis.
Toys — for all dogs — are important for the following reasons:
They prevent boredom
They challenge the mind
They keep your dog active
For dogs that have no teeth, or few teeth, I would recommend dog toys like these:
Dogs without teeth may naturally shy away from traditional dog toys, but they'll always be intrigued by talking dog toys! The most enjoyment comes from dog toys that make sounds on their own (without any provocation/interaction from the dog required) and that make sounds in irregular patterns & unusual tones. Talking dog toys typically run on batteries, for years of fun play.
They roll around on their own and make noises, which continues to pique your dog's attention. For dogs, the thrill of the chase is often better than mouthing on these types of toys — which is perfect for dogs with no teeth. Bonus: these toys react differently on hard floors vs carpeted floors, so your dog's playtime will never be the same twice.
These are soft and they come in various styles that dogs find intriguing. For dogs with no teeth, it's not about the squeakers that are often found inside these dog toys. Instead, it's about the allure of playing with something that's very long, or oddly shaped — and very soft. Some plush dog toys are motion-activated as well, for added entertainment value. Dogs with and without teeth enjoy 2 unique versions of these dog toys: unstuffies and stuffingless plush toys.
As your dog pushes these toys on the floor with his nose, dog treats/kibble fall out. This is a very rewarding form of play for dogs. It challenges your dog and motivates him to play longer. For dogs with few teeth, you'll want to use smaller & softer dog treats inside these toys, or your dog's own kibble. Many interactive dog treat toys can be set to dispense more or less treats every time the toy rolls over. Perfectly round treat dispensing balls are typically the easiest for dogs to get the treats out of. And some even have a built-in timer, to reload and begin dispensing dog treats every 15 to 90 minutes.
Dogs enjoy this type of toy because of the unexpected motion that results from the protruding arms and legs as your dog is playing with it. As your dog shakes it around in his mouth, the floppy parts gently tap his head, face, and neck — which prompts more play. For the ultimate in floppiness, consider a soft octopus dog toy or dog toys with extra long arms and legs. These dog toys are typically soft — with few, if any, hard parts on them — which is perfect for dogs with no teeth. Some even make unusual noises!
Regardless of the shape, it's the sound of these dog toys that captivates your dog's attention. The shaking beads inside create noises similar to baby rattles which piques a dog's natural instincts to chase and play. Here's proof that dogs like rattles, bells, and shakers. Round shaker dog toys, similar to balls, have an even greater appeal since they continue to roll and make noise on their own. For dogs with few teeth, I especially like the ChuckIt Indoor Shaker.
Dogs like puzzles too. Dogs without teeth enjoy the soft puzzle toys best. The idea is to stimulate your dog, challenge his mind, and prevent boredom. Puzzle toys are a great opportunity for you to interact with your dog as well. These dog toys are similar to baby toys where the child is encouraged to put shapes into the correct spaces. Yep, there's a plush interactive dog toy like that!
The softer the better. The bouncier the better. For dogs with few teeth, toys similar to these would be the best: ChuckIt Indoor Ball (lightweight and bouncy), Hear Doggy Toy (with a silent squeak that only dogs can hear), Zanies Plush Squawking Nubby Dog Toy (the nubs create unpredictable rolling motion and great texture for your dog's gums), Angry Birds Plush Balls With Sound Chip (makes sounds when squeezed and rolls unpredictably), Kyjen Fleecy Clean Ball (lots of movable fibers means lots of areas to grab it; it's also a unique texture), and Koosh Balls (while not a pet toy per se, dogs without teeth will enjoy the texture of these squishy & floppy balls).
With these types of toys, your dog uses his nose more than his mouth to "play". As a bonus, with interactive dog toys your dog is also learning and being rewarded for solving doggie puzzles. If dog treats are involved, choose smaller & softer dog treats as rewards for dogs with few teeth.
These are a great option for dogs that aren't typically motivated by toys and those with no teeth. Why? Because they have so many squeakers inside them, your dog will "accidentally" bump into fun times with one of these dog mats lying around. And teeth aren't required to make sounds. Your dog's nose alone will active a squeaker. Also, while rolling around (or just lying down), your dog's own body will likely activate a squeaker.
And finally, while not exactly a toy, you could try some of these DIY Frozen Dog Treat Recipes. Dogs with (and without!) teeth enjoy licking on frozen tasty treats for hours, while soothing their gums at the same time.
If you have a toothless dog, please tell us what your dog's favorite toy is! Your input will be helpful to others in the same situation…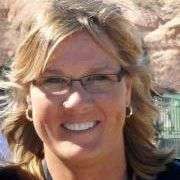 I like to help Dog Parents find unique ways to do things that will save time & money — so I write about "outside the box" Dog Tips and Dog Hacks that most wouldn't think of. I'm a lifelong dog owner — currently have 2 mixed breed Golden Aussies that we found abandoned on the side of the road as puppies. I've always trained my own dogs and help friends train theirs, as well. Professionally, I worked at a vet and have several friends who are veterinarians — whom I consult with regularly. (And just because I love animals so much, I also worked at a Zoo for awhile!) I've been sharing my best ideas with others by blogging full-time since 1998 (the same year that Google started… and before the days of Facebook and YouTube). My daily motivation is to help first-time dog owners be better prepared from the first day your new puppy enters your home. I like to help dog owners understand what's 'normal' and what you can expect in terms of living with and training your dog — how to get through the ups & downs of potty training, chewing, teaching commands, getting your dog to listen, and everything else that takes place during that hectic first year! When I'm not training, walking, grooming, or making homemade treats for my dogs, you will find me at the corner of Good News & Fun Times as publisher of The Fun Times Guide (32 fun & helpful websites). To date, I've written over 600 articles for dog owners on this site! Many of them have upwards of 200K shares.