This post may contain affiliate links. If you buy thru these links, we may earn a commission at no additional cost to you.
---
Homemade dog treats are kind of "my jam".
The point is I've always enjoyed making DIY dog treats for my many different pups throughout the years.
Still… I'm constantly on the hunt for tips & tricks that will make the process of making homemade dog treats even FASTER — and even EASIER.
I actually simplified the task of making dog treats at home by fine-tuning the process down to 3 simple steps to make any DIY dog treats yourself. With the bonus advantage of "using ingredients you already have at home!"
So that's been my go-to process for DIY high value dog treats for awhile now. You just need to make sure that the ingredients you decide to include are safe for dogs. (Use this list of human foods that are dog-friendly.)
But the dog treat mixes from Cooper's Treats are even faster and even easier than making my own! Seriously… you just add water.
Cooper's Treats are pre-made powder mixes for Dog Biscuits that you bake or Pupsicles that you freeze. Just add water… Period.
Following is my review of Cooper's Dog Treats — along with the reasons that I now keep pre-made dog treat mixes like these on hand at all times. Plus, my best tips for creating your own Pupsicle recipes!
Why Cooper's Treats Are The Best
Cooper's Treats are convenient pre-made DIY dog treat mixes in a jar that you just add water to.
If you're anything like me, then you can't help but wonder, "What makes these homemade dog treats better than the gazillions of others out there?" I, too, started running through all the negatives in my head.
At first, I was thinking:
…they must lack flavor.
…they're probably not very healthy.
…my dog is too picky.
…they're probably too expensive.
…why would I buy dog treat mixes rather than just combine my own ingredients at home to make dog treats?
---
After trying a few different Cooper's Dog Treat Mixes with my two dogs, here's what I've learned:
#1 – My dogs love them! Yes, most dogs are food-motivated, so they'll do just about anything to receive something tasty. But I think my dogs were actually more tuned in to what was going on when I was making Cooper's Treats than when I've mixed, baked, frozen, and reviewed any other type of dog treats. Not kidding here. I honestly believe this is due to the Cinnamon that's included in the Turkey versions of Cooper's Dog Treat Mixes — it is SO aromatic. And I've never put Cinnamon in any of the other treats I've made for my dogs before.
---
#2 – The dog treats smell good enough for humans to eat — so I tasted one! (Why not, right?) While they're actually healthy enough for humans… as expected, they're a little bland for the human palate. Dogs, on the other hand, seem to enjoy the taste.
#3 – They might seem to be a little on the pricey side, but THEY'RE NOT. It's about 60 cents per dog treat AND you get the reusable silicone molds (or cookie cutters, depending on which kit you buy) AND you get the personal enjoyment of making them yourself AND they're so darn easy to make! Compared to other DIY dog treats, Cooper's Treats are not expensive at all. They're in line with the price of dog cookies at pet stores and far less than the price you'd pay for a gourmet dog treat that's made by someone else ($1.50 to $3 apiece!) — and it's exactly what other companies are charging for their DIY dog treat mixes.
These things also make the cost of Cooper's Dog Treats Mixes worth it, in my opinion:
They're made in the USA.
They're healthy.
They're made with all-natural ingredients, and real meat is one of the first ingredients.
They only have a few ingredients in them to start with.
They are conveniently packaged in cute little jars that are simple to store.
They come with adorable bone-shaped and paw-shaped silicone molds.
They require no "extra" ingredients or tools to make.
They're in compliance with AAFCO standards.
TIP: The Pupsicle Starter Kit and the Baked Dog Biscuit Starter Kit each cost just under $30 apiece. The Doggie Deluxe Kit (which includes the contents of BOTH starter kits) is just under $60. Individual jars of the pre-made mix (either the Pupsicle version or the Baked Biscuit version) are around $12 apiece. They often run sales and specials on the Cooper's Treats Facebook page, so I'd encourage you to stock up whenever you see a discount mentioned there! (I started seeing 15% off ads after I "liked" their Facebook page.) I've also seen 5% off coupons for Cooper's Treats on Amazon (click the checkbox just below the price). And I've seen $10 off your first "subscribe and save" of Cooper's Treats on Amazon.
#4 – These pre-made dog treat mixes save A LOT of time! Everyone's busy these days. And who thinks far enough ahead to make dog treats in time for a special occasion? And who keeps all of the necessary ingredients on hand? With Cooper's Dog Treat Mixes, you never have to plan ahead. You just open the jar, combine with water, and then either bake 'em or freeze 'em for 45 minutes or so. Easy peasy. (Plus they make a wonderful gift for anyone who has a dog.)
So… an all-natural dog treat mix made in America with no added salt, sugar, artificial ingredients, colors, or preservatives? Yeah, I really like that!
Occasions When Cooper's Treats Would Be Great
When do you make your dog some homemade treats?
I usually make DIY dog treats at these times:
When I can tell that my dogs are super bored.
When they're on the mend after surgery or an illness.
When I'm training my dogs and need high-value treats to entice them and reward them (especially crate training).
When I have company — DIY high-value dog treats are a great way to keep your pup from jumping up on your visitors. Also, a good incentive if you're going to "show off" some of your dog's best tricks in front of your guests. (Your dog is more likely to do the "trick" if they know that they'll get a high-value treat as a reward.)
When I'm going out of town — so the pet sitter can give them treats that make them happy.
When they haven't been able to go for walks or to the park much — due to weather.
When someone is coming over to my house and bringing their dog with them.
When I haven't been able to spend a lot of one-on-one time with them.
When they might become nervous or scared (like when they'll hear fireworks on the 4th of July or New Year's Eve).
When I'm bored — making dog treats is just a fun way to get out of a personal funk and include your dog in the day's activities at the same time.
Each of those is a perfect example of a time when you'd want the dog treat-making process to be fast and simple. Yep, having a jar of pre-made dog treat mix on hand can sometimes be a lifesaver… or, at least a sanity saver!
Beyond making treats for your own dog, just think of all the times that a DIY dog treat kit would come in handy as a gift… or as a fun activity:
Housewarming gift – for a new neighbor who has a dog
Group activity – for a kid's birthday party, a friends' get-together with everyone's dogs, a kid's sleepover activity, or just a fun family activity for all ages
New dog owner gift – for someone who just got their first dog
Dog birthday party – for those who celebrate their dog's adoption and/or birthday (solo, or with other dogs) and want to make DIY dog birthday treats
Holiday gift – for anyone who has a dog (A DIY dog treats kit is something that many dog owners wouldn't think to buy for themselves, but it makes a super thoughtful gift for someone else!)  
The Story Behind Cooper's Treats
When I first spoke to the folks at Cooper's Treats, I knew I was chatting with a team that:
Loves dogs
Understands dog food ingredients and prefers all-natural ingredients
Is committed to sourcing ingredients and manufacturing products in the USA
Understands that we're all busy (so we like dog treats that are quick and easy to make)
Wants to enhance the time people spend with their dogs
I had good vibes and a great first impression of this company from the get-go. There was even a sweet handwritten (personalized) note from the owner Alex Willen (and his dog Cooper) inside the box.
As it turns out, Alex experimented with 50 or so different flavor combinations before finding the two that his dog Cooper liked best: Beef & Cheddar (which Alex says are most dogs' favorite) and Turkey & Cinnamon (which are my own dogs' favorite).
"I started Cooper's Treats because I believe two things when it comes to dog treats: (1) You should be able to pronounce everything in the treats you give your dog, and every ingredient should be healthy and high quality. (2) Homemade treats are the best treats. I just couldn't get behind feeding something to Coop when I couldn't even pronounce the ingredients. So I set out to make my own frozen treats [the Pupsicles frozen mix]. Instead of using a bunch of chemicals though, I took some freeze-dried meat, blended it into a powder, mixed it with water, and froze it. Not everyone has the time to blend freeze dried meat into a powder, or, in the case of our Baked Biscuit Mix, to go buy all of the ingredients and measure them out one by one. That's why I decided to make all of our products as easy as possible — all you have to do is add water and freeze or bake."

~Alex Willen, Cooper's Treats
How To Make Your Own DIY Pupsicle Recipes
My bonus tip for those of you who already happen to buy freeze-dried meat treats for your dog is to experiment with your own DIY Pupsicle Recipes! 
Here's how…
For my dogs, I often buy freeze-dried Carnivore Crunch from Stella & Chewy's and freeze-dried Meal Mixers from Stella & Chewy's. (These come in all meat flavors: duck, chicken, pork, beef, turkey, lamb, and salmon.)
Well, you know how there's always a bunch of crumbs left at the bottom of the dog treat bags? (I always save all of the treat crumbs for use in homemade dog treats later!)
Take those crumbs (or even WHOLE pieces of the freeze-dried dog treats!) and put them into a food processor or blender.
Once it's a very fine powdery consistency, pour that into an air-tight container.
Then, whenever you want frozen dog treats… just combine a few tablespoons of your homemade meat powder mix with a few tablespoons of water.
Next, pour that mixture into a silicone mold and freeze for 1-2 hours.
TIP: For frozen dog treats, you can always add a little more water (or low-sodium broth) to the mix – because you want the consistency to be a little bit runny. Adding more liquid reduces the calories, too.
You could also…
…add some peanut butter to make your own Peanut Butter Pupsicles.
…add a little bit of canned pumpkin to make Pumpkin Pupsicles.
…add low-salt beef broth to make Beef Broth Pupsicles.
…add applesauce to make Applesauce Frozen Dog Treats.
In fact, you can add ANY combination of these dog-safe human foods to your DIY Pupsicle recipes.
The idea is simply to make your own DIY frozen treats for dogs using whatever dog treats you happen to have on hand… and a blender (or food processor). These may not look or taste as delicious as Cooper's Dog Treats do, but my dogs enjoy them just the same!
As you can see in the above photo, I used to use regular ice cube trays when making frozen dog treats. But after using the cute silicone molds that came with Cooper's Treats Mixes, I decided to buy these two silicone dog molds:
Here are even more fun frozen dog treat molds to try.
The Bottom Line
Based on my own experience making them, my two dogs' experience eating them, and of the other Cooper's Treats reviews I've read… I'm 100% convinced that most dogs (and ALL dog owners!) will appreciate these convenient DIY dog treat mixes from Cooper's Treats.
Trust me… DIY dog treats do NOT get any easier than this! (Even my husband wanted to get in on the fun and see how easy it is.)
Personally, I like to make the frozen Cooper's Pupsicles for my dogs most of the time (just combine the mix with water, pour into silicone molds, and freeze)… rather than turning on the oven, combining the mix with water, cutting out individual bite-sized cookies, waiting for them to cook, waiting for them to cool off, then cleaning up.
But that's just me. I like super-quick and super-easy.
And while the baked biscuits are indeed quick & easy… the Pupsicles are the absolute QUICKEST and EASIEST of the two versions to make.
Actually, Cooper's Pupsicles are the quickest and easiest of any DIY dog treats you could possibly make!
Second place in terms of speed goes to Cooper's Baked Dog Biscuits — of all the homemade dog treats I've tried.
I really like that all of Cooper's Dog Treats Mixes are manufactured in the United States, and all of the ingredients come from the U.S. as well.
Initially, the folks at Cooper's Treats asked if I would be interested in reviewing just their Pupsicle Starter Kit alone. While I was definitely intrigued (because frozen dog treats are usually more enjoyable for me to make than baked dog treats are), I honestly felt that my review would be more well-rounded and thorough if I were able to compare their Pupsicle Mixes with their Baked Dog Biscuit Mixes. I knew that I had my own questions about the differences — so I wanted to help other dog owners by sorting out the pros & cons AND the differences & similarities of the two different types of DIY dog treat mixes.
I've decided to write about each of Cooper's Treats Mixes individually — in two separate articles:
I hope that you find my reviews of Cooper's Dog Treats helpful.
Here's to keeping our dogs happy and healthy with the best DIY dog treats!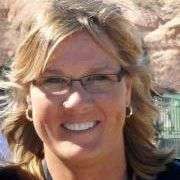 I like to help Dog Parents find unique ways to do things that will save time & money — so I write about "outside the box" Dog Tips and Dog Hacks that most wouldn't think of. I'm a lifelong dog owner — currently have 2 mixed breed Golden Aussies that we found abandoned on the side of the road as puppies. I've always trained my own dogs and help friends train theirs, as well. Professionally, I worked at a vet and have several friends who are veterinarians — whom I consult with regularly. (And just because I love animals so much, I also worked at a Zoo for awhile!) I've been sharing my best ideas with others by blogging full-time since 1998 (the same year that Google started… and before the days of Facebook and YouTube). My daily motivation is to help first-time dog owners be better prepared from the first day your new puppy enters your home. I like to help dog owners understand what's 'normal' and what you can expect in terms of living with and training your dog — how to get through the ups & downs of potty training, chewing, teaching commands, getting your dog to listen, and everything else that takes place during that hectic first year! When I'm not training, walking, grooming, or making homemade treats for my dogs, you will find me at the corner of Good News & Fun Times as publisher of The Fun Times Guide (32 fun & helpful websites). To date, I've written over 600 articles for dog owners on this site! Many of them have upwards of 200K shares.