This post may contain affiliate links. If you buy thru these links, we may earn a commission at no additional cost to you.
---
Looking for some easy frozen dog treats for summer? Have you tried Pupsicle mixes yet?
When it's hot outside, DIY frozen dog treats help your pup beat the heat.
Sure, you could give your dog something as simple as an ice cube on a hot summer day. But there's absolutely NO flavor (or fun) in that! 
These dog Pupsicle Mixes are the perfect combination of freeze-dried meat (in powder form) for flavor AND ice for coolness.
Cooper's Pupsicles are like meaty ice cubes for dogs. They're like small popsicles for your dog that you can make at home!
My dogs really do love them. And because they're SO easy to make — I make my dog Pupsicles from Cooper's Treats all the time now.
Why I Like Cooper's Treats Pupsicle Mix
While I could make my own Pupsicles recipes (and I do… quite often), I think that the all-natural ingredients included in Cooper's Pupsicles are a huge factor in why my dogs like them so much.
Plus, I'm sure they're way healthier than any mish-mash Pupsicle recipes I'd make by myself.
See how I've put my own spin on Cooper's Pupsicles! I found a way to make something similar using freeze-dried dog treats.
The fact of the matter is… it would take me forever to find a similar combination of healthy, high-quality ingredients that would yield the consistency (and flavor) that you get when making frozen dog treats with Cooper's Pupsicle Mix.
Here's what the label says on Cooper's Pupsicle Mix:
Beef & Cheddar Pupsicle ingredients: freeze-dried beef, cheddar cheese powder, whole wheat flour, whole egg protein 
Turkey & Cinnamon Pupsicle ingredients: freeze-dried turkey, cinnamon, whole wheat flour, whole egg protein
How To Make Cooper's Treats Pupsicles
Trust me, there is absolutely NO way you can fail when making these frozen dog treats!
To make Cooper's Pupsicles, all you have to do is add water, pour into a silicone mold, and freeze. That's it.
You want the consistency of the mixture to be a little runny.
TIP: You can always add a little extra water (or low-sodium broth) to the mix — if you want the recipe to fill an extra silicone mold or two. Or, if you want to shave off a couple of calories from each Pupsicle.
Here are my photos showing the simple steps for making Cooper's dog Pupsicles:
---
Here's the official video from Cooper's Treats showing how quick & easy it is to make the Pupsicles:
---
SOOOooooo easy, right?
I do wish I had one of those small cookie scoops though! I'm thinking of buying one.
TIP: Small cookie scoops hold anywhere from .5 to 1.5 teaspoons of mix. I would use the smallest .5 teaspoon cookie scoop most often when making homemade dog treats. (On rare occasions, I can see where the 1 teaspoon cookie scoop would be useful.)
Seriously, this is one of the fastest and easiest things you can do for your dog on a whim — make Pupsicles using Cooper's pre-made meaty mix! (The only flavor I haven't tried yet is the Lamb & Mint.)
The Pros & Cons
I don't know that I've ever written a review in the past without having a single negative to say about the item I'm reviewing. But I'm being 100% honest when I say that I can't find any "downsides" to the Pupsicles from Cooper's Treats. (I've definitely found a few negatives with the Baked Dog Biscuits from Cooper's Treats — but the Pupsicle Mixes are flawless, in my opinion.)
What I like best about Cooper's Pupsicles:
They're made with real meat.
Made in the USA.
Have no added sugar, salt, preservatives, color, or artificial flavors.
My dogs love them, especially the Turkey & Cinnamon Pupsicles (I'm pretty sure it's the cinnamon itself that they like — which also happens to make a dog's breath smell better!)
Plus, the Pupsicle Starter Kit from Cooper's Treats comes with everything you need to make fun little gourmet treats for your dog:
1 silicone mold (with good-sized dog bone & dog paw shapes)
1 jar of Beef & Cheddar dog Pupsicle mix
1 jar of Turkey & Cinnamon dog Pupsicle mix
Each jar makes about 2 dozen frozen dog treats. And each dog Pupsicle treat is about 20 calories.
If you're thinking that the price (just under $30 a box for 4 dozen dog treats) seems high… it's really not. It's about 60 cents per dog treat AND you get the reusable silicone molds AND you get the personal enjoyment of making them yourself AND they're so easy to make. This is right in line with the price of dog cookies at pet stores and far less than the price you'd pay for a freshly made gourmet dog treat elsewhere ($1.50 to $3 apiece!) — and it's exactly what other companies are charging for their DIY dog treat mixes.
The Bottom Line
This is, without a doubt, the fastest way I've ever ever made dog treats — just add water and freeze!
I think they're the best frozen treats for dogs of all the different DIY ones I've tried — super easy frozen dog treats for summer fun!
Pre-made DIY frozen dog treat mixes from Cooper's Treats are good to always keep on hand for:
Times when you want to give your dog a high-value reward (something they don't get very often, something they'll work hard to receive).
When it's hot outside and you're reaching for popsicles for the kids (and yourself), a Pupsicle is a fun way to include your dog.
After playing hard outside or after a long walk, a Pupsicle will hit the spot for your sweaty dog.
The summer months, obviously — but really, any time you want quick & easy homemade frozen dog treats.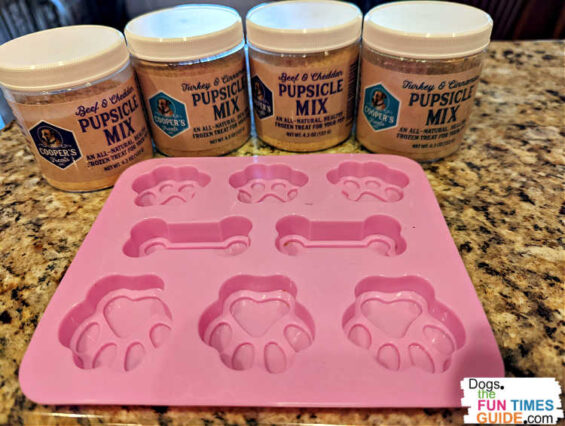 Here's more about why I like Cooper's Treats, the story behind the company, the products they gave me to review, and my all-time favorite homemade dog treat recipes.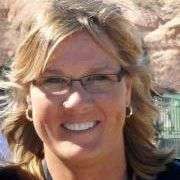 I like to help Dog Parents find unique ways to do things that will save time & money — so I write about "outside the box" Dog Tips and Dog Hacks that most wouldn't think of. I'm a lifelong dog owner — currently have 2 mixed breed Golden Aussies that we found abandoned on the side of the road as puppies. I've always trained my own dogs and help friends train theirs, as well. Professionally, I worked at a vet and have several friends who are veterinarians — whom I consult with regularly. (And just because I love animals so much, I also worked at a Zoo for awhile!) I've been sharing my best ideas with others by blogging full-time since 1998 (the same year that Google started… and before the days of Facebook and YouTube). My daily motivation is to help first-time dog owners be better prepared from the first day your new puppy enters your home. I like to help dog owners understand what's 'normal' and what you can expect in terms of living with and training your dog — how to get through the ups & downs of potty training, chewing, teaching commands, getting your dog to listen, and everything else that takes place during that hectic first year! When I'm not training, walking, grooming, or making homemade treats for my dogs, you will find me at the corner of Good News & Fun Times as publisher of The Fun Times Guide (32 fun & helpful websites). To date, I've written over 600 articles for dog owners on this site! Many of them have upwards of 200K shares.