This post may contain affiliate links. If you buy thru these links, we may earn a commission at no additional cost to you.
---
While some people think you can't teach an old dog new tricks, many think the same of teeny-tiny puppies and put off puppy training and teaching basic dog commands until 6 months of age… or later.
However, a puppy is never too young to learn certain things. In fact, you can (and should) introduce puppy training from the day you bring them home!
We're not asking you to set up a training session as soon as you walk through the door — because your puppy will be far more interested in her new home than learning something new. But once she has settled, you should start some short training sessions focusing on very important basic dog commands.
So which commands do you concentrate on first? And how do you teach those commands to a cheeky puppy who is far more interested in running around with your slipper in her mouth?
Here are the 5 most important dog commands you should begin teaching your puppy right away…
For each of these basic dog commands, you will guide pup to where you want her to be. There is room for error — which means she can (and will) succeed regularly. You praise and reward her regularly, and she learns that training is actually lots of fun!
Sit is possibly the easiest command to start off with, because you teach it with a lure — a dog treat.
How to teach a puppy the "Sit" command:
Start with your puppy in front of you, while holding a dog treat in your hand. (She's likely already smelled the treat so will be focusing on that!)
Hold the treat in front of her nose and guide it back over her head. She will follow the treat and as her head moves back, her back end will automatically touch the ground.
Praise and reward her.
Repeat — and as her back end touches the ground, label the behavior "Sit!"
Repeat several times.
She quickly learns that when her bottom touches the ground, something good happens — so she needs to do it more!
Advanced Tip:
Be patient — because puppies don't always sit still the first few times. Once your puppy sits long enough for you to label the behavior and say the command "Sit," reward them. If you do this often enough, your puppy will quickly learn to sit and wait patiently on command.
An even easier command to teach a young puppy is "Lie down." Again, this is trained with a lure (treat).
How to teach a puppy the "Lie Down" command:
Ask your pup to sit.
With a dog treat in front of her nose, guide her nose to the ground and pull it out in front of her.
She will instinctively lay down to follow the treat with her mouth (because that's where treats go, right?!).
As soon as she is lying down, praise her and give her the treat.
Repeat regularly, and she will eventually lie down on command.
Advanced Tip:
To develop this command further, once she's been trained to "lie down" from command… as you say it, you could point down to the floor with a finger or demonstrate a hand movement. She will soon associate the command with the hand movement — so even from a distance, if you had her attention, you could ask her to lie down without saying a word! Cool huh?
It's also important that puppies learn the "Leave It" command rather early.
It can be a saving grace if you're walking up the sidewalk and find takeout food from the night before has fallen from someone's garbage bin! Who knows what's in there… but onions are not your friend. (Here's a list of human foods that are safe, and ones that are not safe for dogs to eat.)
How to teach a puppy the "Leave It" command:
With a treat in your hand, close your fist around it.
Hold it in front of pup's nose. She will likely sniff, nuzzle and paw at you to open your hand. Don't.
As soon as she ignores it or turns away, praise her and give her the treat. The idea is for her to learn, that if she ignores the good thing, something good happens anyway.
Repeat.
Once she's getting quicker at ignoring, label the behavior "Leave" as she turns away. Then praise and reward her.
Advanced Tip:
You can progress to leaving a treat on the floor and asking her to leave, or even asking her to leave her food when you first place it down. Just make sure she already has full grasp of the next command ("Release" / "OK") first — because she needs to know when she can eat!
Teaching a release (like "Okay") is important because your dog should always learn to wait for "permission" from you before being allowed to turn her attention somewhere else.
Many dog owners choose "OK!" as a release. Some use the word "Free!" The command is entirely up to you… it's the behavior we are concerned with.
How to teach a puppy a release command like "Okay":
Standing next to your dog (in a sit, down, or just stood position), throw a dog treat in front of her.
As soon as she steps to eat it, use the command (like "Okay") and label the behavior.
Repeat.
Advanced Tip:
You should work to the stage that she is focusing on you, you say the command, she releases herself, and then you throw the treat.
Despite it being last on our list, recall (or "come") is actually one of the most important commands to teach your puppy.
How to teach a puppy a recall command like "Come":
With a young puppy, you literally start by simply saying their name and "Come!"
Then give a treat — even if she is directly in front of you. The point is to reward her for paying close attention to you.
Repeat.
Advanced Tip:
As your puppy gets older, you'll want to call her from a distance away, use a high-pitched voice, and act excited to get her attention. As soon as she gets to you, reward her, then repeat again. Working with distractions and distance when she's older will solidify her skills with this command. This is a very important command to master early — in case she ever decides to wander off on her own!
The Bottom Line
While you may not think there are many commands here, that is sort of the point! You don't want to overload your puppy. Just work on one basic dog command for a week and see how it goes.
Spend no longer than 15 minutes a day on these dog training commands — especially at such a young age. Any longer and your puppy will get bored… or tired!
If your dog is getting distracted, just end the training session on a positive note by requesting something of your puppy that you know she can do. It will be much easier to entice your pup into the next training session if she knows that good things always happen during training!
After it's clear that your puppy has learned these important commands, you can begin to phase out the food rewards. You can still give treats occasionally as a reward, but you don't necessarily want your puppy to expect food rewards every time you give basic dog commands. Once they understand a command, sometimes give treats and praise, and other times just give lots of praise and excited play time as a reward.
Like this post? Save it to read again later… or share with others on Pinterest!
Our guest contributor, John, is the founder of All Things Dogs. He's a member of the Association of Professional Dog Trainers, a graduate in Animal Behavior and Welfare, and a recognized author by the Dog Writers Association of America.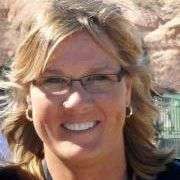 I like to help Dog Parents find unique ways to do things that will save time & money — so I write about "outside the box" Dog Tips and Dog Hacks that most wouldn't think of. I'm a lifelong dog owner — currently have 2 mixed breed Golden Aussies that we found abandoned on the side of the road as puppies. I've always trained my own dogs and help friends train theirs, as well. Professionally, I worked at a vet and have several friends who are veterinarians — whom I consult with regularly. (And just because I love animals so much, I also worked at a Zoo for awhile!) I've been sharing my best ideas with others by blogging full-time since 1998 (the same year that Google started… and before the days of Facebook and YouTube). My daily motivation is to help first-time dog owners be better prepared from the first day your new puppy enters your home. I like to help dog owners understand what's 'normal' and what you can expect in terms of living with and training your dog — how to get through the ups & downs of potty training, chewing, teaching commands, getting your dog to listen, and everything else that takes place during that hectic first year! When I'm not training, walking, grooming, or making homemade treats for my dogs, you will find me at the corner of Good News & Fun Times as publisher of The Fun Times Guide (32 fun & helpful websites). To date, I've written over 600 articles for dog owners on this site! Many of them have upwards of 200K shares.