This post may contain affiliate links. If you buy thru these links, we may earn a commission at no additional cost to you.
---
Dogs and bad breath pretty much go hand in hand.
Once they outgrow that adorable puppy-breath phase, it's clear that your dog's bad breath will probably become an ongoing issue.
Fortunately, there are some things you can do to help prevent dog bad breath.
These are the dog bad breath remedies that I use:
#1 Give fresh dog bones from the butcher – I give my dog a large raw beef bone to chew on every now and then (roughly a couple times each month). I get them from our local butcher. Some grocery stores sell them as well — in the meat department.
#2  Brush your dog's teeth –  I use a finger brush to brush my dog's teeth. Even though he absolutely loves the beef-flavored doggie toothpaste, I honestly don't do this as frequently as I should. But every little bit helps, so I'm not going to beat myself up about it.
#3 Give homemade dog breath treats – Instead of making 'regular' homemade dog treats, you can freshen your dog's breath at the same time by including specific ingredients that are known to do this.
#4  Use dog mouthwash (a drinking water additive) – For us, adding a dog-friendly drinking water alternative worked really well at first, but then the results sort of fizzled. It's a good first step in your attempt to freshen your dog's breath, but not long-lasting.
Today, I'm going to focus on homemade dog breath treats that you can make.
Key Ingredients In Homemade Dog Breath Treats
I have already shared lots of homemade dog treats and dog friendly recipes.
I'll be honest, I tend to gravitate to the simple dog recipes that have the fewest ingredients and ingredients that I usually have on hand.
Also, the number one reason I give my dog homemade dog treats is because it's a healthy, natural way to freshen my dog's breath.
Yep, 9 times out of 10 I will add one (or both) of these top 2 breath-freshening ingredients that are safe for dogs:
Did you know that you can take just about any homemade dog treat recipe and add parsley and/or mint to it, and you'll be freshening your dog's breath with every bite?!
Fresh mint and parsley can be found in the refrigerated produce section of grocery stores. Mint and parsley can also be found in jars and bottles in the herbs & spices aisle at the grocery store; sometimes in the baking aisle.
The fresh flavor of parsley and mint helps to freshen your pet's breath. Mint can also be soothing to the stomach and nervous system and help alleviate nausea. Parsley is also soothing and can help relieve arthritic pain. Source
Dill is another natural breath freshener that is safe for dogs (and it can be found in the exact same places as Mint and Parsley in stores), but I've only found it to have very mild breath-freshening properties with my dog.
Okay, here are my all-time favorite dog breath treats to make at home…
10 Best Recipes For Homemade Dog Breath Treats
I've tried a bunch of different recipes for dog breath treats. Truthfully, there aren't many that have a truly dramatic effect on your dog's bad breath, but these are the ones that I've found to have the greatest effect — of all the ones I've tried.
#1 – No-Bake DIY Dog Breath Mints
10 crackers (crushed) or 1/2 cup rolled oats
1/2 cup mint leaves (finely chopped or pureed)
water
Combine the first 2 ingredients in a bowl.
Slowly add small amounts of water to the mixture until the ingredients stick together, without being runny (about 4 tablespoons).
Make dime-sized treats by rolling a small amount of the mixture between your fingers to form little balls as individual bite-sized mints.
Place the individual dog breath mints on a sheet of waxed paper and store in the freezer.
Give a few at a time to your dog, as needed.
Makes about 20 small dog mints.
Adapted from Homemade Dog Breath Mint recipe. (Also here.)
#2 – Homemade Greenies Dog Breath Fresheners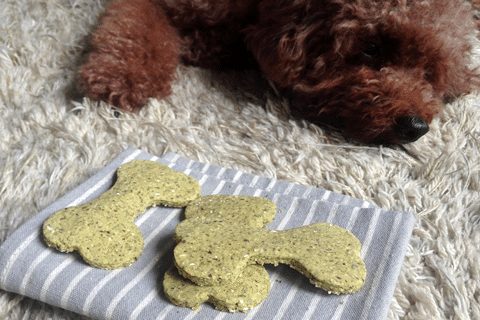 1 cup chickpeas, cooked
1/3 cup flour (plus more for dusting)
1 tablespoon ground flaxseeds
1/8 cup fresh mint leaves (about 10 leaves)
1/8 cup fresh parsley
1-2 tablespoons low-sodium soup stock (or beef broth/chicken broth)
Place all ingredients in a food processor. Process until the chickpeas are very fine and the dough is well mixed. (Scrape down the sides when needed.)
Using the additional flour, lightly flour your work surface, then roll the dough out and use cookie cutters to shape the dog treats.
Bake for 30 minutes in a 300-degree oven until crisp and lightly browned on the edges. (For added crispness, leave treats in the oven to cool, with the oven door slightly ajar.)
Adapted from Dog Breath Fresheners Greenies Treats. (Also here.)
#3 – Kale Puppermints
2 cups whole wheat flour
1 cup wheat germ
1 cup parsley
1/2 cup kale
1/2 cup mint
1/2 cup water
1/2 cup canola oil
1 tablespoons honey
1 teaspoon salt
Mix the parsley, mint, kale and water in a blender or food processor, then put into a large mixing bowl.
In a separate bowl, mix the canola oil, honey, and salt.
Slowly add the dry ingredients to the wet ingredients and mix together.
Knead until a dough ball forms. (Add small amounts of water until you get the desired texture for a moist dough.)
Sprinkle plenty of flour on your work surface, then roll out the dough and use a cookie cutter to make individual dog cookies.
Bake at 250 degrees for 30-40 minutes.
Adapted from Gluten-Free Puppermints recipe. (Also here.)
#4 – Banana Dog Breath Busters
2 ripe bananas, peeled and mashed
1/3 cup peanut butter
2 cups flour
1-1/3 cup quinoa (or use rolled oats instead)
1/3 cup very hot water
1 cup dried parsley flakes
1/4 cup dried mint
2 eggs, beaten
In a bowl, mix the quinoa with the hot water and let set 5 minutes.
Then, mash the bananas into the quinoa bowl.
Stir in the peanut butter.
Add the remaining ingredients and knead with your hands. (This tends to be a little sticky. If too sticky, add a little more flour.)
Let the dough set for 10 minutes.
Roll into bite-sized cookies and place on an oiled cookie sheet.
Bake at 300 for 1 hour (or a little longer).
Makes about 4 dozen cookies.
Adapted from Banana Breath Buster Dog Biscuits recipe. (Also here.)
#5 – Minty Herbal Dog Treats
1 tablespoon vegetable oil
1 cup water (or use chicken broth or beef broth instead)
2 cups flour
1/2 cup oats
2 tablespoons fresh mint
1/3 cup chopped parsley
1/4 tablespoon minced garlic
1 jar of baby food (like carrots, sweet potatoes, or any other flavor)
Mix oil and water. Slowly add flour and other ingredients. Roll out dough on a flat surface.

Cut with cookie cutters.
Roll each in baby food before placing onto cookie sheet. It acts like an 'icing' of sorts.
Bake 30-40 minutes in a 350 degree oven.
Makes about 3 dozen dog treats, depending on the size of your cookie cutter.
Adapted from Herbal Dog Treats recipe. (Also here.)
#6 – Doggie Pancake Breath Busters
1-1/2 cups whole wheat flour
1-1/2 cups pancake baking mix (like Bisquick)
1/2 cup mint leaves, finely chopped
1/4 cup milk
4 tablespoons margarine
1 egg
1-2 tablespoons broth (or maple syrup or corn syrup)
Combine all of the ingredients in a food processor. Blend until well mixed and a large ball forms.
Roll the dough on a non-stick surface (like a floured cutting board).
Cut into 1-inch x 2-inch strips. Or use a bone-shaped cookie cutter.
Place cookies on a non-stick cookie sheet.
Bake at 375° F for 20 minutes or until lightly browned.
Makes about 30 dog biscuits.
Adapted from Breath Bustin' Biscuits recipe. (Also here.)
#7 – Cinnamon Minty Dog Treats
2 cups oats
1-1/2 cups flour
1 egg
1/2 cup fresh mint, chopped
2 teaspoons baking soda
1-1/4 teaspoons cinnamon
1/4 cup water
Mix in food processor until finely chopped.
In a large bowl, combine flour, mint, baking soda, cinnamon, and chopped oats.
Add egg and water to the mixture, and mix well.
Knead with hands to form a dough – add more water or flour as needed for desired consistency.
Use a rolling pin to roll out dough on waxed paper.
Use cookie cutters (or a cup or a lid) to create individual dog treats.
Place cookies on a greased cookie sheet and bake 

in 375-degree oven for about 10 minutes.
Adapted from Wheat-Free Minty Cinnamon Treats recipe. 
#8 – Garlic And Mint Dog Breath Treats
1 tablespoon vegetable oil
1 cup water
2-1/2 cups dry oatmeal
2 tablespoons fresh mint, diced finely
1/3 cup parsley, diced finely
1/4 teaspoon chopped garlic
Mix the wet ingredients together first.
Slowly fold in the dry ingredients until the mixture is a smooth consistency.
Roll the dough out and cut in to any shapes you choose.
Bake in a 350-degree oven until hard, about 35 minutes.
Adapted from Mint Dog Treat Recipes. (Also here.)
#9 – Coconut Oil Minty Fresh Dog Biscuits
1 cup brown rice flour
1/2 cup rolled oats
1/4 cup fresh parsley, finely chopped
1/4 cup fresh mint, finely chopped
1/2 cup water
1/4 cup coconut oil
2 tablespoons peanut butter
1 teaspoon baking powder
Combine all ingredients.
Bake in a 375-degree oven for about 20 minutes.
Adapted from Wheat-Free Minty Fresh Biscuits recipe. (Also here.)
#10 Cheesy Carrot Dog Breath Cookies
2-3/4 cups rice flour
2 tablespoons rolled oats
2 teaspoons baking powder
2 cups fresh parsley, finely chopped
2 tablespoons fresh mint, finely chopped
1/4 cup carrot, grated
1/4 cup low-fat mozzarella cheese, grated
2 tablespoons extra virgin olive oil
3/4 cup water
Mix the flour, oats, and baking powder in a large bowl.
Add the parsley, mint, carrot, cheese, and olive oil to the bowl and stir well.
Gradually pour 1/2 cup of water into the bowl and mix until combined.
Add more water, if necessary, so the dough is moist and not crumbly.
Lightly flour your work surface and knead the dough.
Use a cookie cutter or cup to cut out individual dog treats.
Bake in a 200-degree oven for 20-30 minutes until they begin to brown.
Adapted from All Natural Fresh Breath Dog Cookies recipe. 
Other Dog Breath Treats To Try
I haven't tried these yet (because they include one or more ingredients that I don't typically keep in my pantry), but they look good too:
Must read: Tips For Using Activated Charcoal To Make Homemade Dog Breath Treats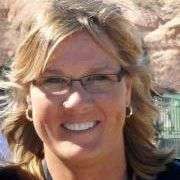 I like to help Dog Parents find unique ways to do things that will save time & money — so I write about "outside the box" Dog Tips and Dog Hacks that most wouldn't think of. I'm a lifelong dog owner — currently have 2 mixed breed Golden Aussies that we found abandoned on the side of the road as puppies. I've always trained my own dogs and help friends train theirs, as well. Professionally, I worked at a vet and have several friends who are veterinarians — whom I consult with regularly. (And just because I love animals so much, I also worked at a Zoo for awhile!) I've been sharing my best ideas with others by blogging full-time since 1998 (the same year that Google started… and before the days of Facebook and YouTube). My daily motivation is to help first-time dog owners be better prepared from the first day your new puppy enters your home. I like to help dog owners understand what's 'normal' and what you can expect in terms of living with and training your dog — how to get through the ups & downs of potty training, chewing, teaching commands, getting your dog to listen, and everything else that takes place during that hectic first year! When I'm not training, walking, grooming, or making homemade treats for my dogs, you will find me at the corner of Good News & Fun Times as publisher of The Fun Times Guide (32 fun & helpful websites). To date, I've written over 600 articles for dog owners on this site! Many of them have upwards of 200K shares.