This post may contain affiliate links. If you buy thru these links, we may earn a commission at no additional cost to you.
---
Finding your dog's sweet spot is definitely a process…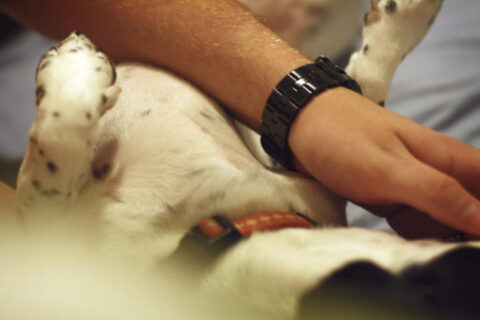 It's something you learn over time.
But one thing's for sure:
Once you find it, your dog won't let you forget it!
Our Dogs' Sweet Spots
My American Eskimo (Jersey) used to like having his forehead rubbed — right between his eyes. And if you ventured toward the sides a bit — right over his eyelids — he'd practically fall asleep on the spot.
I recently discovered that my 7-month-old Black Lab/Great Pyrenees mix (Tenor) starts "talking" to you every time you touch the inside of his ears. He groans with delight whenever you rub the inside of his ears with your finger (…using the same wide, circular motion that you would when applying a doggie ear cleaner.)
For the record, he's never even had his ears cleaned yet. But our 3-year-old Black Lab/Golden Retriever mix (Destin) has been receiving regular ear cleanings for the past couple of years now. More on that here.
Destin's "sweet spot" is low on his belly, close to his hind legs. If you get it just right, he'll even start reflexively "scratching" with that leg at the same time. And when you stop, he'll lightly paw you with his front leg for more (…at the same time he's giving you the saddest puppy-dog eyes).
A close runner-up for Destin, though, is a good ear rub. But he prefers an external ear-rub, as opposed to an internal rub like Tenor. We use the same circular motion as when applying the ear cleaner, only it's his own ear flap massaging the inside of his ear instead of a cotton ball or my fingers. It practically puts him in a trance.
Here's more about our dogs Jersey, Destin, and Tenor.
How Dogs Scratch Their Own Itches
Ever wonder how a 3-legged dog scratches her own itches?… Here's how.
As you'll see in the following video, dogs of all shapes and sizes have figured out how to scratch their own itch: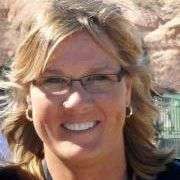 I like to help Dog Parents find unique ways to do things that will save time & money — so I write about "outside the box" Dog Tips and Dog Hacks that most wouldn't think of. I'm a lifelong dog owner — currently have 2 mixed breed Golden Aussies that we found abandoned on the side of the road as puppies. I've always trained my own dogs and help friends train theirs, as well. Professionally, I worked at a vet and have several friends who are veterinarians — whom I consult with regularly. (And just because I love animals so much, I also worked at a Zoo for awhile!) I've been sharing my best ideas with others by blogging full-time since 1998 (the same year that Google started… and before the days of Facebook and YouTube). My daily motivation is to help first-time dog owners be better prepared from the first day your new puppy enters your home. I like to help dog owners understand what's 'normal' and what you can expect in terms of living with and training your dog — how to get through the ups & downs of potty training, chewing, teaching commands, getting your dog to listen, and everything else that takes place during that hectic first year! When I'm not training, walking, grooming, or making homemade treats for my dogs, you will find me at the corner of Good News & Fun Times as publisher of The Fun Times Guide (32 fun & helpful websites). To date, I've written over 600 articles for dog owners on this site! Many of them have upwards of 200K shares.