---
This page may contain affiliate links. In addition to sharing our personal experiences, we often write about products and services that we use ourselves or that we believe would be a helpful resource for you. To support our work, and remain a free website, we receive a commission from some of the links we share.
These are just some of the pet brushes that I've used in the past. In fact, these are the 3 that I had used most recently to brush my dog.
Each is different in some small way. Therefore, each serves a slightly different purpose.
HOWEVER, I've found a pet brush that blows all 3 of those away. It's called the Furminator!
I've been using the Furminator for years now, and without a doubt it's my all-time favorite dog brush.
Here's why…
My Old Dog Brushes

The reason I had 3 pet brushes that I used regularly (a few times a month) was because each one brushed my dog in a slightly different way.
For instance…
The small blue one is actually a flea comb (also used in many homes as a lice comb). While my dog has never had fleas, I used this brush for helping to remove ticks after walks in the woods. After noticing that it worked so well at pulling up loose hairs from my dog's undercoat, I started using it regularly as a basic undercoat brush. Since it's so small and is only made of plastic, it wasn't all that effective. But it was one of the best ways I had at the time to remove loose fur from my dog's undercoat. And if you have a dog with a thick undercoat, then you know how all of that super thin flyaway hair ends up in the corners of your house — unless you brush it out first.
The rectangular curved small-tined pet brush was my favorite at the time, because it had some sharpness to it. The teeth of this slicker brush were so tiny, they appeared sharp and super-grabby. Therefore, they got a lot more loose fur on any one stroke of the dog's coat. Until I tried the Furminator, I thought this was as good as it got in terms of dog brushes.
The paddle-shaped pet brush with actual bristles on one side and metal tines on the other was pretty ineffective with my Lab-mix dog. Pin and bristle brushes work better with long-haired dogs. This was simply a pet brush that I'd had leftover from my days with Jersey, our long-haired dog.
Now I know better…
My New Favorite Dog Brush: The Furminator
Here are some of the pros and cons of the Furminator dog brush, as I see it:
Furminator Pro's
It always grabs lots of fur, so you feel you're accomplishing something with every brush stroke
It gets rid of the flyaways — those thin, loose hairs lying just underneath your dog's outer coat
It lessens the degree of shedding that takes place
Less frequent vacuuming around the house is required
My dog loves it (though he truly enjoys any type of brushing)
UPDATE: I've also tried the large red Furminator dog brush that has a 'fur ejector button' — and I like it too. My yellow Furminator is the 'original' model without a FURejector button on it. But now it looks like they're adding the 'fur ejector button' to all Furminator dog brushes. Yay!
Furminator Con's
It's sort of clunky and has no "give" to it
You can really only brush in one direction as you're using it
If you brush too hard, you could hurt your dog — because the bristles are actually teeny-tiny little blades
It's a little more difficult to get into tight places at the "right" angle, or to brush over your dog's leg joints
Why The Furminator Pet Brush ROCKS!
For what it's worth, I used to use a dog de-tangler brush with my other long-haired dog (an American Eskimo). It had a curved razor-blade contraption that worked really well at eliminating mats and tangles that had built up in the dog's fur over time.
The design of the Furminator is similar in that it uses the razor blade idea, but it's much larger and intended for full-body brushing — rather than one-spot detangling. I love it!
Oh, and even though the sharp tiny parts of the razor blades in the Furminator pet brush are somewhat recessed behind solid blades of steel, it does come with a simple protective cover to keep the blades from getting caught on anything — like while being stored in a drawer or something.
Who Knew?…  The Furminator is such a great tool that dog groomers use it. They typically charge $10 to $20 for Furminator de-shedding treatments. (See… if you use it just 2 or 3 times, you've gotten your money's worth!)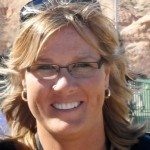 I like to help Dog Parents find unique ways to do things that will save time & money — so I write about "outside the box" Dog Tips and Dog Hacks that most wouldn't think of. I'm a lifelong dog owner — currently have 2 mixed breed Golden Aussies that we found abandoned on the side of the road as puppies. I've always trained my own dogs and help friends train theirs, as well. Professionally, I worked at a vet and have several friends who are veterinarians — whom I consult with regularly. (And just because I love animals so much, I also worked at a Zoo for awhile!) I've been sharing my best ideas with others by blogging full-time since 1998 (the same year that Google started… and before the days of Facebook and YouTube). My daily motivation is to help first-time dog owners be better prepared from the first day your new puppy enters your home. I like to help dog owners understand what's 'normal' and what you can expect in terms of living with and training your dog — how to get through the ups & downs of potty training, chewing, teaching commands, getting your dog to listen, and everything else that takes place during that hectic first year! When I'm not training, walking, grooming, or making homemade treats for my dogs, you will find me at the corner of Good News & Fun Times as publisher of The Fun Times Guide (32 fun & helpful websites). To date, I've written over 500 articles for dog owners on this site!