---
In writing about our personal experiences, we sometimes mention products or services that we use or recommend. This page may contain affiliate links for which we receive a commission.
You already found some interesting things to stuff inside your dog's Kong chew toy.
Now, you're wondering exactly how other people stuff Kongs.
Here are some great tips for stuffing Kong toys…
How To Stuff A Kong
If your dog likes stuffed Kongs as much as our dogs do, then you'll find yourself filling Kong toys on a fairly regular basis. To make it easier, here are a couple of time-saving tips:
To keep the Kong upright and in one place while you fill it, place the Kong inside a small glass or cup with the large opening at the top.
The easiest way to get larger food items inside is to squeeze the Kong so the opening becomes oval-shaped (rather than a perfect circle), then spoon or drop ingredients inside, now that the edges are wider.
When combining liquid/runny ingredients, mix them together inside of a baggie. Then just snip off the corner and squeeze it into the Kong toy. (This is similar to "piping" frosting on a cake.)
To add to the challenge for your dog, and to keep runny ingredients from leaking out of the bottom, you'll want to cram a perfectly-sized solid piece of food into the bottom hole on the Kong toy. You might use a piece of your dog's food or part of a dog treat, a glob of peanut butter, a piece of an apple or cheese.
You don't always have to stuff a Kong full to the brim. Instead, you could just line the sides with a "stickier" substance (peanut butter, honey) and then add a small amount of other solid food items inside. Then freeze. This way, the foods won't harden into one big solid chunk. Instead, some will freeze to the sides, and some will freeze to itself. This method also makes it easier for your dog to get at the treats. (Also great for dogs just learning how to get the most from a Kong toy!)
When you fill a Kong to the brim, and then freeze it, the food items mold into one big solid chunk that's hard for your dog to get at. To ensure that your dog gets immediately rewarded the moment he starts to play with the Kong, make the last item you stuff inside the Kong be a dog biscuit or a solid food (like a carrot) and place it such a way that it sticks partly out of the Kong.
Here are the best Kong recipes to create delicious treats to stuff inside a Kong dog toy.
This video shows several unique ways to stuff a Kong toy, plus tips for introducing your dog to Kongs for the first time: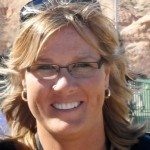 I like to help Dog Parents find unique ways to do things that will save time & money — so I write about "outside the box" Dog Tips and Dog Hacks that most wouldn't think of. I'm a lifelong dog owner — currently have 2 mixed breed Golden Aussies that we found abandoned on the side of the road as puppies. I've always trained my own dogs and help friends train theirs, as well. Professionally, I worked at a vet and have several friends who are veterinarians — whom I consult with regularly. (And just because I love animals so much, I also worked at a Zoo for awhile!) I've been sharing my best ideas with others by blogging full-time since 1998 (the same year that Google started… and before the days of Facebook and YouTube). My daily motivation is to help first-time dog owners be better prepared from the first day your new puppy enters your home. I like to help dog owners understand what's 'normal' and what you can expect in terms of living with and training your dog — how to get through the ups & downs of potty training, chewing, teaching commands, getting your dog to listen, and everything else that takes place during that hectic first year! When I'm not training, walking, grooming, or making homemade treats for my dogs, you will find me at the corner of Good News & Fun Times as publisher of The Fun Times Guide (32 fun & helpful websites). To date, I've written over 500 articles for dog owners on this site!