This post may contain affiliate links. If you buy thru these links, we may earn a commission at no additional cost to you.
---
Need help with vet bills? Wondering how to apply to get financial help for your dog?
Below is a list of the best organizations that help pay vet bills for sick dogs, injured dogs, and dogs with health issues in every state.
The world needs more non-profit organizations like this! The Brown Dog Foundation is from my neck of the woods.
Since I live in Nashville… and I have dogs… and most of my friends have dogs… and the odds of being unable to afford emergency vet treatment for our pets at some point is quite likely… I'm thrilled to hear that something like this is available here in Middle Tennessee!
The Brown Dog Foundation helps dog owners who are faced with expensive vet bills in order to save their dog's life.
As long as you're willing and able to pay a portion of the veterinarian's cost to save your dog's life, the Brown Dog Foundation will pay the rest.
We know that each Emergency Vet Clinic in the U.S. encounters 3 to 5 families every day who bring a pet in with a treatable condition, but due to some temporary financial crisis, they opt for euthanasia because they can't afford treatment. We want to give every family an option. That is why, everyday, we are out there raising money so if you find yourself in a financial crisis when your pet needs Veterinary Care — you don't have to think twice. Turn to Brown Dog Foundation for help. ~Brown Dog Foundation
Their motto is "We raise money so you can have peace of mind." I absolutely LOVE that!
Check out this story about the Brown Dog Foundation from the local TV news.
I first learned of the Brown Dog Foundation that's right here in Nashville from Dogster's dog blog.
Trust me, I know how stressful dog surgery and emergency vet bills can be. My dog tore his ACL while running in the backyard, and it cost us $2,500 for him to get TPLO surgery.
If you need help with emergency vet bills but don't live in Tennessee, check out the following organizations that can help with vet bills in other parts of the United States…
Organizations That Help With Emergency Vet Bills
Financial Help With Vet Bills – All Dogs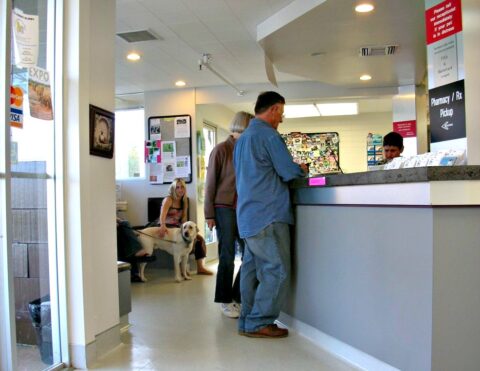 BirchBark Foundation
They provides financial grants to animal owners who are unable to partially or fully cover the cost of their dog's emergency or critical care. Geriatric pets are not eligible.
Brown Dog Foundation
Dedicated to helping families who find themselves in a temporary financial crisis at the same time their pet requires life-saving treatment or life-sustaining medications.
Canine Cancer Awareness
They work with veterinarians by providing help with vet bills for dogs with cancer whose families cannot afford treatment.
Care Credit
A credit card for veterinary care. You get special financing and low monthly payment options, no up-front costs, and no-prepayment penalties — so you can keep your dog healthy and happy. A great place to start when you need financial help with vet bills.
Dogs On Deployment
As a member of the U.S. Military, the last thing you need to worry about is your pet's care during your service commitments. Dogs On Deployment provides boarding for your pets during your service commitments. They also help with vet bills for military pet owners during times of emergency.
Go Fund Me
Create an online fundraiser to cover the cost of expensive veterinary bills. This site makes it easy to raise money for your pet's medical bills.
Handicapped Pets Foundation
Dedicated to the health and well-being of elderly, disabled, and injured pets. They donate mobility equipment to pets in need.
Labrador Life Line
They help with vet bills for owners and rescuers of Labrador Retrievers in need. They provide eligible Labradors with urgent care and short-term medical treatment.
Magic Bullet Fund
They assist you in raising donations to get help with emergency vet bills. You must participate in the fundraising for your pet and help bring in donations, as well.
Mosby Foundation
They provide non-emergency assistance with pet treatment that is needed but has not yet been performed.
Onyx & Breezy Foundation
An organization know for helping pets receive necessary medical treatment that the pet owner cannot afford at the present time. Payments are made directly to veterinarians, pharmacies, etc.
Paws 4 A Cure
Helping families that are in need of non-routine veterinary financial assistance for their dog or cat.
Pet Fund
Provides financial aid to owners of domestic animals who need veterinary care. They help with emergency vet bills — beyond the normal expenses of vaccination, spay & neuter surgeries, food, and routine veterinary care. assist pet owners in covering medical costs
Pets Are Wonderful Support (PAWS)
They provide free and subsidized veterinary services. They also have a free pet food bank.
Pets Of The Homeless
The only national organization focused exclusively on feeding and providing veterinary health care to pets that belong to homeless people.
Pyramedic Trust
They help with emergency vet bills for purebred Great Pyrenees that are in dire need of medical attention and whose owner/rescuer find they are unable to cover the basic costs of veterinary care.
RedRover Relief
They focus on bringing animals from crisis to care. One of the ways they do this is by providing financial assistance to pet owners and animal rescuers to obtain urgent veterinary care.
Rose's Fund
This group financially assists pet owners and Good Samaritans who have an animal with a good prognosis for a healthy life, but are at a financial loss.
Sam Simon Foundation
Saving the lives of dogs to enrich the lives of people. This mobile veterinary clinic provides free surgical services to families with a total household income less than $40,000/year. (Your dog must already be spayed or neutered or become spayed/neutered at the time of the surgery.)
ScratchPay
They provide payment plans for veterinary care — so you can get your dog the care they need first, then worry about the payment later. Affordable rates as low as 0% APR. No hidden fees. No prepayment penalty. No deferred interest. No surprises. A good place to start when you need financial help with vet bills.
Shakespeare Animal Fund
After the loss of a beloved Cocker Spaniel "Shakespeare" who died after an expensive illness, this group was founded to help others who are facing financial problems while trying to save their pet.
Top Dog Foundation
They assist in situations where the owner wants to keep their aging dog (10 years of age and older), but cannot afford procedures or medications necessary to allow for a good quality of life. A great place to start if you need financial help with vet bills for a senior dog.
Waggle
A place to set up an online fundraiser to help pay for your dog's vet bills. To eliminate online fraud, Waggle (formerly Pet Chance) pays the veterinarian directly once treatment has been provided to your dog. The hospital/clinic sends an invoice to Waggle, and the invoice is paid within 30 days.
Wells Fargo Health Advantage Veterinary Financing
This popular bank offers affordable financing for general veterinary care and treatment procedures, emergency clinic treatment and procedures, pet hospital care, dental care, allergy, and arthritis treatment.
Financial Assistance For Dogs – By State
Arizona
California
Colorado
Connecticut
District of Columbia
Florida
Georgia
New Jersey
New York
North Carolina
Ohio
Oregon
Be sure to check this list of state organizations that help with vet bills bills and this one too.
Financial Help For Service Dogs
Assistance Dog United Campaign
Provides financial assistance to individuals who have the need for an assistance dog but have difficulty in raising the necessary funds and to people and programs whose purpose is to provide assistance dogs to people with disabilities.
International Association Of Assistance Dog Partners (IAADP)
Through their Veterinary Care Partnership program, the IAADP assists dog partner members to provide help for their canine partners if a sudden illness or injury requires high cost veterinary intervention, beyond their financial means.
Shore Service Dogs
They provide custom trained service dogs that help return mobility and independence to people's lives. They also help you get financial assistance for the costs associated with getting and keeping a service dog.
Pet Insurance & Holistic Treatments Are Good Too
Pet health insurance will prevent you from having to pay upfront for emergency vet bills.
I have heard so many times how thankful dog owners were that they had pet insurance in place before their dog experienced a health emergency!
And I also know of several pet owners whose dogs with cancer were given a limited amount of time to live, but they far exceeded those times simply by focusing on holistic care for their sick dog.
Here are our best articles about dog health insurance and holistic dog care — to help you choose the right course of action for your dog:
Pet Health Insurance vs. Pet Savings Account — Good to read before you start pet health insurance. See the pros & cons of each and which option makes the most sense.
Is Pet Insurance Worth It? How It Works & What To Look For – The difference between basic plans and full-coverage plans. How to find the right pet insurance plan for your dog.
6 Ways To Get Help With Vet Bills After A Dog Emergency – Pet health insurance is only one of your 6 options. Animal welfare organizations that help with vet bills are another. There are 4 other ways to get financial help for sick dogs.
Dog Cancer Treatment Options – If your dog has cancer, start here! See the various treatment options for canine cancer, plus tips to help you cope, and some insight about the ways that dogs cope with cancer.
Holistic Canine Cancer Options To Consider – One dog owner's personal experience with canine bladder cancer and canine lung cancer. See the alternative health options that worked wonders for her dog!
Like this post? Save it to read again later… or share with others on Pinterest!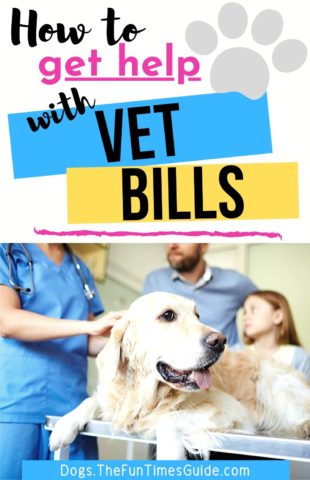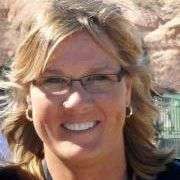 I like to help Dog Parents find unique ways to do things that will save time & money — so I write about "outside the box" Dog Tips and Dog Hacks that most wouldn't think of. I'm a lifelong dog owner — currently have 2 mixed breed Golden Aussies that we found abandoned on the side of the road as puppies. I've always trained my own dogs and help friends train theirs, as well. Professionally, I worked at a vet and have several friends who are veterinarians — whom I consult with regularly. (And just because I love animals so much, I also worked at a Zoo for awhile!) I've been sharing my best ideas with others by blogging full-time since 1998 (the same year that Google started… and before the days of Facebook and YouTube). My daily motivation is to help first-time dog owners be better prepared from the first day your new puppy enters your home. I like to help dog owners understand what's 'normal' and what you can expect in terms of living with and training your dog — how to get through the ups & downs of potty training, chewing, teaching commands, getting your dog to listen, and everything else that takes place during that hectic first year! When I'm not training, walking, grooming, or making homemade treats for my dogs, you will find me at the corner of Good News & Fun Times as publisher of The Fun Times Guide (32 fun & helpful websites). To date, I've written over 600 articles for dog owners on this site! Many of them have upwards of 200K shares.