This post may contain affiliate links. If you buy thru these links, we may earn a commission at no additional cost to you.
---
Last month, on a warm sunny day, Jim & I had just returned home from a trip to Canada.
We picked up our dog at the pet sitters, then we all played at home in the backyard together. Tenor was soooo happy to see us. It had been a week — about the longest he'd been away from us.
Suddenly, he got this urge to just start running… HARD!
Tenor was running laps from corner to corner — the entire perimeter of our fence line. When all of a sudden, as he was running and turning the corner, he yelped and fell down. His knee gave out.
That was the start of Tenor's 3-legged mobility.
Our Dog Tore His ACL
We immediately called our vet, who said to put him on the Deramaxx pain killers we had leftover from the last time he pulled his leg muscle.  If it continued for more than a week, he wanted us to bring Tenor in for x-rays.
It continued. The meds didn't help much. Tenor wouldn't put any weight on that back right leg at all. When we took him to the vet for x-rays, it was obvious that he'd torn his ACL.
Here's a great explanation: What Is An ACL?
In people, injury to the ACL (anterior cruciate ligament) is usually a traumatic injury. You know, the tennis ball goes one direction and your knee goes the other. In dogs, ACL injury is usually a degenerative injury. The difference is subtle but important. In people, the ligament is often normal and is injured by the trauma. In dogs, the ligament is abnormal, and although the lameness is often proceeded by a perceived trauma, most often this ligament was going to pop sooner or later. The implication of this distinction is that the other ligament is often bad as well. So dogs with an injury to one ACL are at a much higher risk of tearing the ligament in the other knee.  Source
The vet said Tenor had about an inch or so of free-range motion in that knee — in a direction that he was supposed to have NONE. (More proof that the ligament was torn.)
So we scheduled our initial pre-op visit with the veterinary surgeon who comes highly recommended in these parts: Dr. Samuel Beckman with Affiliated Veterinary Specialists (now Blue Pearl Veterinary Partners) here in Nashville. (They're also the doctors associated with the after-hours emergency care center.)
So we took our vet's x-rays to the surgeon (Dr. Beckman), who also did a visual exam of Tenor and agreed the TPLO surgery was necessary.
By the way, while examining Tenor's x-rays (one set included his hips), Dr. Beckman said that Tenor will never have a problem with his hips — they look REALLY good. Whew! some good news for a change! A hip problem is one thing you always wonder about dogs — especially large dogs.
Dr. Beckman also spent a good deal of time explaining to us the parts of a dog's knee, how the knee and ACL work in dogs — including ways that they're similar and ways that they're different from a human's ACL and a human's knee, the options for this type of injury, and what to expect in terms of the surgery and recuperation period.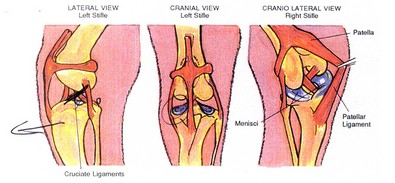 How Much Does TPLO Surgery Cost?
I've heard that dog TPLO surgery can run anywhere from $2,500 to $5,000.
In fact, Trupanion Pet Insurance puts the average cost at $5,439 for a Cruciate Ligament Tear, which covers surgery to repair a torn right hind ACL and any post-op complications.
We were given a ballpark figure ranging from $2,647 to $2,806 for the surgery & meds. (The variation was based on how much medication Tenor would ultimately need.)
In the end, we walked out with a bill of $2,541. Tenor didn't need much medication. And he didn't have any post-op complications.
For the record, we had to pay 80% up front (on a credit card) before the surgery even took place. They don't take any chances with non-paid bills for high-dollar surgeries these days. Which I completely understand. (And no, we didn't have pet insurance.)
The bigger parts of the itemized TPLO surgery included:
Anesthesia (Tenor weighs 75 lbs) $375
ACL repair – TPLO on a large dog $650 (this was the cost for the labor alone)
ACL parts – 1 metal plate $210 and 6 screws $126
2-night stay requiring 24-hour nursing care, level 3 $156
2-night hospitalization standard (walks & feeding?) $50
X-rays (yes, even though our vet had taken x-rays, the surgeon required his own set of x-rays as well — one set prior to surgery and another set immediately after surgery. AND we have to go back in 6 months for a follow-up visit to make sure everything is healing properly, which is where he'll compare with the earlier sets) $196
The remaining balance included all of the many meds, bloodwork, IV's, surgical prep, operating room, bandages, e-collar etc.
Tenor's surgery took place exactly one month to the day that he tore his ACL running in our backyard. (He is 7 days post-op as I write this.)
By the way, we consulted with 3 separate veterinarians prior to scheduling the surgery, regarding whether or not there were other options instead of the TPLO surgery to repair Tenor's knee. But, because he's such a large dog, each recommended the surgery.  And each told us the going rate was between $2,500 and $3,000 for TPLO surgery. (Other reports support this figure.)
What if you cannot afford the surgery for your dog?
TPLO Surgery For Dogs With Torn ACLs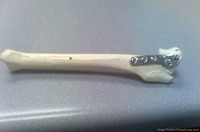 Here are some of the interesting things I learned about a dog's ACL and TPLO surgery:
Dr. Beckman said that TPLO surgeries are incredibly common in most full-breed Labradors, though a mixed-breed Labrador generally doesn't have as high chances of inheriting the weak ACL as full-breed Labs do. Tenor was the exception to this rule. (He's part Labrador Retriever, part Great Pyrenees.)
Dr. Beckman does roughly 100 TPLO surgeries on dogs each year. He did 2 others on the same day he did Tenor's.
When a dog tears his ACL, basically you can either do nothing or have the surgery. There's not a lot of middle ground with things you can try along the way. Of course, you'll have your dog owners who swear by natural medicine anvetexad holistic care, including vitamins, natural foods, and supplements — which may work for some. But for the most part, the larger the dog, the more the TPLO surgery is pretty much the only way to go.
I was told (by all 3 veterinarians we met with) that it's not as imperative as you might think to rush a dog into surgery right after you notice the limp from a torn ACL. It won't "heal wrong" or anything. And dogs (including Tenor) can function quite well on 3 legs in the meantime. The biggest difference is… the longer you wait to have the surgery, the more pronounced the arthritis will likely be as your dog ages. Arthritis in dogs who've had torn ACLs is pretty much inevitable. It's just the degree to which that arthritis sets in that differs in dogs — and it's based on a whole host of other factors (including diet, activity level, overall health, etc.)
Dr. Beckman said the bad news is… when a dog tears his ACL in one leg, 30% of dogs will tear the ACL in the other leg at some later date, as well. (I've actually read this stat could be as high as 50%.)


Greater than 90% of dogs enjoy a seemingly pain-free and limp-free quality of life.  It is important to understand that the knee cannot be returned to a 100% return to function.  In addition 30-40% dogs that rupture one knee, will have the opposite knee rupture, often times within the next 12-18 months. Source

I asked about the "fishing line surgery" that I'd seen on the Internet (in the video below). All 3 veterinarians agreed that type of surgery works better on smaller dogs; larger dogs are just likely to tear that as well. Or, our surgeon added, if a dog is older and/or less active, and money is an issue, then that might be a viable option. (Tenor is a 2-year-old puppy with lots of energy.)
Basically, for TPLO surgery on a dog, they separate the bones, remove the ruptured ligament, and screw the bones together with a metal plateit that enable the knee to bend properly. In veterinary medicine throughout the years, the size and shape of that metal plate has changed a bit in order to accommodate what they've learned about the way dogs use their knees and how their range of motion is slightly different than humans. Plus, they use a smaller metal plate for small dogs and a larger plate for large dogs.
I asked Dr. Beckman about glucosimine and condroiton supplements, and whether I should be giving them to our Tenor to build up the fluids and strength of the joints. He said that was a great question. (Why, thank you!) Basically, he said there's a ton of research that shows glucosamine and chondroitin (both, the human versions and dog versions) are perfectly safe for dogs. What has not been proven however, is their degree of effectiveness with dogs. He said some of his patients seem to do well on those supplements; others show no improvements. He recommended that I talk to my regular vet about it, because a regular vet specializes in long-term care for dogs (whereas he specializes in short-term emergency care for pets).
Tenor's stitches are self-dissolving, so there are no stitches to remove. But Dr. Beckman still likes to check the dog's progress at 2-3 weeks post-op. Then again at the 6-month mark to make sure things have healed properly internally (thus, another set of x-rays).
He said it is rare that a dog will also tear the cartilage in the knee at the same time he tears the ACL (1 in 100), but our dog tore the cartilage in his knee at the same time. That just meant that Dr. Beckman had to remove that broken piece of cartilage while he was in there doing the surgery.
Stay tuned… tomorrow I'll post photos and details of Tenor's recovery from TPLO surgery!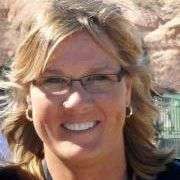 I like to help Dog Parents find unique ways to do things that will save time & money — so I write about "outside the box" Dog Tips and Dog Hacks that most wouldn't think of. I'm a lifelong dog owner — currently have 2 mixed breed Golden Aussies that we found abandoned on the side of the road as puppies. I've always trained my own dogs and help friends train theirs, as well. Professionally, I worked at a vet and have several friends who are veterinarians — whom I consult with regularly. (And just because I love animals so much, I also worked at a Zoo for awhile!) I've been sharing my best ideas with others by blogging full-time since 1998 (the same year that Google started… and before the days of Facebook and YouTube). My daily motivation is to help first-time dog owners be better prepared from the first day your new puppy enters your home. I like to help dog owners understand what's 'normal' and what you can expect in terms of living with and training your dog — how to get through the ups & downs of potty training, chewing, teaching commands, getting your dog to listen, and everything else that takes place during that hectic first year! When I'm not training, walking, grooming, or making homemade treats for my dogs, you will find me at the corner of Good News & Fun Times as publisher of The Fun Times Guide (32 fun & helpful websites). To date, I've written over 600 articles for dog owners on this site! Many of them have upwards of 200K shares.