My friend Tonya brought her dog (Lucy) over to play with our dog (Tenor) the other day. This was their first time meeting.
And it was hilarious.
Her little pup (at one year of age) is like the Energizer Bunny. She never stops. And just when you think she went this way, you realize she went that way and now she's right behind you.
She moves so fast, it's nearly impossible to capture her in photographs!
Throughout the 2-hour ordeal of the dogs getting to know each other, our big pup (at two years of age) was like a sluggish old man when paired up with little Lucy.
…There was no way he was going to catch her!
In honor of Lucy's mom's birthday today (HAPPY BIRTHDAY, TONYA!), I bring you these fun pictures featuring a big dog trying to grasp the concept of "playing" with a little dog.
Enjoy!
When they first arrived, Tenor was about to give Tonya hugs, when he was distracted by this little flash of lightning he saw squirming through the yard!

Hey… Look what I found in my backyard!

Tenor hot on the puppy trail. (Or would that be "tail"…)

Side by side… finally. But still out of focus. They just never slowed down!

He gets a little "frothy" at the mouth whenever he's excited…

They definitely had one thing in common: sniffing out the backyard. (At least I think that's what Tenor is sniffing!)

Taking the action indoors now…
Screech! Halt! Stop! The two dogs came face to face for the first time, colliding on Tenor's pillow. But not for long… Little Lucy began running full steam ahead and jumping everything in sight.

Ding!… Welcome to 'Round Two'. These dogs went round and around in the house just like they did outdoors.

She ain't scared! Initially, I thought little Lucy would be terrified of this 90-pound ogre chasing her around all day. But nope. She stood up for herself just fine.

Wanna play? Ready, set… go!

Tenor: "Hey… that's my bed!" [Next picture…] "Mom, she won't budge!"

Lucy: "Pssst… I've got a secret I want to tell you." [Next photo] "Talk to the paw!"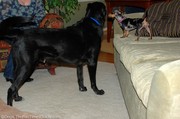 Lucy's perspective: "It's a dog's life… ha! You try being a little dog living in a big dog's world!"

Tenor: "Don't be mistaken. I'm watching every move you make… right here, out of my peripheral vision." Lucy: "Geesh!… What the heck did you have for lunch there, big guy?"

Can't we all just get along?…

Two dogs finally seeing eye to eye.

Tenor: "I'm gonna miss you when you're gone. Best friends forever, right?"

Lucy goes home… See ya, next time!

What these pictures don't convey… is the speed with which these 2 dogs ran circles around each other — in the house — out in the backyard — back in the house — back out in the yard. And the hardwood floors weren't doing them any justice. These two were slip-slidin' away most of the afternoon, and taking the corners at high speed every time.
…What a sight!
The Price You Pay For Having Too Much Fun
Oh, and by the way… "old man Tenor" had to get a prescription from the vet for sore muscles after this rigorous day of play with a Dachshund …and a miniature one at that!
I'm not kidding. That night, and for the next 2 days… Tenor could barely walk. He's got a bad leg to begin with (from a torn ACL as a pup). In the end, running for nearly 2 hours straight (and in high-gear!) had definitely taken its toll on Tenor.
Good news: After just one day on the meds, he was back to his 'ol self, and life was good again.
…Playdates with wiener dogs are on the down-low from now on!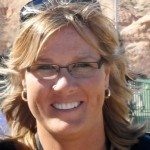 I like to help people find unique ways to do things in order to save time & money — so I write about "outside the box" ideas that most wouldn't think of. As a lifelong dog owner, I often share my best tips for living with and training dogs. I worked in Higher Ed over 10 years before switching gears to pursue activities that I'm truly passionate about. I've worked at a vet, in a photo lab, and at a zoo — to name a few. I enjoy the outdoors via bicycle, motorcycle, Jeep, or RV. You can always find me at the corner of Good News & Fun Times as publisher of The Fun Times Guide (32 fun & helpful websites).
,