This post may contain affiliate links. If you buy thru these links, we may earn a commission at no additional cost to you.
---
I've been using the Furminator deshedding tool for dogs for years now.
I love it. And my dog actually likes being brushed!
We've been using the large size (yellow handle) Furminator on my 90-pound Black Lab / Great Pyrenees mix. This is the original model that started all the rave reviews about the Furminator for dogs.
I was thrilled when the folks at Furminator recently sent me a giant size (red handle) Furminator. It's the newest addition to their line of Furminator deshedding tools.
This one is much larger, more ergonomic, and it has a "fur ejector" button to easily remove the pet hair that collects in the teeth of the brush itself.
I love it! Here's why…
#1 – Not only is the handle larger (and better for larger hands), but it's also more ergonomic.
The original Furminator has a very straight handle which works, but it feels a bit awkward in your hand while you're doing the brushing.
This one is curved in all the right places.
#2 – Another great feature with the newest Furminator dog brushes is the "fur ejector button" that you depress each time to remove all of your dog's fur from between the individual tines.
This button now makes the Furminator a cinch to use and a cinch to remove all of the hair!
If I were going to buy a Furminator deshedding tool for the first time, I would definitely try to get one with the FURejector button. That said, you can probably get a good deal on Furminators that don't have that button right now. My guess is that many will be upgrading to the newest version for the fur ejector button alone.
#3 – The absolute best feature that is found with all of the Furminator deshedding tools is the fact that this brush removes the undercoat that is responsible for all of the flyaway fur that you find stuck to your sofa and on the floor in the corners of each room.
So no matter which Furminator tool you decide to try, you can rest assured that it will be the last dog brush you will ever need to buy!
It's extremely durable and solidly built. There are no fragile parts to wear out or break. It's a single-purpose dog tool that serves its purpose extremely well.
Don't miss my original list of Furminator pros and cons!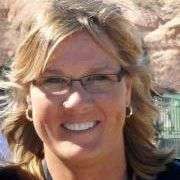 I like to help Dog Parents find unique ways to do things that will save time & money — so I write about "outside the box" Dog Tips and Dog Hacks that most wouldn't think of. I'm a lifelong dog owner — currently have 2 mixed breed Golden Aussies that we found abandoned on the side of the road as puppies. I've always trained my own dogs and help friends train theirs, as well. Professionally, I worked at a vet and have several friends who are veterinarians — whom I consult with regularly. (And just because I love animals so much, I also worked at a Zoo for awhile!) I've been sharing my best ideas with others by blogging full-time since 1998 (the same year that Google started… and before the days of Facebook and YouTube). My daily motivation is to help first-time dog owners be better prepared from the first day your new puppy enters your home. I like to help dog owners understand what's 'normal' and what you can expect in terms of living with and training your dog — how to get through the ups & downs of potty training, chewing, teaching commands, getting your dog to listen, and everything else that takes place during that hectic first year! When I'm not training, walking, grooming, or making homemade treats for my dogs, you will find me at the corner of Good News & Fun Times as publisher of The Fun Times Guide (32 fun & helpful websites). To date, I've written over 600 articles for dog owners on this site! Many of them have upwards of 200K shares.