This post may contain affiliate links. If you buy thru these links, we may earn a commission at no additional cost to you.
---
We received this question from a dog owner on our Facebook Page:
I have a question that I hope you can answer! My 6 month old Chiweenie likes to chew. She has lots of chew toys, done the KONG as well. My concern is that she's now eating the pieces of bark I have in my garden. I grab them from her when I can, but I am not outside with her each time she is out. I am sure this isn't healthy for her, correct? I removed one side of the garden's bark earlier. Will finish the rest tomorrow. TY — Denise
Since others may be dealing with the same or a similar situation, I thought I'd share my reply here — along with more details that could be helpful to other dog owners.
My Reply:
You're right, I don't think chewing bark would be very good for your dog. Especially since some types of bark are poisonous to dogs.
While we're speaking of things out in the garden that could be harmful to dogs, it's important to note that some types of mulch are poisonous to dogs as well.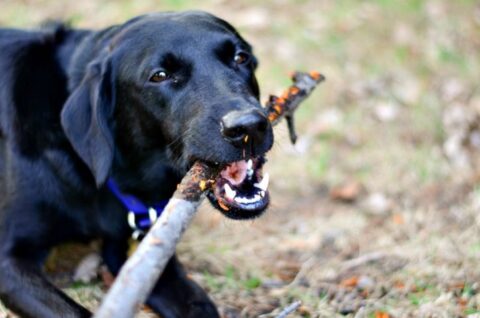 Here are my thoughts if your dog is chewing things in the backyard like trees, sticks, and rocks…
#1 –  Have you (or is there any way possible to) put up a barrier between the garden and the rest of the yard?
Perhaps your dog will test barriers too. But I know that a low wire garden fence (2.5 ft tall) worked well for us one time. You can buy it in 3-foot wide pieces at any home improvement store. I got mine at Big Lots. It kept my dog out of our backyard garden area — most of the time.
#2 – Do you let your dog play with outdoor-quality chew toys whenever she's outside?
If you did, it might give your dog more choices of things to chew on while she's spending time outside.
If it were me, I would probably litter the yard with dog rope toys, frisbees, balls, bones, etc. I even let my dog play with old soccer balls, basketballs, and softballs in the yard.
#3 – Perhaps your dog is just bored and needs to burn off more energy.
An walk at the park or through the neighborhood might help — especially if your dog doesn't typically go on many walks. I know that my dog is much more relaxed after a walk.
Intense activity with your dog — like repeated Frisbee catching or ball retrieving — would help too.
One thing I found recently that wears my dog out in our own backyard is a handheld tennis ball thrower. My dog is normally not very interested in toys, but he's completely addicted to running hard to catch the tennis ball every time I toss it from this launcher. And he never tires of bringing it back to me. The best part: he's wiped out by the time he gets back in the house. We got the Kong one (Kong Rocket Dog Toy), but there are several others.
#4 – There are lots of so-called indestructible dog toys (including balls, tugs, and chew toys). A few of them may be worth trying to keep your dog from chewing things in the backyard.
For serious chewers, I can personally vouch for most of the ones on this list — especially the GoughNuts dog chew toy and the black Kong is really great. In addition, while I haven't tried these, they sound pretty good too: RuffDawg toys.
#5 – Finally, some dog behaviors simply require a little bit of one-on-one time with a professional dog trainer in order to get better.
The underlying goal, of course, is to get your dog to respect "NO" — specifically when she's chewing bark (or whatever else you don't want her chewing on outdoors).
Beyond that, your dog must always be supervised when outside (at least until it sinks in and/or she can be trusted).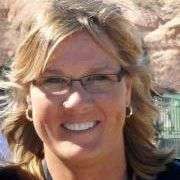 I like to help Dog Parents find unique ways to do things that will save time & money — so I write about "outside the box" Dog Tips and Dog Hacks that most wouldn't think of. I'm a lifelong dog owner — currently have 2 mixed breed Golden Aussies that we found abandoned on the side of the road as puppies. I've always trained my own dogs and help friends train theirs, as well. Professionally, I worked at a vet and have several friends who are veterinarians — whom I consult with regularly. (And just because I love animals so much, I also worked at a Zoo for awhile!) I've been sharing my best ideas with others by blogging full-time since 1998 (the same year that Google started… and before the days of Facebook and YouTube). My daily motivation is to help first-time dog owners be better prepared from the first day your new puppy enters your home. I like to help dog owners understand what's 'normal' and what you can expect in terms of living with and training your dog — how to get through the ups & downs of potty training, chewing, teaching commands, getting your dog to listen, and everything else that takes place during that hectic first year! When I'm not training, walking, grooming, or making homemade treats for my dogs, you will find me at the corner of Good News & Fun Times as publisher of The Fun Times Guide (32 fun & helpful websites). To date, I've written over 600 articles for dog owners on this site! Many of them have upwards of 200K shares.