This post may contain affiliate links. If you buy thru these links, we may earn a commission at no additional cost to you.
---
It's a fact, dogs are going to chew. Chewing is just as natural to them as wagging their tails.
While chewing can be an annoying habit for the dog owner to witness (and have to deal with) every day — especially if your dog is chewing on something that you value — you can train your dog to chew other things.
Your best bet is to find some great chew-friendly dog toys.
Here are some almost-indestructible dog toys that you might want to try…
Solid Rubber Dog Toys Are Best
According to Petco (and most dog owners), solid rubber dog toys are the toughest in the toy category. They're for the hard players and "are almost indestructible."

Kong toys are widely considered to be among the safest, most durable chew toys for dogs. They come in a variety of sizes and shapes, and most Kong toys can be filled with treats to keep your dog's attention even longer than other toys and chews. The Kong Extreme Ball and Kong Blue Toy are 2 of the most popular Kongs for aggressive chewers. Kong Blue is made of radiopaque rubber, so it will show up on x-rays if pieces happen to be ingested by your dog. The Kong Extreme Ball is puncture resistant and super bouncy.
That said, even Kong toys and other "indestructible rubber dog toys" can become damaged or destroyed by some dogs. It's all a matter a willpower, determination, and sheer boredom. So be sure to keep an eye on the toys that your dog plays with.
If you notice small parts falling off, or that the toy has significantly decreased in size, then it's time to remove that toy from your dog's inventory. Or, at the very least, supervise your dog closely whenever he's playing with it. Otherwise, he could bite it into pieces, and those pieces could become lodged in your dog's throat, stomach, or intestines.
Some of the best solid rubber dog toys for serious chewers are:
---
Solid Rubber Dog Toys on Amazon
---
Not Solid Rubber, But Close
These next few dog toys for aggressive chewers are not made of solid rubber, but they're just as durable.
They are made from unique compounds that closely resemble the properties of rubber.
The best in this category are:
Planet Dog Orbee-Tuff Dog Toys – Their round balls are the best for serious chewers. Some can even be stuffed with dog treats for added enjoyment… and challenge. Planet Dog toys in general survive well in homes with serious chewers.
West Paw ZogoFlex Hurley Dog Toy – This dog chew toy is guaranteed strong, so much so that they'll replace it if your dog destroys or damages it! It also bounces and floats. This video shows how ZogoFlex chew toys are durable enough to withstand the jaws of 40 dogs in doggie daycare.
Not solid rubber dog toys on Amazon
---
Indestructible Discs & Frisbees
When it comes to the most durable flying discs and frisbees, the 4 that seem to be best for serious chewers are:
Indestructible Discs & Frisbees on Amazon
---
Most Durable Squeaky Dog Toys
Most squeaky toys are not the best chew toys — especially for dogs that like to chew a lot!
There are a handful that will stand the test of time, but they are few and far between.
If you notice your dog has gotten into the part of the toy that holds the squeaker, be sure to remove the squeaker or he could swallow it and choke.
Squeaky toys are very effective lures and rewards in training, but… a squeaky toy is not a suitable chew toy! Squeaky toys are both destructible and consumable. Allowing a young pup unsupervised play with intriguing and easily destroyed items will turn him into a destructive chewer in no time at all. 
Some of the best, most durable dog squeaky toys are:
JW Pet Ruffians Rubber Dog Toys – These aren't the most durable dog squeaky toys in the world, but they do last longer than most. Available in lots of fun shapes and sizes.
Kyjen Invincibles – Plush dog toys (with squeakers) for aggressive chewers. On the outside, they have reinforced, double-layered seams, and a super-tough exterior lining. On the inside, they're stuffing-free. Each invincible dog toy contains anywhere from 2 to 6 of Kyjen's patented squeakers — that continue to squeak even after being punctured!
Kyjen Invincibles – Even though the ears and legs may eventually be chewed off, the Bad Cuz ball itself is highly likely to remain intact for years. Available in 3 sizes: S, M, L.
Durable dog squeaky toys on Amazon
---
Best Plush Dog Toys For Aggressive Chewers
Plush dog toys and stuffed animals don't make the best dog toys — especially not if your dog is a chewer!
Most dogs can disembowel a stuffed toy in a matter of days… if not minutes!
Fortunately, a number of manufacturers are aware of this, and now they are starting to come out with higher-quality plush dog toys that are more durable than ever before.
The higher-quality plush dog toys typically have double and triple-stitched seams, thicker threads, and more durable material.
Some of the best soft, plush toys for dogs in general are:
---
Plush Dog Toys For Aggressive Chewers on Amazon
---
The Best Hard Plastic Dog Toys For Serious Chewers
This category ranks lowest on my priority list, simply due to the fact that hard plastic toys typically become scratched and abused in no time.
If looks aren't important, and you don't mind a few cracks from your dog tossing it about and trying to bite into it, then a hard plastic dog toy might be just what your serious chewer needs!
My favorites are the ones that dispense treats as your dog plays with them.
These are some of the best:
---
Hard Plastic Dog Toys For Serious Chewers on Amazon
---
Squeaky Tennis Balls For Power Chewers
For what it's worth, many dog owners whose dogs tend to chew dog toys to shreds simply resort to buying a new batch of tennis balls every so often. They're cheap enough, and all dogs seem to enjoy playing with tennis balls.
However, it's important to note that tennis balls are not indestructible! In fact, they could even be harmful to your dog's health.
One of my dogs (who's definitely not a serious chewer) will become so fixated and gnaw on a tennis ball for days until he's successfully cracked it open. Even then, he will still play with it in parts. (He never swallows any of it, just flings it around like it's a dead animal.)
But… I recently found some tennis balls that he enjoys just as much and he doesn't even attempt to crack them open!
They're the Kong Air SqueakAir Tennis Balls. They're just like regular tennis balls, but they actually have a squeaker inside! I think it's the squeaker that distracts my dog from wanting to crack the tennis ball open. Once it squeaks (which he likes), he simply tosses it and then goes running to catch it right away. It's as if the squeaky tennis ball is "playing" with him.
So if you happen to have an aggressive chewer — and he likes tennis balls — perhaps you'll want to try the ones with the squeaker inside. I also like that Kong makes a large squeaky tennis ball as well! It's for larger dogs, so they're less likely to accidentally choke — as they might with a smaller, average size tennis ball.
I discovered these Kong squeaky tennis balls in 2 different sizes when I purchased the Kong Rocket Ball Launcher. It came with a regular size squeaky tennis ball as well as a large size squeaky tennis ball. The launcher itself had a notch on the end to adjust the launcher for the size ball you are tossing or retrieving. It's way cooler than those Chuckit Dog Ball Launchers that most people are familiar with.
More About Dog Chew Toys For Serious Chewers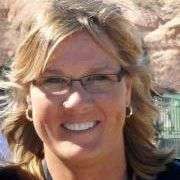 I like to help Dog Parents find unique ways to do things that will save time & money — so I write about "outside the box" Dog Tips and Dog Hacks that most wouldn't think of. I'm a lifelong dog owner — currently have 2 mixed breed Golden Aussies that we found abandoned on the side of the road as puppies. I've always trained my own dogs and help friends train theirs, as well. Professionally, I worked at a vet and have several friends who are veterinarians — whom I consult with regularly. (And just because I love animals so much, I also worked at a Zoo for awhile!) I've been sharing my best ideas with others by blogging full-time since 1998 (the same year that Google started… and before the days of Facebook and YouTube). My daily motivation is to help first-time dog owners be better prepared from the first day your new puppy enters your home. I like to help dog owners understand what's 'normal' and what you can expect in terms of living with and training your dog — how to get through the ups & downs of potty training, chewing, teaching commands, getting your dog to listen, and everything else that takes place during that hectic first year! When I'm not training, walking, grooming, or making homemade treats for my dogs, you will find me at the corner of Good News & Fun Times as publisher of The Fun Times Guide (32 fun & helpful websites). To date, I've written over 600 articles for dog owners on this site! Many of them have upwards of 200K shares.