This post may contain affiliate links. If you buy thru these links, we may earn a commission at no additional cost to you.
---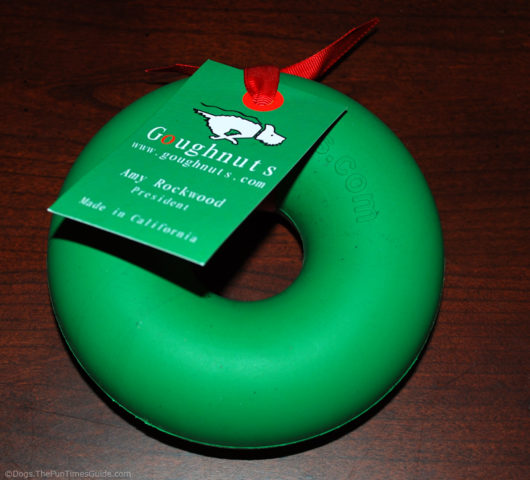 We recently introduced the GoughNuts dog toy to our dog, Tenor, for the first time.
Think of it as a 'doughnut' that dogs go nuts for!
Let me just tell you… the minute that package arrived in the mail, somehow he instinctively knew it was for him.
I don't know if it was the strong smell of the rubber that was wreaking from the package itself, or what. But he kept pestering me until I took the time to open it and let him see what it was.
And he immediately loved it!
What Makes GoughNuts Unique?
What makes this dog toy so different is the fact that it's made from nearly indestructible rubber. I'd say it's even tougher than Kong Extreme dog toys. (I know, I was surprised too.)
The GoughNuts dog toy has an outer layer of one grade of rubber that is green, and an inner layer of a different grade of rubber that is red. The built-in secret to this toy is… if your dog should ever manage to chew so much on this toy that he gets to the red inner rubber ring, then it's time to throw the toy away and request a FREE replacement from GoughNuts.
For the life of me, I can't imagine how a dog could ever do that. But I guess there might be some super power chewers out there that could.
It's virtually indestructible. Many companies claim it, GoughNuts guarantees it.  Every GoughNuts toy has been designed by Mechanical and Polymer Engineers.  Understanding leverages that are present in the jaws of a dogs mouth and relying on 60 years of rubber technology has resulted in an indestructible toy.  If your pet can chew through the Green to expose the Red, GoughNuts will replace your toy free of charge. Source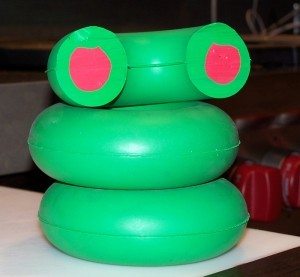 The purpose of the Chew Toy Scurreafety Indicator is to change pet chew toy technology for dogs and other pets so that the possibility of blockages (from ingestion of chew toys) in a pet's digestive track will be lessened or eliminated. The Chew Toy Safety Indicator is a mechanism for pet owners (primarily dog owners) to visually see a color change in the chew toy indicating that the toy design has been compromised. The universally known colors of "green for go" and "red for stop" are utilized in this inventive design.
What Is The GoughNuts Dog Toy Like?
The GoughNuts toy itself is a very thick very bouncy rubber ring.
It's similar in shape to the Kong Air Dog Donut toy. But the GoughNuts toy is much thicker, much squishier, and a tad smaller in overall diameter — so it's easier for a large dog to put his whole mouth around it, yet it's still big enough to prevent him from choking on it.
For the record, my dog likes to bite and chew (hard) on dog toys. But chewing for the sake of chewing is really not his main priority. Instead, he gets most of his enjoyment from dog toys by rolling them around on the floor, getting them to make noises, trying to pull things out of them, and occasionally trying to destroy them. (GoughNuts is definitely one dog toy that will never break or wear our in our household — I'm sure of it.)
So, if my dog is not exactly a power chewer, then why does he like the GoughNuts toy so much?
For these 6 reasons:
#1 – It's extremely bouncy!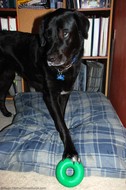 Sometimes he kicks the GoughNuts toy around with his own paw and then chases after it in a self-fulfilling cat-and-mouse game. Sometimes I'll just roll it on its side down the hallway, and that's enough to entice him to play… hard! It's as if he's been reminded of how much he likes this toy, at which point he starts playing with it like it's the first time he's ever seen it. And it's always fun to just toss the GoughNuts on the floor from about waist-high and watch as the dog waits to see where it lands. At which point, he runs full-speed for it and starts playing with it for a long time.
#2 – It makes a squeaky noise.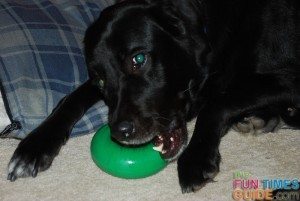 No, there's no squeaker in this dog toy. It's more of a built-in squeaker! You see, whenever the dog's slobber gets on the rubber ring, and his teeth start squishing the rubber, you get this soft squeak that my dog loves. It's as if the toy is challenging him… or talking back to him.
#3 – The size is just perfect.
I really like that it's a thick and chunky toy, yet there's a hole in the middle that is large enough to make it easy for the dog to grip. That's one important characteristic of a good dog toy in my book: the dog must be able to grip it and grab it and walk around with it and manipulate it in some way. Otherwise, it's a boring playtime experience. The GoughNuts dog toy is sized just right that he can get most of his mouth around it, but not completely.
#4 – It's relatively lightweight.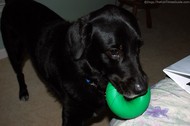 I got the large size for power chewers. (I have a 90 lb. Black Lab/Great Pyrenees mix.) And one of my pet peeves is when large dog toys are so heavy and bulky — so much so that the dog tires easily from playing with them. I mean, my dog likes to grip a dog toy within his jaws, then give it a toss and see where it lands. The GoughNuts chew toy is perfect for this. And because it's so bouncy, you never know where it will land. And because of it's shape (a round ring), you never know where it will roll to.
#5 – It's made in the USA with your dog's safety in mind.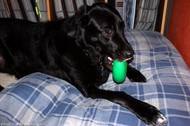 California, to be exact — gotta love that! Plus, dog safety is their #1 concern. ("Our goal is chew toy safety.") Yep, that's why they invented the patent-pending 'chew toy safety indicator' in the first place. GoughNuts are the first dog chew toys that this safety mechanism has ever been implemented in. Overall, the GoughNuts dog toy is definitely an fun toy for dogs. It's never the same play session twice. My dog really likes this one!
#6 – You can "stuff" it with fun goodies.
And finally, stepping a bit outside of the box here… I thought I'd try to "stuff" something inside the hole that's cut out of the center of the GoughNuts toy. I grabbed an old dog bone and crammed it in there, realizing that if my dog's teeth weren't going to damage the GoughNuts toy, then the sharp edges on this raw bone weren't going to hurt it either.
This really got my dog's attention! He worked on it for a long time trying to get the bone out of the center of the GoughNuts chew toy. That makes GoughNuts the equivalent of 2 toys in one. You could stuff it with another fun dog toy (maybe one that rattles or squeaks), large dog treats (like XL store-bought treat bones), raw bones — like I did here — and more!
Any Downsides To GoughNuts?
I have to say, the only downside to this dog toy is its price. GoughNuts are more expensive than most dog chew toys you typically find in pet stores.
According to Amy Rockwood, the inventor of GoughNuts dog toys, there are 2 reasons that a dog chew toy like this had not been invented before: "Cost, and a lack of understanding of problems of blockages that have been occurring in pets. Source
I guess that's why GoughNuts are slightly more expensive than other dog toys. But still… this toy is worth it!
And it makes a lot of sense, since it takes a ton more rubber to make this one-of-a-kind dog toy. Not to mention 2 types of rubber in the unique configuration that gives the dog owner that patented "safety indicator".
Oh, and it's also a little disheartening that GoughNuts aren't available everywhere yet. But I'm sure that more and more store owners are jumping on board with these dog chew toys. Currently, you can find GoughNuts at these pet stores and online.
UPDATE
I got a note from Amy at GoughNuts with this news:
The GoughNuts Black is finally available. It was tough getting an ever tougher toy — but we did and it still floats! We are on schedule to launch the GoughNuts .75 this month as well.
These days, there's a good variety of GoughNuts indestructible dog toys available!
Here's our list of the best indestructible dog toys for power chewers.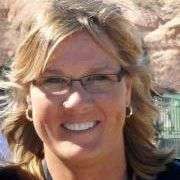 I like to help Dog Parents find unique ways to do things that will save time & money — so I write about "outside the box" Dog Tips and Dog Hacks that most wouldn't think of. I'm a lifelong dog owner — currently have 2 mixed breed Golden Aussies that we found abandoned on the side of the road as puppies. I've always trained my own dogs and help friends train theirs, as well. Professionally, I worked at a vet and have several friends who are veterinarians — whom I consult with regularly. (And just because I love animals so much, I also worked at a Zoo for awhile!) I've been sharing my best ideas with others by blogging full-time since 1998 (the same year that Google started… and before the days of Facebook and YouTube). My daily motivation is to help first-time dog owners be better prepared from the first day your new puppy enters your home. I like to help dog owners understand what's 'normal' and what you can expect in terms of living with and training your dog — how to get through the ups & downs of potty training, chewing, teaching commands, getting your dog to listen, and everything else that takes place during that hectic first year! When I'm not training, walking, grooming, or making homemade treats for my dogs, you will find me at the corner of Good News & Fun Times as publisher of The Fun Times Guide (32 fun & helpful websites). To date, I've written over 600 articles for dog owners on this site! Many of them have upwards of 200K shares.