---
We write about products and services that we use. This page may contain affiliate links for which we receive a commission.
Q: How do you know Spring has arrived?…
A: Your dog takes an unusual interest in the clothes dryer.
Upon closer inspection, you find that it's the birds building their nests inside dryer vent that has actually captured your dog's attention.
Nevertheless, it's both annoying and hilarious at the same time.
Birds In The Dryer Vent
We've been dealing with this for 3 or 4 years now.
Every Spring, there is one mama bird that insists on building its nest in our clothes dryer vent.
I don't know why we don't just get one of those dryer vent covers for the outside of our house, which would (hopefully) prevent the birds from entering the dryer vent in the first place.
Instead, we've simply been chasing the birds out each time we notice they're in there.
How?
Either by stomping on the bathroom floor upstairs which is between the outside entrance to the dryer vent and the laundry room itself. Or, by turning the clothes dryer on, which immediately forces the birds to get the heck up out of there and fly to the nearby fence or trees — at least temporarily.
I know. It's not ideal. But until we take the time to create a permanent fix, it works.
This year, we did such a good job of deterring their stay inside the dryer vent that we haven't had to pull any bird nest materials out of the vent itself, for a change.
Despite the minor inconveniences (the birds can make a lot of noise sometimes, especially when they're hopping around in there building their nests) AND the fire hazard (bird nests in a dryer vent are not a good thing)… it's somewhat comical to watch our dogs as they become intrigued by the bird noises coming from behind the dryer.
On this particular day, Destin was just hanging out beside the dryer (which is located behind bi-fold closet doors) because he could hear the mama bird building her nest.
When I opened up the dryer, he just knew he was going to find the little rascal inside there. (He didn't.)
So he turned his attention underneath the dryer — where the vent extends to the outside.
Poor guy. He knew something was there, but he couldn't prove it…
UPDATE: We Got A Dryer Vent Cover!

There are a few different types of dryer vent covers to choose from:
Generally speaking, they serve 2 purposes:
#1 to prevent cold air from entering into your home in the winter months; and
#2 to keep insects and birds from entering into your dryer vent year round.
We are kicking ourselves for not doing this sooner.
Now there is absolutely no worry about birds building nests in our dryer vent. Peace at last!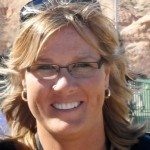 I like to help Dog Parents find unique ways to do things that will save time & money — so I write about "outside the box" Dog Tips and Dog Hacks that most wouldn't think of. I'm a lifelong dog owner — currently have 2 mixed breed Golden Aussies that we found abandoned on the side of the road as puppies. I've always trained my own dogs and help friends train theirs, as well. Professionally, I worked at a vet and have several friends who are veterinarians — whom I consult with regularly. (And just because I love animals so much, I also worked at a Zoo for awhile!) I've been sharing my best ideas with others by blogging full-time since 1998 (the same year that Google started… and before the days of Facebook and YouTube). My daily motivation is to help first-time dog owners be better prepared from the first day your new puppy enters your home. I like to help dog owners understand what's 'normal' and what you can expect in terms of living with and training your dog — how to get through the ups & downs of potty training, chewing, teaching commands, getting your dog to listen, and everything else that takes place during that hectic first year! When I'm not training, walking, grooming, or making homemade treats for my dogs, you will find me at the corner of Good News & Fun Times as publisher of The Fun Times Guide (32 fun & helpful websites). To date, I've written over 500 articles for dog owners on this site! Many of them have upwards of 200K shares.