---
In writing about our personal experiences, we sometimes mention products or services that we use or recommend. This page may contain affiliate links for which we receive a commission.
Does your dog have a lot of fur that grows on the top of his paws, between his toes, and even underneath on his paw pads?
If so, should you trim the fur or just let it keep growing?
Here's what I do…
Some dogs grow lots of fur on their paws — on top of their paws, between their toes, and even on the bottom of their pads.
Those with 'show dogs' usually trim this hair for better appearance in the show ring.
I don't have show dogs, but I always trim the fur on the tops (and bottoms) of my dogs' paws whenever I trim their nails.
Doing so, makes their paws look better groomed (…and shows off the great trim job I just did on their nails).
Here's how to trim your dog's paws:
It's Not Just For Looks
If nothing else, pet owners should trim the hair around your dog's toes in the winter months to avoid build-up of ice in between the fur and the toes.
Slush, dirt and road salt can really get packed in there tight and harden in a matter of minutes when it is cold outside.
Cleaning Dog Paws In The Winter
Having packed ice between the dog's toes and/or sludge stuck in the fur of your dog's paws could also cause him to excessively lick the area — almost raw — similar to a hotspot.
Your best course of action in the winter is to dry your dog's paws completely, then rub them with petroleum jelly.
Or, you could just put some boots on your dog… like these!
Hairy Toes vs Hardwood Flooring
Who knew?!…
Trimming your dog's hairy toes could save you save you money on replacing and refinishing hardwood floors:
Some dogs grow a lot of fur between the pads of their paws; they slip easily on wood floors when this grows out, and tend to try to dig in with their claws to compensate. Are you trimming the fur between the pads as short as you can? ~ Paulsc
More about dogs and hardwood floors.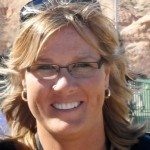 I like to help Dog Parents find unique ways to do things that will save time & money — so I write about "outside the box" Dog Tips and Dog Hacks that most wouldn't think of. I'm a lifelong dog owner — currently have 2 mixed breed Golden Aussies that we found abandoned on the side of the road as puppies. I've always trained my own dogs and help friends train theirs, as well. Professionally, I worked at a vet and have several friends who are veterinarians — whom I consult with regularly. (And just because I love animals so much, I also worked at a Zoo for awhile!) I've been sharing my best ideas with others by blogging full-time since 1998 (the same year that Google started… and before the days of Facebook and YouTube). My daily motivation is to help first-time dog owners be better prepared from the first day your new puppy enters your home. I like to help dog owners understand what's 'normal' and what you can expect in terms of living with and training your dog — how to get through the ups & downs of potty training, chewing, teaching commands, getting your dog to listen, and everything else that takes place during that hectic first year! When I'm not training, walking, grooming, or making homemade treats for my dogs, you will find me at the corner of Good News & Fun Times as publisher of The Fun Times Guide (32 fun & helpful websites). To date, I've written over 500 articles for dog owners on this site!