This post may contain affiliate links. If you buy thru these links, we may earn a commission at no additional cost to you.
---
Let me ask you something…
Do you wish your dog would just sit back & relax every time you trim his nails — like my dog does in this video?
Easy Dog Nail Clipping Tips: How I Trim Dog Nails While He Sleeps!
If so, then you should make a point to start trimming dog nails at home… yourself… right now.
Reasons To Trim Your Dog's Nails Early
If you've got a new dog, then make sure you start trimming your dog's nails within the first month that he lives with you.
I watched our vet trim our new puppy's nails the first time. Then I started trimming dog nails myself every few weeks. (These are the type of dog nail trimmers that I use.)
Trust me, as long as you stick with it, then after the first couple times, your dog will think nothing of it. Just like he thinks nothing of getting scratched behind the ears.
You don't want to wait until your dog has been living in your home for a few months (or years!) before you trim his nails for the first time — or you'll be setting up yourself (and your dog) for a lot of unnecessary frustration.
Don't get frustrated. Don't give up. Don't put it off any longer (…unless you plan on taking your dog to the groomer or the vet to have his nails trimmed instead).
The Sooner You Start, The Better
Here's why:
#1 – Your dog's nails are soft and small during puppyhood. The younger your dog his, the softer his nails are — and the easier they are to trim.
#2 – If your dog is an indoor dog, his nails won't wear down on their own like an outdoor dog's nails will.
#3 – Your dog will become used to the process of having his nails trimmed, the earlier you start. Therefore, your dog won't squirm and battle with you each time you do it.
#4 – You're doing your dog a favor — because dog walk on their toes, not on the soles of their feet. Long nails can cause extra leg strain for your dog and interfere with his natural gait.
#5 – It will be less likely that your dog will catch his nail on something, causing it to break off — or even worse, lead to an infection.
#6 – Overgrown nails can break easily — below the quick — which can be very painful for your dog.
#7 – It's a great opportunity for you and your dog to bond — he learns to trust you and you earn his respect.
#8 – Your dog will be more likely to listen to you at other times — because you've proven that when he's patient and still, he gets a reward.
#9 – You're setting a precedent that will help with all other aspects of dog training: He'll learn that when he does something for you, he gets a wonderful reward.
#10 – You won't have to listen to your dog's nails click-clacking on the floor all the time.
#11 – If your dog is overweight, he is likely to feel some pain when putting his full body weight on a paw with overgrown nails. Over time, this will lead to arthritis.
#12 – Your dog won't have as much mud and debris built up between his toes when he's outside if you keep his nails short.
#13 – You won't have to pay someone who's good at trimming dog nails — like your veterinarian or a dog groomer.
#14 – You'll be saving your dog the stress of going to the groomer or the veterinarian's office, when it could be done in the comfort of his own home.
#15 – Your dog won't mind regular nail trims anymore. Welcome to a lifetime of carefree nail trimming!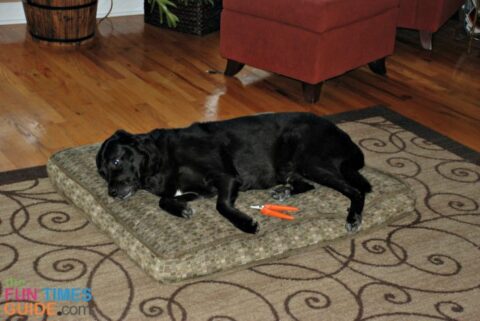 Here's everything you need to know about trimming dog nails and how to do it yourself.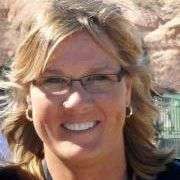 I like to help Dog Parents find unique ways to do things that will save time & money — so I write about "outside the box" Dog Tips and Dog Hacks that most wouldn't think of. I'm a lifelong dog owner — currently have 2 mixed breed Golden Aussies that we found abandoned on the side of the road as puppies. I've always trained my own dogs and help friends train theirs, as well. Professionally, I worked at a vet and have several friends who are veterinarians — whom I consult with regularly. (And just because I love animals so much, I also worked at a Zoo for awhile!) I've been sharing my best ideas with others by blogging full-time since 1998 (the same year that Google started… and before the days of Facebook and YouTube). My daily motivation is to help first-time dog owners be better prepared from the first day your new puppy enters your home. I like to help dog owners understand what's 'normal' and what you can expect in terms of living with and training your dog — how to get through the ups & downs of potty training, chewing, teaching commands, getting your dog to listen, and everything else that takes place during that hectic first year! When I'm not training, walking, grooming, or making homemade treats for my dogs, you will find me at the corner of Good News & Fun Times as publisher of The Fun Times Guide (32 fun & helpful websites). To date, I've written over 600 articles for dog owners on this site! Many of them have upwards of 200K shares.