This post may contain affiliate links. If you buy thru these links, we may earn a commission at no additional cost to you.
---
I've been trimming my dogs' nails for years…
Still, I could never figure out what that little metal bar (on one side of claw-type dog nail trimmers) was supposed to be for.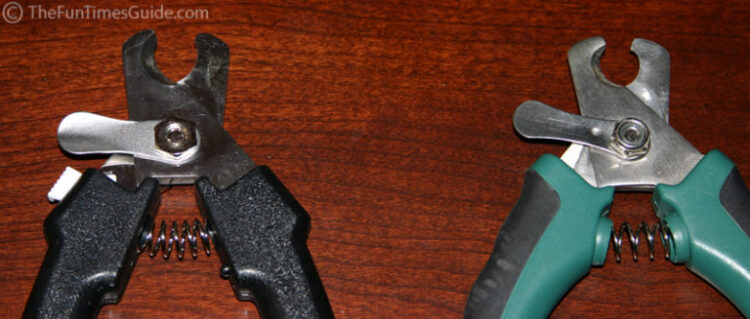 Call me crazy, but it just always seems to be in the way.
I must be the last person on earth to figure out what that sliding silver metal piece on a nail trimmer is for!
Location Of The Little Metal Bar
Don't know what I'm talking about?…
If you're holding a pair of claw-type dog nail clippers in your hand, then you should notice a little metal spoon-shaped bar that's wider on the farthest outside edge and gets narrower at the base where it attaches to the trimmer itself (via a big bolt or screw).
Does It Get In Your Way, Too?
If you use this type of nail clipper, then perhaps you'd agree with me that little bar just gets in the way more than anything else. It seems to have a mind of its own, doesn't it?… It always seems to be rotating from left to right for no reason whenever I'm trimming my dog's nails.
Well, come to find out, I wasn't exactly doing it right.
Yep, that tiny little piece plays a very important role in the process of trimming a dog's nails!
It's called a safety stop bar. It's also known as a quick sensor and a safety guard and a quick guard sensor.
Here's how to use it…
Instead of pushing it to the side so you can have full view of the dog's nail from both sides of the trimmer (like I usually do), you're supposed to keep the metal bar perfectly aligned in the center "open" space between the 2 blades — perpendicular to the dog's nail — so you don't cut off too much of the dog's toenail.
Who knew?!
You Don't Have To Use The Safety Bar
Obviously, you can use a claw-type nail trimmer for dogs without taking advantage of this nifty little safety stop bar / nail quick sensor.
I would venture to guess that most people do like me and just push it to the side.
But, if you're new to trimming a dog's nails, then it only makes sense to try using it — so you don't cut too close to the quick.
My problem with the safety stop bar:
Toenail length isn't a standard measure. All dogs' toenails are different lengths — especially at different times of the year and depending on how recently they had their nails trimmed prior to this.
So it's different for any given dog on any given day. And no toenail trimmer — safety bar in place or not — will perfectly "measure" the amount of nail you need to cut off. For me, I'd rather just "eyeball it".
To play it safe, I always do very small snips — sometimes, up to 7 or 8 times — until I get close enough that I can see the quick inside the nail. I find this the safest way to make sure you don't get too close.
Summary
So… I guess, since I keep my dog's nails fairly short and trim them on a regular basis, that bar really does get in the way more than it helps — in my case.
Hmmmm, maybe I wasn't so crazy after all!
Did you know what that bar was for?….
---
---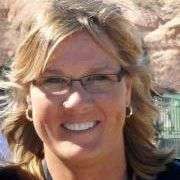 I like to help Dog Parents find unique ways to do things that will save time & money — so I write about "outside the box" Dog Tips and Dog Hacks that most wouldn't think of. I'm a lifelong dog owner — currently have 2 mixed breed Golden Aussies that we found abandoned on the side of the road as puppies. I've always trained my own dogs and help friends train theirs, as well. Professionally, I worked at a vet and have several friends who are veterinarians — whom I consult with regularly. (And just because I love animals so much, I also worked at a Zoo for awhile!) I've been sharing my best ideas with others by blogging full-time since 1998 (the same year that Google started… and before the days of Facebook and YouTube). My daily motivation is to help first-time dog owners be better prepared from the first day your new puppy enters your home. I like to help dog owners understand what's 'normal' and what you can expect in terms of living with and training your dog — how to get through the ups & downs of potty training, chewing, teaching commands, getting your dog to listen, and everything else that takes place during that hectic first year! When I'm not training, walking, grooming, or making homemade treats for my dogs, you will find me at the corner of Good News & Fun Times as publisher of The Fun Times Guide (32 fun & helpful websites). To date, I've written over 600 articles for dog owners on this site! Many of them have upwards of 200K shares.