This post may contain affiliate links. If you buy thru these links, we may earn a commission at no additional cost to you.
---
My dog recently got a really bad bug bite on his leg.
It irritated him so much that he immediately started itching and scratching (and licking) it constantly. Later that same day, the spot on his leg became raw (and hairless).
Similar to a hot spot, it needed to be kept dry and covered for a few days in order to heal properly. Otherwise, my dog would've just kept licking it all the time and it wouldn't ever have a chance to fully heal.
Must read: Why Does My Dog Lick And Chew His Feet?
Fortunately, I learned a few things from the veterinarian who treated my other dog for a hot spot several years ago.
I ended up treating my dog's bug bite the exact same way that the vet treats hotspots on dogs.
Following is the dog hot spot home remedy that I used. My dog's leg was completely back to normal in just under a week.
Anything that irritates the skin and causes a dog to scratch or lick himself can start a hot spot. Hot spots can be caused by allergic reactions, insect, mite or flea bites, poor grooming, underlying ear or skin infections and constant licking and chewing prompted by stress or boredom. Source
Home Remedy For A Dog Hot Spot
This is the simple home remedy I used that was recommended by my veterinarian for treating hot spots on dogs:
Trim off the hair around the affected area. (I used nose hair trimmers that we happened to have on hand.)
Cleanse the area using witch hazel on a cotton ball, daily.
Add a thin coating of Neosporin on the spot, daily.
Give a little bit of liquid Benadryl mixed in with some wet dog food a couple times a day for 2 days.
Wrap a 12-inch strip of self-adhesive bandage over the spot, so the dog can't directly lick the spot.
This alone helped to stop the itching and bring my dog a little bit of relief.
Must read: How To Keep Dog Bandages And Casts Dry In Wet, Rainy, Or Snowy Conditions
How To Bandage Wrap A Dog's Leg
In case you're wondering, here's how to wrap a dog's leg:
Cut a 12- to 14-inch strip of the self-adhesive bandage and wrap it all the way around the spot — not too loose and not too tight. The self-adhesive bandage sticks to itself really well, but it's easy to re-position it if you need to.
While wrapping the tape around the wound on the leg, try to go a little past the spot on either side — a little higher than the wound and a little lower than the wound. This will prevent the bandage from moving around or falling off. (I know this because it happened to me.)
Try to make sure the final end doesn't wind up on the top part of your dog's leg — where he could easily grab it and loosen the wrap.
Finally, use your hand to cup the wrap around his leg several times to make sure that it's super secure.
After bandage wrapping the spot, you're probably going to need an e-collar for a few days — just to keep your dog from licking around the bandage (or removing it altogether).
An e-Collar Helps Dog Hot Spots Heal Faster
While the meds and the bandage lessened the itch, I noticed right away that it was still hard for him to take his mind off of the spot that was front-and-center on his leg.
Every time he laid down to rest, that spot was right there in front of his face — so he licked at it. As a result, the gauze bandage usually got dislodged in the process.
It was time for a dog e-collar.
We used an inflatable e-collar for the first time ever. It worked great!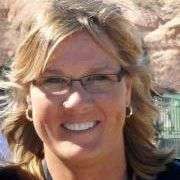 I like to help Dog Parents find unique ways to do things that will save time & money — so I write about "outside the box" Dog Tips and Dog Hacks that most wouldn't think of. I'm a lifelong dog owner — currently have 2 mixed breed Golden Aussies that we found abandoned on the side of the road as puppies. I've always trained my own dogs and help friends train theirs, as well. Professionally, I worked at a vet and have several friends who are veterinarians — whom I consult with regularly. (And just because I love animals so much, I also worked at a Zoo for awhile!) I've been sharing my best ideas with others by blogging full-time since 1998 (the same year that Google started… and before the days of Facebook and YouTube). My daily motivation is to help first-time dog owners be better prepared from the first day your new puppy enters your home. I like to help dog owners understand what's 'normal' and what you can expect in terms of living with and training your dog — how to get through the ups & downs of potty training, chewing, teaching commands, getting your dog to listen, and everything else that takes place during that hectic first year! When I'm not training, walking, grooming, or making homemade treats for my dogs, you will find me at the corner of Good News & Fun Times as publisher of The Fun Times Guide (32 fun & helpful websites). To date, I've written over 600 articles for dog owners on this site! Many of them have upwards of 200K shares.