This post may contain affiliate links. If you buy thru these links, we may earn a commission at no additional cost to you.
---
We taught our dogs to "shake" (their fur) on command. This is great whenever they're wet after a bath or a walk in the rain, or after a doggie roll on the ground where his fur has collected bits of everything that was in the grass. Here's how we taught our dogs to "shake"…
Have you ever had a wet dog on your hands (after a bath, or a walk outside in the rain) and just wished he would "shake" his fur on command? You know, to knock most of the wet dripping water off.
Or, what about when your dog rolls on the ground and collects bits of leaves, grass and who-knows-what-else in his fur? If only he would knock much of that debris out with a good "shake" first. Then you'd feel better about him jumping in the car or entering the house, right?
We taught our dogs to "shake" (their fur) on command.
Here's how…
Bathtub Etiquette
To get our dogs to "shake" on command, we started in the bathtub.
Our mission was simply to not let them get out of the tub UNTIL they shook!
Shaking Wet Fur Is A Natural Behavior
Fortunately, it's pretty much a natural reaction for any dog that's wet to want to shake their fur dry. So, during the bath, any time they would shake, we would immediately hoot & holler "GOOD SHAKE!"
Of course, at first, they didn't have a clue what we were so excited about. But this reaction paid off for us in the long run.
Usually, each dog would feel the urge to "shake" at least twice during their bath — on their own. So that gave us two times to praise them for performing such behavior — without us even asking for it!
Shaking On Command Isn't
The harder part was getting them to "shake" at the end of the bath, and on command.
How'd we do that?…
We simply stood there and waited. Sometimes, it seemed like forever. But, no matter what, they were never allowed to get out of the tub until they would "shake" first. (Even if they were no longer "dripping wet" at this point!)
Naturally, I was right there coaxing them… "Shake…Shake…" all the while, staring impatiently at them while they looked completely bewildered.
Eventually, however, they would instinctively feel the urge to do just one more shake — which got them lots of praise and a free pass out of the bathtub!
That's pretty much how we did it.
Extending "Shake" Outside of the Bath
One thing that sped the process up a bit, was the fact that we constantly looked for opportunities to praise the dogs for "shaking" — either on command or not.
For example, any time the dogs would be in the backyard or playing indoors and they would "shake" (after roughhousing, or rolling in the grass for example), we would immediately praise them: "Good Shake!"
Eventually, they began to put together the words "Good Shake" with the behavior, and they would do it on command — for praise and/or a treat.
Final Thoughts
I'd say it took about 3 baths, before each of our dogs was "shaking" on command.
Of course, the earlier you start teaching "shake" to your dog, the better. We started with this command from Day One — because their first day in our house was also the day they got their first bath.
Bear in mind… since it takes dogs a little longer to actually "work up" the energy to perform a good full body shake, you'll have to be patient and give him enough time — both mentally and physically — to go through the motions of shaking on command.
Perhaps the hardest part is those times, during the bath, when your dog is loaded up with soap suds and gallons of dripping water and he THEN decided to do the "shake"! Just remember… don't scold him or discourage him in any way — even though you've just received a free shower.
Now, they'll pretty much "shake" on command anywhere, anytime. (…after looking at you for a second or two like, "Are you serious? You really want me to go through this whole 'shake' thing? Cuz I'm not really feeling the urge to 'shake' right now.")
Why This Is A Great Dog Trick
This particular command (or dog trick) has been valuable to us at the following times: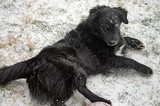 when they're dripping wet from a bath — indoors or outside
when their fur is full of freshly fallen snow
after they've just been bathed, and there's a lot of loose fur that's fallen out
when they've just rolled in something
after they've just been brushed, and there are a bunch of loose flyaway hairs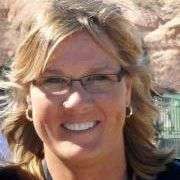 I like to help Dog Parents find unique ways to do things that will save time & money — so I write about "outside the box" Dog Tips and Dog Hacks that most wouldn't think of. I'm a lifelong dog owner — currently have 2 mixed breed Golden Aussies that we found abandoned on the side of the road as puppies. I've always trained my own dogs and help friends train theirs, as well. Professionally, I worked at a vet and have several friends who are veterinarians — whom I consult with regularly. (And just because I love animals so much, I also worked at a Zoo for awhile!) I've been sharing my best ideas with others by blogging full-time since 1998 (the same year that Google started… and before the days of Facebook and YouTube). My daily motivation is to help first-time dog owners be better prepared from the first day your new puppy enters your home. I like to help dog owners understand what's 'normal' and what you can expect in terms of living with and training your dog — how to get through the ups & downs of potty training, chewing, teaching commands, getting your dog to listen, and everything else that takes place during that hectic first year! When I'm not training, walking, grooming, or making homemade treats for my dogs, you will find me at the corner of Good News & Fun Times as publisher of The Fun Times Guide (32 fun & helpful websites). To date, I've written over 600 articles for dog owners on this site! Many of them have upwards of 200K shares.