This post may contain affiliate links. If you buy thru these links, we may earn a commission at no additional cost to you.
---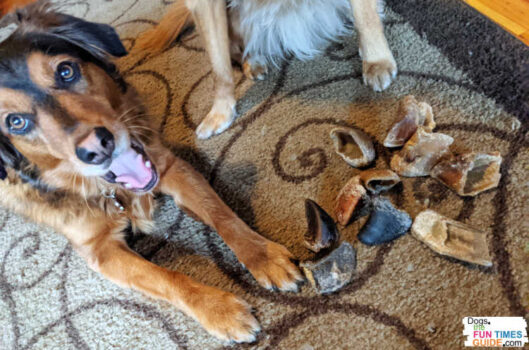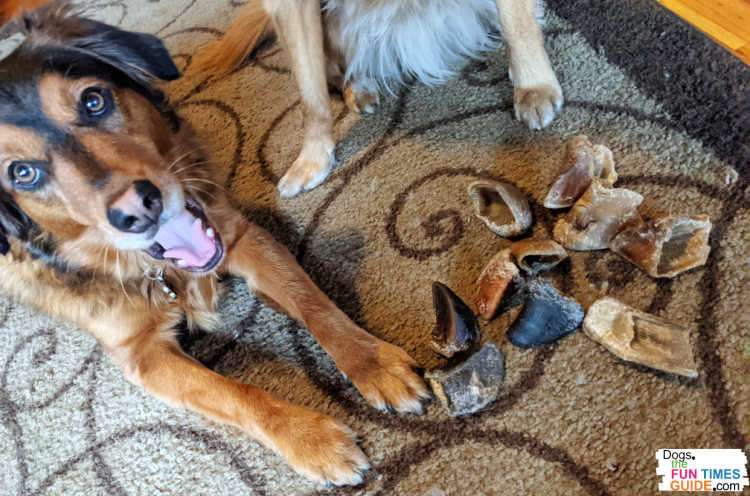 This is Post #6 (Cow Hooves For Dogs) in a series of articles summarizing the pros & cons of 12 Long-Lasting Dog Chews.
My dogs LOVE cow hooves! They are the one and only type of dog chew that they never seem to tire of.
So whenever I need to divert my dog's attention from something for awhile… a cow hoof is what I reach for.
Following are the pros & cons of cow hooves for dogs, as I see it. Yes, they're a great dog chew — but are they right for your dog? Find out here…
HOW LONG DOES A COW HOOF LAST AS A DOG CHEW? Weeks to months
BEST FOR: Medium chewers and light chewers
TIP: They last even longer with puppies! Even though they are 100% digestible, small pieces can break off — so it's very important to supervise your puppies whenever they're chewing on cow hooves. I usually throw it away when it becomes the size of a 50-cent piece and the edges are all smooth.
MY FAVORITE BRAND(S): Jones Natural Cow Hooves from Tractor Supply or Amazon.
Pros & Cons Of Cow Hooves For Dogs
PROS
First of all… the price. Cow hooves cost less than $1 apiece — which is a steal when it comes to dog toys and chews!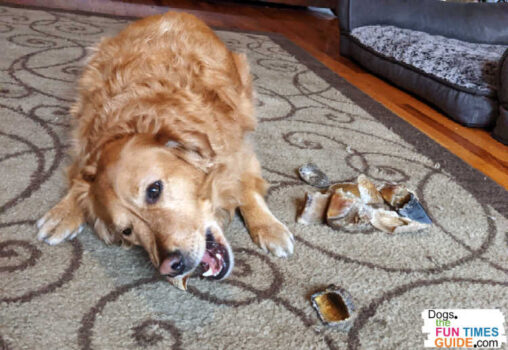 The unique texture and shape of a cow's hoof makes it super easy for a dog to hold onto while chewing. I love that part!
They're great for removing plaque and tartar from those back teeth! (You know, the ones that are the hardest to brush.)
Plus, the center is hollowed out — making it easy for you to add peanut butter, cream cheese, or any other tasty treat that your dog loves inside, if desired.
I don't usually add anything to cow hooves, because my dogs thoroughly enjoy cow hooves as they are.
But whenever I notice that they haven't chewed on their cow hooves in awhile, I will smear a finger-full of honey, coconut oil, or peanut butter along the inside of the cow hoof to entice them to do some chewing. It always works!
CONS
There are 2 downsides… but they don't prevent me from giving my dogs cow hooves regularly: 
They smell horrible at first — until your dog has chewed off the smoked flavoring.
Small pieces always break off around the edges during the first few hours of chew time — which I promptly take away, so they don't swallow them. (Even though they're digestible, I'm not fond of the sharp edges.) After the rough edges are chewed away, cow hooves can last many weeks or even months!
TIP: My dogs are initially attracted to the smell of the cow hooves. But I think they keep coming back to chew on them because they're able to bite off small pieces around the edges. After a few days with these dog chews, the pieces don't break off as easily and I don't have to supervise them so closely.
Where To Find The Best Deals On Cow Hooves For Dogs
I buy Jones Natural Chews Cow Hooves at Tractor Supply when they go on sale or I have a coupon. You get 10 or so hooves in a 1 lb. bag for around $8 (when the coupons and sales line up just right). But most of the time, I buy them on Amazon — because my dogs chew on them so frequently and we always seem to run out when there is NO sale or coupon available.
If you're going to buy in bulk, this is the best deal for the Jones natural cow hooves.
Cow hooves from various manufacturers are widely available online and in pet stores. Generally speaking, I've found that cow hooves are slightly more affordable on Amazon than in the brick & mortar pet stores.
---
Want to try the cow hooves my dogs like best?
---
Like this post? Save it to read again later… or share with others on Pinterest!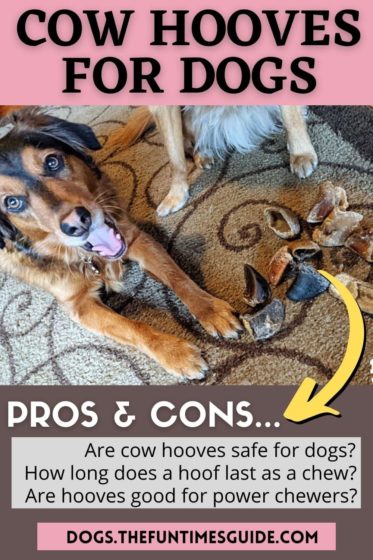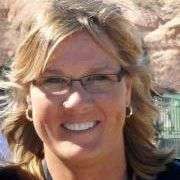 I like to help Dog Parents find unique ways to do things that will save time & money — so I write about "outside the box" Dog Tips and Dog Hacks that most wouldn't think of. I'm a lifelong dog owner — currently have 2 mixed breed Golden Aussies that we found abandoned on the side of the road as puppies. I've always trained my own dogs and help friends train theirs, as well. Professionally, I worked at a vet and have several friends who are veterinarians — whom I consult with regularly. (And just because I love animals so much, I also worked at a Zoo for awhile!) I've been sharing my best ideas with others by blogging full-time since 1998 (the same year that Google started… and before the days of Facebook and YouTube). My daily motivation is to help first-time dog owners be better prepared from the first day your new puppy enters your home. I like to help dog owners understand what's 'normal' and what you can expect in terms of living with and training your dog — how to get through the ups & downs of potty training, chewing, teaching commands, getting your dog to listen, and everything else that takes place during that hectic first year! When I'm not training, walking, grooming, or making homemade treats for my dogs, you will find me at the corner of Good News & Fun Times as publisher of The Fun Times Guide (32 fun & helpful websites). To date, I've written over 600 articles for dog owners on this site! Many of them have upwards of 200K shares.