This post may contain affiliate links. If you buy thru these links, we may earn a commission at no additional cost to you.
---
This is Post #2 (Raw Bones For Dogs) in a series of articles summarizing the pros & cons of 12 Long-Lasting Dog Chews.
HOW LONG A RAW BONE LASTS AS A DOG CHEW: Months to years
BEST FOR: Power and medium chewers
TIP: Raw bones are not safe for puppies (under 1 year of age) — because their teeth are too fragile. Since most raw bones are harder than a dog's teeth, they may not be the best choice for a power chewer. You'll want to monitor an aggressive chewer closely — looking for fractured teeth or excessive wear on your dog's teeth.
MY FAVORITE BRAND(S): from Butcher shops (locally) and Jack & Pup (online)
Why Raw Bones For Dogs Are Great Dog Chews
Fresh, raw bones last sooooooo long!
I've literally had several of my dogs' real bones last for many years. (Like… after one dog enjoyed it for a long time, then eventually passed, and another dog joined our family and started enjoying the same bone.)
I've definitely thrown away more "full-size" real bones than "remnants" of real bones that have been chewed down by our dogs — because they're so difficult to chew down. (Usually, only the edges will wear down from constant chewing — which is just enough to be motivating and satisfying for your dog.)
The best part about giving your dog raw bones is… when you're buying bones from a butcher, you can choose "whole bones" or "split bones" — as well as the length that you'd like the bones to be. Yep, they'll cut them to your guidelines, at most butcher shops!
The price for butcher bones varies widely from place to place. I usually get mine for 50 cents a pound. I buy several pounds at a time, and I freeze them.
TIP: DO NOT COOK RAW BONES FOR DOGS! They will become dry and brittle and be more likely to splinter. And never give your dog chicken bones or turkey bones!
Poultry and pork bones, or cooked bones of any kind are strictly forbidden. They splinter into shards that can cause choking and serious damage to the dog's mouth, throat, or intestines. Cooking can also remove nutrients from the bone.

~American Kennel Club
The Best Raw Bones For Dogs
These are the safe dog bones for chewing that are least likely to splinter:
TIP: You can also buy these types of bones (in individual packages) online, in grocery stores, and in pet stores. However, they're not raw and meaty unless you buy from a butcher. Pre-packaged dog bones have been smoked — to make them extra tasty for dogs.
My experience is that Jack & Pup is the best brand for store-bought safe bones for dogs. I get them on Amazon, when the butcher doesn't have any of the ones I want available.
Sourced from grass fed, free range cattle, and raised without any added hormones or antibiotics — resulting in a healthier and better tasting treat. Processed in a USDA Human Grade Certified and Inspected facility. Each dog bone treat is handpicked and inspected to ensure quality and perfect consistency. Naturally odor free, without the use of any preservatives or chemicals. 100% digestible and safe — guaranteed to be fully digestible and not to cause any side-effects. Jack&Pup bones dog treats are a natural, protein-rich, one-ingredient dog chew treat — without any additives or artificial ingredients. Our careful and natural preparation of the dog bone treats effectively eliminates all bacteria and contaminates — making its consumption fully safe.

~Jack&Pup
---
Buy raw bones for dogs online
(…if there's not a butcher shop near where you live!)
---
Other brands are hit or miss in terms of how brittle they are — which means tiny slivers could break off, even though the majority of the bone remains tough and durable.
I sometimes buy raw bones from the grocery store (in the regular refrigerated meat section) whenever I see them there. But, my local grocery stores are usually hit or miss with having safe bones for dogs.
For the most part, my dogs seem to really like the Jack & Pup brand and they're affordable — so that's what I buy the most.
---
TIP: I will occasionally buy these 6-inch beef bones with a hollowed out center — because they're great to fill with goodies to surprise your dog and get them chewing again (which is good for their teeth, especially the back teeth which are hard to reach with a toothbrush).
---
Like this post? Save it to read again later… or share with others on Pinterest!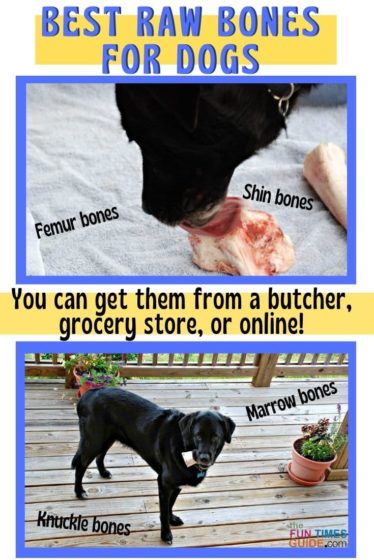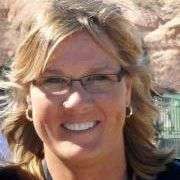 I like to help Dog Parents find unique ways to do things that will save time & money — so I write about "outside the box" Dog Tips and Dog Hacks that most wouldn't think of. I'm a lifelong dog owner — currently have 2 mixed breed Golden Aussies that we found abandoned on the side of the road as puppies. I've always trained my own dogs and help friends train theirs, as well. Professionally, I worked at a vet and have several friends who are veterinarians — whom I consult with regularly. (And just because I love animals so much, I also worked at a Zoo for awhile!) I've been sharing my best ideas with others by blogging full-time since 1998 (the same year that Google started… and before the days of Facebook and YouTube). My daily motivation is to help first-time dog owners be better prepared from the first day your new puppy enters your home. I like to help dog owners understand what's 'normal' and what you can expect in terms of living with and training your dog — how to get through the ups & downs of potty training, chewing, teaching commands, getting your dog to listen, and everything else that takes place during that hectic first year! When I'm not training, walking, grooming, or making homemade treats for my dogs, you will find me at the corner of Good News & Fun Times as publisher of The Fun Times Guide (32 fun & helpful websites). To date, I've written over 600 articles for dog owners on this site! Many of them have upwards of 200K shares.