---
In writing about our personal experiences, we sometimes mention products or services that we use or recommend. This page may contain affiliate links for which we receive a commission.
The book, Planet of the Dogs by Robert McCarty, is an enjoyable read for children (maybe ages 7 -12?) and dog-lovers who enjoy fun fiction books — but don't have a lot of time to spare.
It's a quick read. (I like that!)
But it's not just one of those "one-line per page" kinds of books. You know, the kind that you feel ripped off because it's not really a 'book' as much as it is a 'to do list' or a notepad of 'happy thoughts'.
Nope, this one's a full-fledged story… about dogs. Dogs who run the planet and are trying to bring good will peace to people of all ages.
Think Wizard of Oz… where the good witch, cowardly lion, tin man, scarecrow, and even the wise old wizard are the dogs. And they're trying to instill good things upon all of the 2-legged humans who cross their path.
The main character (the Dorothy, if you will) are Daisy and Bean a little girl and boy who aimlessly wander into the Planet of the Dogs. While they're there, they learn some very valuable lessons from the dogs who have a lot of life's lessons to share with them. Things like their ability to work together, their loyalty, and their great ability to love.
It's a peaceful journey (from a dog's point of view) of the world and things that should be changed or things that could be done differently in order to bring more love into our daily lives.
One day, a very long time ago, Miss Merrie, queen of the dogs, and members of the dog council learned that there were problems on Earth, the Planet of the People. Something had to be done to help them.
In this book, the dogs do all the teaching and the children (and adults alike) take it all in and learn very valuable lessons. In the end, humans become all the wiser (and much better people) thanks to their time spent in the company of dogs.
Without being scary or intimidating (or bossy), these dogs manage to have quite an impact on the people who live in a small town called Green Valley.
Overall, I liked it! (And I'm not much of a fiction book reader.) I think children would like it most of all.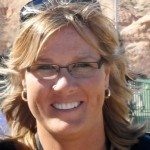 I like to help Dog Parents find unique ways to do things that will save time & money — so I write about "outside the box" Dog Tips and Dog Hacks that most wouldn't think of. I'm a lifelong dog owner — currently have 2 mixed breed Golden Aussies that we found abandoned on the side of the road as puppies. I've always trained my own dogs and help friends train theirs, as well. Professionally, I worked at a vet and have several friends who are veterinarians — whom I consult with regularly. (And just because I love animals so much, I also worked at a Zoo for awhile!) I've been sharing my best ideas with others by blogging full-time since 1998 (the same year that Google started… and before the days of Facebook and YouTube). My daily motivation is to help first-time dog owners be better prepared from the first day your new puppy enters your home. I like to help dog owners understand what's 'normal' and what you can expect in terms of living with and training your dog — how to get through the ups & downs of potty training, chewing, teaching commands, getting your dog to listen, and everything else that takes place during that hectic first year! When I'm not training, walking, grooming, or making homemade treats for my dogs, you will find me at the corner of Good News & Fun Times as publisher of The Fun Times Guide (32 fun & helpful websites). To date, I've written over 500 articles for dog owners on this site!