You say toe-MAY-toe, I say toe-MA-toe.
I say Mardi Gras, my dog says Muddi Gras!…
Muddi Gras = muddy paws.
Following are some funny pictures of dogs celebrating Mardi Gras Muddi Gras by spending some quality time playing in the dirt and mud.
Plus the best tips for dealing with your dog's muddy paws — because what dog doesn't love to play in the mud… right?
Of our 3 dogs…
Destin likes to dig in it.
Tenor likes to play in it.
And Jersey likes to roll in it!
…Happy Muddi Gras, to all our dog-loving friends!!!
Here's a dirty dogs photogallery for you to enjoy.
Tips For Dealing With Muddy Paws
Wet, or muddy, or snowy dog paws are not something you want tracking through the house!
I used greet my dog at the door with a towel every time he came in after doing his business outside when it was raining or snowing. I had a small welcome mat in front of the door, but he never managed to keep his paws on it. (He's a large, 100-pound dog Labrador Retriever.) Still, he would stand patiently — half on the rug / half off — while I wiped each paw dry (…or at least less wet). Then, I just had to wipe the paw prints off the floor area immediately surrounding the welcome mat.
Finally, I got smart and bought a large 9×12 foot carpet remnant (it's a low-pile shag) and placed it right in front of the door that he always uses:
Now, I simply tell him to "Sit on the rug" for a few minutes after he comes inside. I give him a treat. And I test his respect of the "Stay" command. After a few minutes — when I think the paws have dried enough — I say OK and he knows that he can get up and go play.
If the bottom of his paws are extra wet or muddy, I signal him to walk in circles on the rug a few times before telling him to "sit on the rug". That way the rug does some of the work for you by removing some of the debris and drying the bottom of the paws a bit.
If the top of his paws or in between his toe pads are super wet or muddy, then I sit on the rug with him and carefully wipe each paw until it's dry.
If I know ahead of time that it's super muddy outside, then I put dog boots on each of my dog's paws. He actually doesn't even mind it anymore.
That's how I deal with muddy paws. Here are some tips from other dog owners: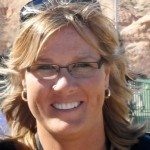 I like to help people find unique ways to do things in order to save time & money — so I write about "outside the box" ideas that most wouldn't think of. As a lifelong dog owner, I often share my best tips for living with and training dogs. I worked in Higher Ed over 10 years before switching gears to pursue activities that I'm truly passionate about. I've worked at a vet, in a photo lab, and at a zoo — to name a few. I enjoy the outdoors via bicycle, motorcycle, Jeep, or RV. You can always find me at the corner of Good News & Fun Times as publisher of The Fun Times Guide (32 fun & helpful websites).
,