This post may contain affiliate links. If you buy thru these links, we may earn a commission at no additional cost to you.
---
Who knew that so many dangers could be lurking around the doors and windows inside your home?
Here's what you need to know… some little-known facts that could save your dog's life!
Dogs frequently like to look out windows and screen doors, but it's important to realize the many dangers that lurk around windows and doors when it comes to your pet.
A dog's neck can become wedged between the slats of window blinds — both vertical and horizontal blinds.
A dog's neck, tail, paw, or dog collar could easily become caught within the loops of dangling cords.
A dog can climb out of any open window.
A dog can break through or fall out of any window screen.
A dog could even pull down an entire set of hung curtains, in their attempt to play with the moving fabric itself.
A dog can nudge open a door that's not tightly closed.
All of these things can hurt (or even kill) a playful, fun-loving pet.
What You Should Do:
1. Cut the cords to all window blinds & curtains. You don't need to remove the cords altogether or cut them in such a way that makes them less attractive, you simply need to remove any "loops".
To remove the loop from dangling strings, cut the string at the bottom of the loop so there's no area in which a paw, tail, or neck could get trapped.
2. Put suction cups with hooks on the windows — high enough to be out of your dog's reach. Then simply wrap the cord around the hook, rather than leave it dangling for your dog's ears, paws, tail, neck, or dog collar to get caught in.
3. Whenever you exit a door, double check to make sure that it has firmly latched shut behind you. On more than one occasion, I've had to chase my dog around the neighborhood when the WIND blew open our garage door, giving Destin an effortless way out.
4. Screen doors or storm doors (the type that typically complement front doors on a home) have their own closing mechanism. How quickly or securely the door closes is determined by where you place that square moving guide toward the bottom inside the door. Several times, we thought that door had slammed shut behind us, only to find that Destin was standing in the way, or the little "guide" piece had been moved, preventing the door from closing all the way.
5. Open windows can tempt a dog to jump out — no matter how high off the ground that window is. Your best bet is to keep all windows at dog-eye level firmly shut if you have a dog in the house.
Check out this video of a dog escaping through a window!
6. Also, while you may think that window screens would be enough to keep your pet from jumping out, think again. A good friend of mine cannot enjoy a natural breeze through screened windows anymore because her Chow-mix has literally busted through the screens on more than one occasion and landed in the yard!
7. Keep window blinds pulled open — just beyond the dog's reach. For horizontal blinds, we keep ours raised to just above the dog's eye level. For vertical blinds, we keep them pulled to one side whenever the dogs are in that room. (Before we did this, the blinds would get really dirty & grimey in spots … from all the times he nudged them with his nose to see through.)
8. Tie "up" or "back" any dangling curtains to make them less attractive for your dog to play with. The less they blow in the wind at doggie-level, the less they'll seem like a toy that your dog will want to play with.
9. If you are in the market for a new home, consider the type of door handles that you put on your doors. Dogs can figure out how to open doors — especially doors that have long protruding handles, as opposed to round, inset door knobs.
Here are LOTS of videos showing how many dogs can open doors — whether they have lever handles or not!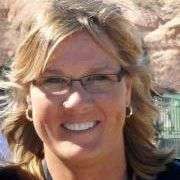 I like to help Dog Parents find unique ways to do things that will save time & money — so I write about "outside the box" Dog Tips and Dog Hacks that most wouldn't think of. I'm a lifelong dog owner — currently have 2 mixed breed Golden Aussies that we found abandoned on the side of the road as puppies. I've always trained my own dogs and help friends train theirs, as well. Professionally, I worked at a vet and have several friends who are veterinarians — whom I consult with regularly. (And just because I love animals so much, I also worked at a Zoo for awhile!) I've been sharing my best ideas with others by blogging full-time since 1998 (the same year that Google started… and before the days of Facebook and YouTube). My daily motivation is to help first-time dog owners be better prepared from the first day your new puppy enters your home. I like to help dog owners understand what's 'normal' and what you can expect in terms of living with and training your dog — how to get through the ups & downs of potty training, chewing, teaching commands, getting your dog to listen, and everything else that takes place during that hectic first year! When I'm not training, walking, grooming, or making homemade treats for my dogs, you will find me at the corner of Good News & Fun Times as publisher of The Fun Times Guide (32 fun & helpful websites). To date, I've written over 600 articles for dog owners on this site! Many of them have upwards of 200K shares.