This post may contain affiliate links. If you buy thru these links, we may earn a commission at no additional cost to you.
---
You may have thought about teaching the command "High five" or "Shake hands" to get your dog to stretch out his paw and put it in your hand.
Many people teach those dog tricks as a fun way to impress their friends.
But, truth be told, this command will come in quite handy lots of times during your dog's life:
As you can see, this is much more than just a fun dog trick.
It's a very practical way to communicate with your dog about his feet.
Here's how to teach your dog what "Toes" and "High five" mean…
Choose Your Words
I actually use the command "Toes" instead of "High five" or "Shake" — but that's just a personal preference. Either one will work.
For the record, my dog also knows his other body parts too — like eyes, nose, ears, nails, lips — because we use those words when we refer to cleaning those parts, or using those body parts in other commands.
So in our household, "Toes" means for the dog to place his paw in your hand (rather than tap your hand up high, like a typical high five gesture).
And when I say, "Other toes" my dog removes that paw from my hand and puts his other paw into my hand.
How To Teach Your Dog This Trick
Pictured below is our dog Tenor when he was a 9-week-old pup.
This was only his second night home with us, and we were already teaching him some useful dog tricks.
Here, he's learning how to give us his toes, which is similar to a dog learning how to "Shake":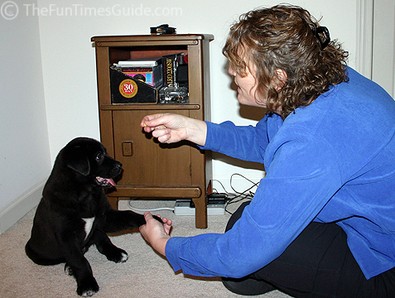 We used tiny, moist dog treats to capture our dog's attention. (In our case, it was Biljac.)
And we only practiced 5 to 10 times in a row. As soon as he started to lose interest, we stopped. That way he never got bored with our training sessions and they always ended on a good note: treats for attempting to do what we asked him to do.
Before long (maybe after 3 or 4 separate training sessions), our dog Tenor clearly knew what the command "Toes" meant. And he has done it without fail for years now.
Because we started so young with Tenor, "Toes" is a command that is firmly implanted in his brain now as an adult dog.
He will always give you his toes (often without even asking) any time you simply reach to touch his paw.
And if you say "Other toes," he will immediately give you his other paw.
As I mentioned above, this command comes in very handy whenever we're trimming his nails, wiping his paws, or whenever we're coaxing him to approach a particular area one paw at a time.
Plus, it's just so darned adorable when a dog stretches out his paw and lets you hold it.
How to Teach a Dog to Shake Hands
Bonus Trick!
Once your dog knows how to do "high five" it should be relatively easy for you to teach your dog to "wave" — with both paws in the air.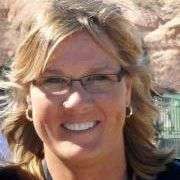 I like to help Dog Parents find unique ways to do things that will save time & money — so I write about "outside the box" Dog Tips and Dog Hacks that most wouldn't think of. I'm a lifelong dog owner — currently have 2 mixed breed Golden Aussies that we found abandoned on the side of the road as puppies. I've always trained my own dogs and help friends train theirs, as well. Professionally, I worked at a vet and have several friends who are veterinarians — whom I consult with regularly. (And just because I love animals so much, I also worked at a Zoo for awhile!) I've been sharing my best ideas with others by blogging full-time since 1998 (the same year that Google started… and before the days of Facebook and YouTube). My daily motivation is to help first-time dog owners be better prepared from the first day your new puppy enters your home. I like to help dog owners understand what's 'normal' and what you can expect in terms of living with and training your dog — how to get through the ups & downs of potty training, chewing, teaching commands, getting your dog to listen, and everything else that takes place during that hectic first year! When I'm not training, walking, grooming, or making homemade treats for my dogs, you will find me at the corner of Good News & Fun Times as publisher of The Fun Times Guide (32 fun & helpful websites). To date, I've written over 600 articles for dog owners on this site! Many of them have upwards of 200K shares.