This post may contain affiliate links. If you buy thru these links, we may earn a commission at no additional cost to you.
---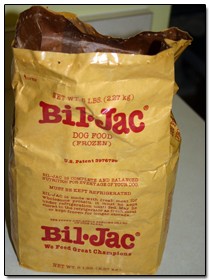 Bil-Jac frozen dog food makes a great meal, a great treat, and a great "reward" for your dog.
Here's why we always have some Biljac at home (both in the freezer and in the fridge) at all times…
Bil-Jac Makes Dog Training Easier
Jim and I were first introduced to frozen BilJac at our dog's puppy training class several years ago.
The professional trainers used it as an "instant reward" treat for every good behavior that a dog would display.
The dogs ate it up… literally.
It became obvious to us early on that our dog would do anything for some of that Biljac food!
The best part (for training purposes, anyway) is the fact that Biljac is small and pellet-shaped — similar to rabbit pellets in shape and size. Plus, it's soft and pliable. This makes it easy to dole out in very small amounts for repeated rewards, say when you're training your dog to "heel".
For example, with the dog at your left side and a small handful of Biljac nuggets in your left hand… when given the command to "heel", your dog will instinctively follow your hand knowing that he'll get a smidgen of tasty Biljac every few seconds. It worked great for us!
Bil-Jac Is A Great Daily Treat, Too
Our dogs get BilJac frozen food treats every single day.
Much like Alpo Liva-Snaps, they will do anything for a Bil-Jac treat… and their mouths begin drooling the moment they realize they're getting one!
That's why we try to reserve the BilJac as more of a "luxury treat" for those times when the dog has gone above-and-beyond your average dog behavior.
Any time the dogs have been really good, they get a few pieces of Bil-Jac frozen dog food morsels.
Plus, we always stuff some frozen BilJac inside the dogs' Kong Toys anytime we leave them home alone for several hours at a time.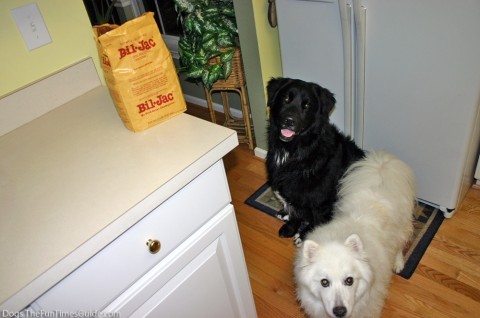 How To Get The Most From Frozen Biljac
We reach for the BilJac so often that we keep an ample supply of thawed out frozen BilJac in a Ziploc bag in the fridge at all times.
A zip-type bag stored on the door inside the refrigerator makes it a cinch to dip into several times throughout the day.
When you buy frozen Biljac at the pet store or supermarket (we get ours at Kroger), this is what it looks like:
It's just a big square log of frozen dog food pellets.
I usually let it thaw just a bit, so it's easier to break up into smaller chunks and place handfuls into plastic zip bags. I've even let it thaw completely before re-bagging it and then re-freezing it! It's perfectly fine as long as it still has a chill to it when you're doing the re-bagging and re-freezing.
For the record, a small 5 lb. bag of frozen Bil-Jac lasts well over a month in our home — with 2 dogs who only get the BilJac as treats. Truthfully, it often lasts much longer than that because sometimes I only reach for one of my frozen Biljac baggies every other month or so.
Pros & Cons of Bil-Jac Frozen Dog Food
PRO'S
BilJac doesn't have the typical dog food smell.
You can tell it's fresh by its smell, and how soft it is.
When it's being eaten, Biljac doesn't leave crumbs like regular dog food does.
It's made of all real meat, with no fillers.
They say BilJac is particularly good for for finicky eaters. (Our dogs aren't finicky, but they still love it!)
Given as a treat, we find the Biljac frozen dog food to be quite inexpensive.
CON'S
The only downside that I can think of regarding frozen Biljac is the fact that it must be refrigerated at all times.
This means that our dogs only receive this tasty treat when we're at home and when we've remembered to transfer some from the freezer to the refrigerator to thaw out.
Plus, it may be harder than other dog treats to find in local stores.
Where To Find Biljac Frozen Dog Food
It's true. You'll probably have to look a little harder to find stores that sell Biljac frozen dog food.
For the longest time, only feed supply stores and non-commercial pet supply stores carried it.
Then, some Pet Smart stores began selling BilJac dry dog food, but not the frozen kind.
I'm happy to report that today, lots of grocery stores now carry frozen BilJac! Like I said, we get ours at Kroger.
In supermarkets, it's located in the frozen food aisle — usually in a separate freezer filled with all types of frozen dog foods. If the store happens to have a large pet food area, chances are they'll have a stand-up freezer right there in the pet food aisle filled with the most popular types of frozen dog food.
This company started as an idea by the owner to freeze dog food and it worked. He could then sell more nutritious/healthy foods without preservatives. Even now with people making their own dog foods at home Bil-Jac is still a much wanted product. — Source
Biljac Liver Treats Review
BilJac dog food has been around for nearly 50 years. Today, Biljac's premium dog food and BilJac treats are a staple in many dogs' diets. The frozen BilJac was the first product the Bil-Jac company produced.
To date, we have tried the Bil-Jac frozen dog food (reviewed above) and the BilJac Liver Treats (non-frozen).
Here are my thoughts on the Biljac Liver Treats themselves…
I like that the Liver Treats come in 2 sizes — the pellets are either "large" or "small." Both make great treats during dog training sessions.
The Liver Treats are similar to the frozen BilJac food in terms of consistency and shape — though the Liver Treats are a bit larger and they do not require refrigeration. That's a huge plus. (They come in a resealable air-tight bag to keep them soft and pliable too.)
Even though each Liver Treat is intended to be given whole, our dogs are so used to receiving tiny smidgens of treats as their snacks and rewards, so we rarely give an entire Liver Treat at one time. Instead, each one can be broken in half, so both of our dogs get one-half of a Biljac Liver Treat as a snack each time.
Again, for training purposes… these soft Liver Treats are highly aromatic, and they can be shaped to fill the palm of your hand. This makes the training process so much easier! Since your dog is receiving a BIG reward in a TINY package, it's very cost-effective for you, and highly motivating for your dog.
I highly recommend them. (And so do my dogs!)
Here's an interesting video about Biljac dog food and treats. See how Biljac is different: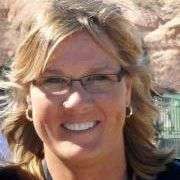 I like to help Dog Parents find unique ways to do things that will save time & money — so I write about "outside the box" Dog Tips and Dog Hacks that most wouldn't think of. I'm a lifelong dog owner — currently have 2 mixed breed Golden Aussies that we found abandoned on the side of the road as puppies. I've always trained my own dogs and help friends train theirs, as well. Professionally, I worked at a vet and have several friends who are veterinarians — whom I consult with regularly. (And just because I love animals so much, I also worked at a Zoo for awhile!) I've been sharing my best ideas with others by blogging full-time since 1998 (the same year that Google started… and before the days of Facebook and YouTube). My daily motivation is to help first-time dog owners be better prepared from the first day your new puppy enters your home. I like to help dog owners understand what's 'normal' and what you can expect in terms of living with and training your dog — how to get through the ups & downs of potty training, chewing, teaching commands, getting your dog to listen, and everything else that takes place during that hectic first year! When I'm not training, walking, grooming, or making homemade treats for my dogs, you will find me at the corner of Good News & Fun Times as publisher of The Fun Times Guide (32 fun & helpful websites). To date, I've written over 600 articles for dog owners on this site! Many of them have upwards of 200K shares.