This post may contain affiliate links. If you buy thru these links, we may earn a commission at no additional cost to you.
---
With Halloween right around the corner, it's time to start thinking about a Halloween costume for your dog!
Following are the 'best of the best' Halloween costumes for dogs (and their owners).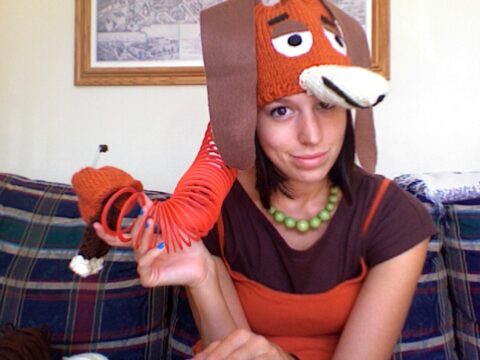 Even if you decide not to get dressed up yourself for Halloween, chances are you might find it fun to dress up your four-legged friend this year.
In this article you will find:
The Best "Classic" Halloween Costumes For Dogs
The Best "Classic" Halloween Costumes For Dog Lovers
How To Make A Cute Puppy Dog Costume Yourself
Kids & Adult Halloween DIY Costume Ideas For Dog Lovers
Best Dog Halloween Costumes
The links help you find individual items to make your own version of these costumes!
1. Panda Dog Costume …This looks sooo real!
2. Superman Dog Costume …It's SuperDog!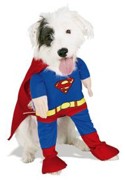 3.  Scooby-Doo Dog Costume …What would Scooby Do?
4. Dogzilla Dog Costume …No reason to be scared of this cutey!
5. Teddy Bear Dog Costume …As cuddly as a 'real' teddy bear.
6. Skunk Dog Costume …What a little stinker!
7.  Little Princess Dog Costume …Prissy, prissy little puppy
8. Pirate Dog Costume …A Johnny Depp lookalike.

9. Spiderman Dog Costume …Spidey can do it!
10. Lion Dog Costume … I may be little, but hear me ROAR!
11. Batman Dog Costume …Batman returns (and Robin too!)
12.  Harem Princess Dog Costume …She's treated like royalty
14. Wonder Woman Dog Costume …She's a wonder-dog alright!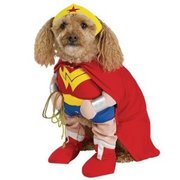 15.  Hippie Dog Costume …Do the hippie hippie shake.
16. Hot Dog Dog Costume …A classic in the truest sense of the word — with mustard and ketchup.

17. Prisoner Dog Costume …For the escape artist — bad dog!
18. Fireman Dog Costume …I'd let this little hero rescue me!
19. Tiki Dog Costume …Love that hula skirt — swing it!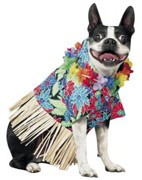 20. Yoda Dog Costume …Star Wars costumes are always in style.
21. Pimp Dog Costume …for the dog that always looks good but acts bad.
22. Bunny Rabbit Dog Costume …Does your dog like to hop? This is perfect.
Best Halloween Dog Costumes For Adults & Kids
Now that you've found the perfect costume for your dog, it's time to find a dog costume for Mom, Dad & the kids.
Here are some classic dog costumes that dog lovers will appreciate: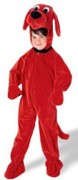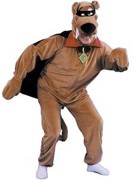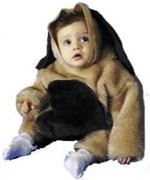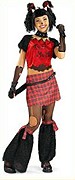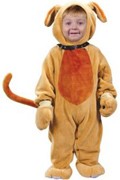 How To Make Your Own Cute Puppy Costume
Here's how to make a puppy dog costume yourself (which would be great as part of a "dog walker" costume) using clothing and items you probably already have:
Start with a brown hooded sweatshirt, brown pants and 4 pairs of beige socks. (Or, you could substitute black clothes with gold socks, brown clothes with white socks.)
Pin a sock on either side of the hood for floppy ears.
Roll one sock up and stuff it into another to make a tail — then pin it on the back of the sweatshirt.
Cover hands and feet with socks.
…It's as simple as that!
Check out this video tutorial to see how to make a really cute puppy dog face with makeup:
More fun Halloween DIY costume ideas for dogs and their owners!
Like this post? Save it to read again later… or share with others on Pinterest!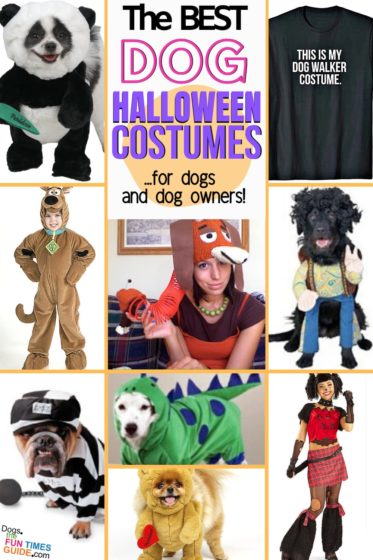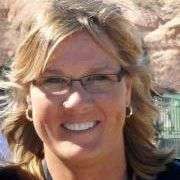 I like to help Dog Parents find unique ways to do things that will save time & money — so I write about "outside the box" Dog Tips and Dog Hacks that most wouldn't think of. I'm a lifelong dog owner — currently have 2 mixed breed Golden Aussies that we found abandoned on the side of the road as puppies. I've always trained my own dogs and help friends train theirs, as well. Professionally, I worked at a vet and have several friends who are veterinarians — whom I consult with regularly. (And just because I love animals so much, I also worked at a Zoo for awhile!) I've been sharing my best ideas with others by blogging full-time since 1998 (the same year that Google started… and before the days of Facebook and YouTube). My daily motivation is to help first-time dog owners be better prepared from the first day your new puppy enters your home. I like to help dog owners understand what's 'normal' and what you can expect in terms of living with and training your dog — how to get through the ups & downs of potty training, chewing, teaching commands, getting your dog to listen, and everything else that takes place during that hectic first year! When I'm not training, walking, grooming, or making homemade treats for my dogs, you will find me at the corner of Good News & Fun Times as publisher of The Fun Times Guide (32 fun & helpful websites). To date, I've written over 600 articles for dog owners on this site! Many of them have upwards of 200K shares.