This post may contain affiliate links. If you buy thru these links, we may earn a commission at no additional cost to you.
---
If you have a dog, then chances are dog Halloween costumes are right up your alley.
Whether you're looking for a Halloween costume for yourself, or your child (or even your dog!), there are lots of ideas to choose from here.
The best part: most of these are a cinch to make yourself!
And yes, there are a bunch that actually do involve your dog as well. So, if you're looking for a costume for your dog this year, you're bound to find some fun dog Halloween costumes below.
For all the dog lovers out there, I present you with the best dog-related Halloween costumes you can buy or make yourself…
Halloween Costumes For Dog Lovers
Ace Ventura Pet Detective costume – This one is easy to make yourself… no sewing required! Here are some more tips for making your own Pet Detective costume. And some ideas of what the costume might look like: kids Ace Ventura Pet Detective costume and adults Ace Ventura Pet Detective costume.

Puppies For Sale costume – Perhaps you're a dog breeder, or your child is the son or daughter of a dog breeder. If so, this Halloween costume would be perfect! Try to think outside the box a bit if you're going to adapt this to a full-size adult costume.
Puppy Dog costume – Best for babies. This one is simple to make using a basic baby's sleeper.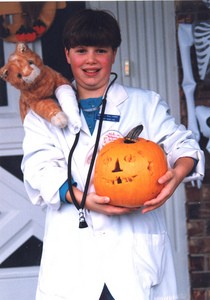 Veterinarian costume – A Halloween costume that works well for adults and kids alike. Simply put on some medical scrubs and pin some stuffed animals all over it. The best part: use a clean pet carrier to collect candy when trick-or-treating! Yes, you can also buy a kids veterinarian costume.
Blues Clues costume – Best suited for children, this blg blue dog costume is sure to be a hit! Here's another version of the Blues Clues costume for kids. And here are some photos to give you an idea of what a child might look like wearing a Blues Clues costume. Of course, you could just buy the Blues Clues costume and be done with it.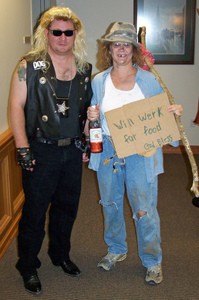 Dog The Bounty Hunter costume – Great for couples, or just guys. You probably have everything you need around the house to make this costume. Or you could buy the official Dog The Bounty Hunter costume online.

Snoopy costume – This is a rather basic DIY costume idea. It should resemble the official dog named Snoopy, but it's really just your basic Dog costume idea. Of course, the Dalmatian costume is another similar one. Here are lots of DIY dog costumes on kids if you'd like more ideas.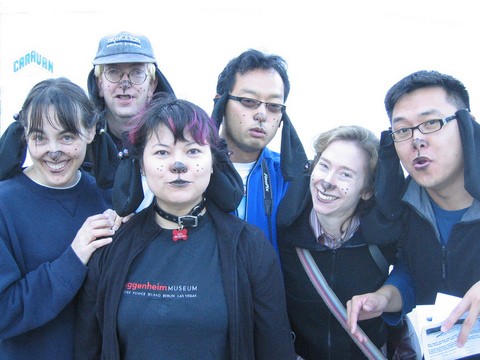 Matching Halloween Costumes For You And Your Dog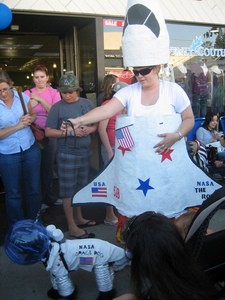 Astronaut and Space Dog costume – This is a great DIY Halloween costume idea for kids. But it would also work well for adults. The Space Dog is the best part! Here are some of the key props necessary for building your own fun Astronaut costumes.
Costume Ideas for You & Your Dog – These are my favorites! If your dog will be accompanying you to the party or go trick-or-treating with you on Halloween night, these are some fun costume ideas involving both you and your dog! Here are more (somewhat goofy) costume ideas for you and your dog.
Watch Dog costume – Okay, this one's just for the dog, but it's easy to make this one yourself. Simply add a couple of wristwatches to his ankles and you've got a watch dog! Or, you could always buy an official Watch Dog Halloween costume.
Coming Up With Your Own Dog Halloween Costume
Finally, if none of the above ideas works for a Halloween costume for you and your dog, then you could always try this…
Go through photos of dogs in costumes, or winners of past dog Halloween costume contests, or pages of dog Halloween costumes you can buy (for dogs), or pages of dog Halloween costumes you can buy (for adults and children). After finding the perfect one for your dog, either make (or buy) a similar costume for yourself or your child. That way, both you and your dog go out & about wearing matching — or complimentary – Halloween costumes.
For example, you could both be:

The possibilities are endless. And most of these dog Halloween costumes would be simple enough to replicate using items you already have around the house!
Have fun!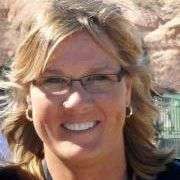 I like to help Dog Parents find unique ways to do things that will save time & money — so I write about "outside the box" Dog Tips and Dog Hacks that most wouldn't think of. I'm a lifelong dog owner — currently have 2 mixed breed Golden Aussies that we found abandoned on the side of the road as puppies. I've always trained my own dogs and help friends train theirs, as well. Professionally, I worked at a vet and have several friends who are veterinarians — whom I consult with regularly. (And just because I love animals so much, I also worked at a Zoo for awhile!) I've been sharing my best ideas with others by blogging full-time since 1998 (the same year that Google started… and before the days of Facebook and YouTube). My daily motivation is to help first-time dog owners be better prepared from the first day your new puppy enters your home. I like to help dog owners understand what's 'normal' and what you can expect in terms of living with and training your dog — how to get through the ups & downs of potty training, chewing, teaching commands, getting your dog to listen, and everything else that takes place during that hectic first year! When I'm not training, walking, grooming, or making homemade treats for my dogs, you will find me at the corner of Good News & Fun Times as publisher of The Fun Times Guide (32 fun & helpful websites). To date, I've written over 600 articles for dog owners on this site! Many of them have upwards of 200K shares.