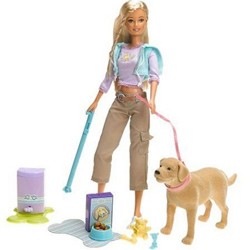 Check it out… Barbie got a dog!
For the younger dog lovers in the family…
Barbie and her dog Tanner are the perfect play toy for children.
Actually, this pooper-scooper Barbie doll is a popular a collector's item for dog lovers of all ages.
About Barbie's Dog
Barbie's dog, Tanner, looks and acts just like a real dog. She even poops!
Tanner is soft and fuzzy and her mouth, ears, head, and tail really move. You can even feed her dog biscuits.
She comes with a dog bone and chew toys that Tanner can actually hold in her mouth.
And, when Tanner has to go to the bathroom, Barbie cleans up the mess with her special magnetic dog poop scooper.
Check out the Barbie Forever Barbie Doll & Tanner.
Must see: Even more Barbie dog sets!
These videos show Barbie and her dog Tanner in action:
,