This post may contain affiliate links. If you buy thru these links, we may earn a commission at no additional cost to you.
---
Somehow, we were fortunate to be able to convince our 3-year-old dog to start using a dog crate — out of the blue.
For 2-1/2 years, he had slept on our bed.
Six months ago, we broke him of that.
This week, we decided to try crate training our adult dog.
Here's how we did it…
Time For Destin To Move On Up …To The Penthouse Suite
Amazingly, our 3-year-old Black Lab-Golden Retriever mix barely balked at the fact that he had to stay in a crate for 6 hours on that very first day we introduced it to him.
Why? We're not exactly sure. But it could have something to do with the fact that:
A) His younger brother has been in a crate through his entire 6 months of life. Maybe he was jealous and happy to finally have his own space too.
-OR-
B)
He's been bearing
a lot of responsibility dog-pack wise
— going from the "baby" (in a household of 2 dogs), to the middle dog (in a household of 3 dogs when we brought home a new puppy), to then the Alpha dog (in a household of 2 dogs when our eldest dog passed on) — all within a couple short months' time. Maybe he's just happy to NOT have to be in charge for a change and he enjoys sitting back and relaxing in his comfy "crib" for Big Dawgs.
-OR-
C) He's part Black Lab, part Golden Retriever (probably more the personality of the Golden Retriever — very laid back and regal in his demeanor). Those dogs tend to be more accepting than most breeds to changes such as this.
True, he's very easy-going in general, but we were certain that we'd have to spend a few days persuading him to just go inside the crate on his own, let alone stay in there for hours at a time!
How To Crate Train An Adult Dog
Here's what we did:
1. The morning we brought the crate home, we set it up in our bedroom (next to his younger brother's crate, but not touching it).
2. We filled a Kong toy with cooked chicken strips (grilled, from leftover Chicken Quesadillas) and put him in the crate with that. While we didn't close the door, we didn't let him leave the crate with that Kong (which he very badly wanted… especially since he doesn't get people food very often).
3. After he finished the Kong, we let him leave the crate on his own free will.
4. We left the door open, but he never went back in it on his own the rest of that day. (His younger brother did, however. Which poses a whole other set of issues — whether or not to allow a sibling dog to enter another dog's crate. More on that later.)
5. In the afternoon, we offered Destin another of his most favorite things: a pressed rawhide dog bone. But he could only have it if he went in his crate. He followed inside after we tossed the bone in there, and we locked the door behind him for the first time (not forcibly or obviously though). He was curious about what was going on — but agreeable. He actually didn't touch the bone, he was more interested in when he might be getting out of the crate. After about 15 minutes of sitting in the room with him, he whined to get out once — but we did not let him out. After another 5 minutes or so, we let him out without incident. (Of course, he wanted to take the rawhide bone too, but we didn't allow that. Special treats like this are now reserved for time inside the crate.)
6. That night, come bedtime, he was used to his little brother Tenor getting locked in his crate (quite contentedly, I might add), so Destin seemed to almost know that I was going to encourage him to enter his own crate at this time. He was definitely reluctant to enter on his own at first. But after some coaxing — no toys, no bones, no Kongs, just a good-smelling BilJac liver treat held over the top of the crate which he could only reach from being inside it — he gave in. (We are also lucky that our dogs are treat-motivated.)
7. Through the night, we didn't walk on eggshells around him while he was inside crate. Jim came to bed a couple hours after I'd gone to sleep. We were talking, and Destin watched our every move — but he never whined to be let out of the crate.
8. It wasn't until our normal morning wake-up time (6:30 AM) that he whimpered because he needed to go outside. This released him from crate-duty for the rest of the day.
We continued to go through a couple of short-term crate stays — with a favorite food or toy in the crate with him (with us in the house, in case he started putting up a fuss).
Here's a great tip for keeping your dog calm when you return home after work and he wants to get out of the crate:
Seeing them more and more as simple creatures, I try to regulate our activities. When I come home from an errand or dinner out, I wait 4 or 5 minutes before letting the dogs out of their crates, so that my coming and going isn't such a big deal, and we can avoid the jumping and circling of a multiple-dog household. ~Katz on Dogs
4 Simple Steps When Crate Training Your Dog
There's no doubt about it… using a crate from the first days that you bring your new dog home will go a long way toward having a well-mannered, self-confident dog.
A crate will also help to keep your dog safe and out of trouble. (And if your dog isn't fully housetrained yet, then the crate will also useful for that purpose.)
The fact is, dogs actually like small enclosed places. They make your dog feel safe. Dogs also like to know their boundaries — so to speak. If you use a crate, then you're giving your dog a "den" (a room) to call his own.
The following video provides some great tips on how to train your dog to stay in his crate. There are 4 simple steps that you should use when crate training a new dog:
Treat outside of the crate – Give your puppy treats outside of the crate, to get him use to simply being around it.
Treat part way inside the crate – Put a treat just inside the door of the crate, and allow your dog to get it on his own. (DO NOT shut the door behind him.)
Treat further & further inside the crate – Keep putting a treat further back in the crate until you get your dog to go all the way to the back — comfortably. Again, do not close the crate door each time.
Longer lasting treat and shut the door – This time, use a treat that takes your dog longer to chew. Put the treat inside the crate. When your dog enters the crate and starts eating the treat, then shut the door calmly (not quickly). Before your dog is done eating the treat, open the door and let your dog choose whether he stays inside or comes right out.
Crate training an adult dog will not happen in one day. It may take up to a week (or two). But with a little time, your dog will start to feel comfortable in his crate and he will use it regularly… on his own!
Here, you can see each of the above crate training steps in action:
https://youtu.be/gI8b_xfEuPA
In order to survive the ups & downs of kennel training, remember to keep things positive — including your attitude and your dog's rewards.
Your dog needs to know that only wonderful things happen inside the crate!
So, How Did Our Adult Dog Do With Crate Training?…
We figured that we were in for one heck of an uphill battle — since our 3-year-old dog Destin hadn't been in a dog crate since he was just a few weeks old. (At the time, we needed a way to confine him in hotels when we were traveling, but we ditched the crate idea right after that.)
For his first 2-1/2 years of life, he was allowed to sleep on our bed with us. That was, until we learned how badly this confuses dogs with regard to who's "in control". So, we stopped that about 6 months ago. For some reason, that too was a breeze. Destin never "tested" us with getting up on the bed after that first day that we disallowed it.
We never dreamed it would be so easy to get him used to being locked inside a dog crate though.
It's a fact, dogs want (and need!) their own personal territory in order to feel safe and secure …and to fulfill their innate need to "den". They also need a place to just "chill out" on occasion.
MAJOR UPDATE: After 1 week of smooth sailing with Destin in the crate, all heck broke loose the first time we left him inside the crate for 4 hours straight. From there, we faced an uphill battle in crate training Destin. But, we stuck with it and now both of our dogs have successfully been crate trained!
Here's how we eventually achieved success with crate training.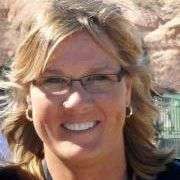 I like to help Dog Parents find unique ways to do things that will save time & money — so I write about "outside the box" Dog Tips and Dog Hacks that most wouldn't think of. I'm a lifelong dog owner — currently have 2 mixed breed Golden Aussies that we found abandoned on the side of the road as puppies. I've always trained my own dogs and help friends train theirs, as well. Professionally, I worked at a vet and have several friends who are veterinarians — whom I consult with regularly. (And just because I love animals so much, I also worked at a Zoo for awhile!) I've been sharing my best ideas with others by blogging full-time since 1998 (the same year that Google started… and before the days of Facebook and YouTube). My daily motivation is to help first-time dog owners be better prepared from the first day your new puppy enters your home. I like to help dog owners understand what's 'normal' and what you can expect in terms of living with and training your dog — how to get through the ups & downs of potty training, chewing, teaching commands, getting your dog to listen, and everything else that takes place during that hectic first year! When I'm not training, walking, grooming, or making homemade treats for my dogs, you will find me at the corner of Good News & Fun Times as publisher of The Fun Times Guide (32 fun & helpful websites). To date, I've written over 600 articles for dog owners on this site! Many of them have upwards of 200K shares.