This post may contain affiliate links. If you buy thru these links, we may earn a commission at no additional cost to you.
---
We have tried virtually all of the Nutro dog food varieties over the course of the last few years.
In fact, I distinctly remember the day I made the decision to switch from Purina Dog Chow (and other Purina blends, including Puppy Chow and Gravy Train) to what I thought of at the time as a very expensive premium dog food: Nutro.
They say that Nutro's "Natural Choice" dog food is America's #1 Large Breed pet store dog food.
How We Chose Nutro
Until this time, I had always bought my dog's food at the supermarket — where I bought all my groceries.
But, on this day, I was working at the vet, and I was complaining about the large volume of "poo" that our two dogs left behind in our fenced backyard. Not only was it becoming a chore to pick up regularly after our two adult dogs, but I also feared that there might be an odor coming from our backyard that would offend the neighbors if I didn't pick it up quick enough.
One of the vet techs at the time mentioned that she had been using Nutro dog food and was happy with it.
Another co-worker there also spoke highly of the Nutro dog food products — especially the Lamb & Rice version. She said the day she switched from "regular" dog food to Nutro dog food for her two dogs, she noticed a difference in their stools.
Tips from Nutro on switching your dog's food.
The Truth Is In The Poop!
So, what's to get excited about when it comes to dog pooh, you ask? Well, a lot. This is based on my own experience…
First, the stool that results from a diet consisting of Nutro Natural Choice dog food seems to break down easier in the elements, thus disappearing naturally (and faster) from my backyard. (IF… I don't get out there to pick it up myself, first.)
Second, the dog poo in the backyard is less smelly. Seriously. That means you're not offending the neighbors (…something I always worried about with 2 dogs and houses very close to ours on either side of the fence).
Third, the stool seems to be more solid and more "refined" than stools my dogs have eliminated after eating other dog foods.
Fourth, the Nutro dog food — overall — seems to be more easily digested by our dogs. Which goes hand-in-hand with what I'm actually seeing in their stool samples.
From the Nutro website:
Smallest Stool Volume… added beet pulp helps promote the growth of beneficial bacteria in the digestive tract. High digestibility means small compact stools for easy cleanup. That means more nutrition for your dog and less backyard cleanup.
Our Favorite Nutro Dog Food Products
Nutro Lamb & Rice (green bag) has remained our all-time favorite. Each of our dogs has always been fed this as a base — day in and day out.
Where we change things up a bit is with the other flavor of Nutro Natural Choice dog food that we choose to mix in with the Lamb & Rice. Yes, this is probably done more for our personal preference than theirs — because I'm sure the dogs would be just as happy (and just as healthy) if that's all we fed them.
But, for some reason we (like many other pet owners), feel the need to vary their diet a bit. Why?
Oh, I don't know…
…so they don't get bored with that particular blend of dog food.
…because we think they might like variety as much as we like variety in our diets.
…so they can taste different flavors, making their diet less bland.
Plus, as a rule, we do not feed our dogs people foods, so we tend to think that we're indulging them (and their senses) a bit if we switch up their dog food flavors once in awhile.
Mixing Things Up A Bit
Nutro Natural Choice food has proven to be very good for our dogs, so we've decided to stick with it. In addition to the Lamb & Rice formula we use as a base, we frequently mix in some Large Breed Adult (blue bag), or some Large Breed Adult Lamb & Rice (bright g
reen bag).
When Jersey was with us, we mixed the Nutro Lamb & Rice with Nutro Senior (silver bag)… even our 2-year-old black lab ate this combination and he seems to have fared quite well.
Since we switch it up every other month or so — keeping the Nutro Lamb & Rice as the base — we could supplement the diet of our two black labs with practically any other flavor or formula and they would do just fine.
Though some might disagree, saying you should never give a senior dog's diet to a growing puppy, we believe that the base of Nutro Lamb & Rice is strong enough on its own to make up for any lost nutrients that might have been sacrificed during that month or so the dog was getting the senior food mixed in. I think of it as a "bonus" — dessert, that's formulated slightly different than his meal!
We are also part of the Nutro Rewards Program where you get big discounts and rewards for buying Nutro dog food products.
Plus, here are some more great Nutro coupons.
Nutro Improves Skin & Coat Issues
The Nutro website also states that your dog will have "healthy skin and a shiny coat" on a diet of Nutro Healthy Choice dog food.
While I can attest to the fact that our dogs have always had excellent, healthy looking coats (two Lab-mixes and one American Eskimo dog), I can't say that I ever noticed less itching in our dogs. We've never had fleas in our home, but our dogs do have itchy skin. The vet says it's just something they will have to live with. Therefore, I can't see how this food has helped their skin issues any.
Here's someone whose dog experienced a significant amount of itch-relief after switching to Nutro Lamb & Rice.
Nutro offers a more specific claim with regard to skin issues on the labels of their MAX dog food varieties:
High levels of important linoleic acid help to condition your dog's skin and coat. Your dog will experience less shedding, less itching, and less scratching with MAX.
Very interesting… Perhaps we'll try incorporating some Nutro MAX dog food in with the Nutro Natural Choice food from now on.
Nutro's 3 Brands of Dog Foods Explained
The rep at Nashville Pet Products where we purchase our Nutro dog food locally said the biggest difference between MAX and Natural Choice is:
Nutro MAX is one step up from grocery store brand dog foods. It's got more flavor than the other Nutro products (great for dogs who are used to supermarket dog foods) and a bit more fat.
Nutro Natural Choice is made with more natural ingredients and has less fat. It is believed to be even healthier for your dog.
Nutro Ultra is their top-of-the-line dog food with a combination of holistic dog food ingredients (including lamb, chicken, and salmon) and no chemical preservatives.
Don't just take my word for it, here are dozens of other testimonials from happy Nutro customers.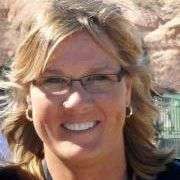 I like to help Dog Parents find unique ways to do things that will save time & money — so I write about "outside the box" Dog Tips and Dog Hacks that most wouldn't think of. I'm a lifelong dog owner — currently have 2 mixed breed Golden Aussies that we found abandoned on the side of the road as puppies. I've always trained my own dogs and help friends train theirs, as well. Professionally, I worked at a vet and have several friends who are veterinarians — whom I consult with regularly. (And just because I love animals so much, I also worked at a Zoo for awhile!) I've been sharing my best ideas with others by blogging full-time since 1998 (the same year that Google started… and before the days of Facebook and YouTube). My daily motivation is to help first-time dog owners be better prepared from the first day your new puppy enters your home. I like to help dog owners understand what's 'normal' and what you can expect in terms of living with and training your dog — how to get through the ups & downs of potty training, chewing, teaching commands, getting your dog to listen, and everything else that takes place during that hectic first year! When I'm not training, walking, grooming, or making homemade treats for my dogs, you will find me at the corner of Good News & Fun Times as publisher of The Fun Times Guide (32 fun & helpful websites). To date, I've written over 600 articles for dog owners on this site! Many of them have upwards of 200K shares.