Kong toys are the best dog toys… ever!
They serve double-duty, as a chew toy and as a treat-dispenser.
I think every dog owner should have one (or 4!)
We currently have a total of 16 Kongs which our 2 dogs enjoy on a daily basis.
See why I (and my dogs) think Kongs are the best!…
Come along as I share some little-known facts about Kong dog toys and give you some creative ways to bring hours of joy to your dog… Kong style!
An Introduction To Kongs
Most pet owners are familiar with Kong toys.
In fact, the Kong dog chew is known as "The world's best dog toy!"
 But if you're a new dog owner …or a pet owner whose dog isn't actively using the Kong chew toy …or someone who's looking for new fun things to try inside a Kong toy… then you'll appreciate this.

Allow me to sing the praises of the Kong dog toy…
Types Of Kong Toys For Dogs
I had no idea that they actually made so many different varieties of doggie Kong toys. These are the most basic ones for dogs:
Puppy Kong is made with "a special teething rubber formula"
Red Kong is for very strong chewers
Black Kong is extra bouncy and extra hard, for power chewers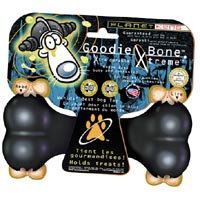 Here's a detailed explanation of the different types of dog Kong toys — including exactly how the Puppy Kong is different from the Adult Kong, the Senior Kong, and even Extreme Kongs.
Other Kong dog toys with a special purpose:
Why Kong Dog Toys Are So Great
Kong toys satisfy a dog's inborne, natural desire to "work" or hunt for food. Stuffed Kongs can keep them busy and content (and out of trouble!) for long periods of time by encouraging them to get the food reward inside.
For dogs with separation anxiety and other behavioral issues, Kong toys provide a form of therapy/behavior modification. A Kong dog toy serves to distract your pet from whatever the "problem behavior" might be. I (and my friends) have found that this really works!
A Kong is a unique dog toy that exercises a dog's mind, at the same time that it gives a dog the satisfaction of a job well done.
For dogs who remain alone for long periods of time (say, while you're at work), Kong dog toys provide a form of entertainment and prevent boredom.
Regular use of Kong chew toys can improve your dog's oral health. While playing with the Kong, the rubber toy naturally works its way into cracks and crevices between your dog's teeth, effectively removing plaque and food particles.
Kongs are quite effective when used as a training device… to break "bad behaviors" and teach "good behaviors".
Since Kong toys can be filled with a wide variety of "goodies", your dog will always look forward to the opportunity to find what's inside. As a result, it's a toy that your dog never gets bored with.
For dogs who are living a sedentary life, a Kong toy will entice your dog to play more and be more active. The Kong's unpredictable bounce lures most dogs into a game of chase, catch and chew — especially when it's filled with food treats!
For those who are crate training, or whose dogs remain in a crate long hours while you're away, Kong toys can help a dog feel more comfortable while being crated. It's as if the dog receives immediate gratification — a positive reward — while being crated.
Kongs grow with your pet. There are a variety of sizes and styles to accommodate even the youngest puppies and full-grown dogs of all shapes and sizes.
Little-Known Facts About Kong Dog Toys
The Kong toy was created after Joe Markham was working on his VW van one day, while his German Shepherd, Fritz, was chewing on rocks nearby. In an attempt to break Fritz of his rock chewing habit, Joe tossed spare car parts — like radiator hoses — near Fritz to see if he could be coaxed away from this destructive behavior. The only thing that worked was a spare suspension part… which ultimately led to the invention of the Kong dog toy!
The key to the Kong's success is its hollow center which can be filled with dog treats, then washed out and reused. For the record, I've never seen a dog find much enjoyment from a Kong toy that WASN'T filled with treats. The ability to place dog treats inside is what makes this toy so effective, and so well worth the money.
Dogs LIKE to hunt for food… They are born this way. Not only is it physically and intellectually challenging for the dog, the act of hunting effectively becomes their primary form of "work". And the reward for a job well done?… some food at the end. You could even add more (than one) stuffed Kong toys into a dog's daily routine to increase their "work time".
 Make sure you have a separate Kong toy for each dog in the household. Early on, we made it clear with our two dogs which "treat toy" belonged to which dog, and it seems to have made sense with them. For the most part, neither attempts to play with the other dog's Kong toy, and on the rare occasion that one does, a simple "no" does the trick. (TIP: The Kongs should also be of different shape, size, and color.)
Kongs require very little maintenance or care. They are so durable… virtually indestructible… they can even be washed on the top shelf of your dishwasher. What could be easier than that?!
While Kongs are built super-tough to withstand years of chewing, certain large-breed dogs have been known to destroy even the hardest Kong toy, including: Mastiffs, Rottweilers, German Shepherds, and Labrador Retrievers (…though our Labs haven't even made a dent).
According to the Kong Company:
NO DOG TOY IS INDESTRUCTIBLE. Supervise your dog's use of Kongs until you are confident they can be used safely without supervision."
RELATED: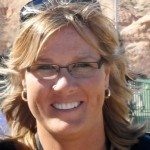 I like to help people find unique ways to do things in order to save time & money — so I write about "outside the box" ideas that most wouldn't think of. As a lifelong dog owner, I often share my best tips for living with and training dogs. I worked in Higher Ed over 10 years before switching gears to pursue activities that I'm truly passionate about. I've worked at a vet, in a photo lab, and at a zoo — to name a few. I enjoy the outdoors via bicycle, motorcycle, Jeep, or RV. You can always find me at the corner of Good News & Fun Times as publisher of The Fun Times Guide (32 fun & helpful websites).
,