This post may contain affiliate links. If you buy thru these links, we may earn a commission at no additional cost to you.
---
How many times have you been talking out loud in the presence of your dog and you wonder if he really understands what you are saying?
If you have one of the smartest dog breeds, then you've probably done this a lot.
Perhaps you've sensed that your dog actually knows what you're saying — either by his body language, or by the way he adjusts his ears, wags his tail, or his sudden display of excitement.
I know I have.
Well, I'm beginning to think my dog is much smarter than I give him credit for.
I think he can spell words!
Here's what I'm talking about…
My Dog Spells Words
My husband and I have resorted to spelling various words in order to talk about certain things in his presence.
The idea: If we spell it, he won't hear that magic word that gets him all riled up in anticipation of whatever it is.
So when hubby and are talking amongst ourselves about something we're planning to do with the dog (like take him for a ride in the car, give him a treat, go for a walk, take the dog to get the mail, etc.), we typically spell those "trigger" words:
C-A-R
T (for treat)
W-A-L-K
M-A-I-L
B-A-T-H
…you get the idea.
Well, as it turns out, we've apparently been spelling things so frequently in front of him, that he now gets just as excited when we spell the words as when we actually say them!
And believe me… he knows exactly what we're talking about, too.
This actually makes perfect sense, because it's the same way that a dog learns any new word. It's just funny to think that a dog can actually associate "letters" with things just as easily as he can associate "words" with new behaviors and dog tricks.
What's next?… Will he be talking soon?
Yep, I'm pretty sure. He's already started singing on cue!
Proof That Dogs Understand Human Language (And Photos)
There is a Border Collie named Rico that can understand at least 200 different names for objects and fetch them for his owners.  So it's clear that dogs can understand the human language!
They've also looked at how dogs understand images (like photographs) compared to the real thing.
They took 5 Border Collies — 3 that knew names of different items and the other 2 had no idea.  They first showed the dogs photos of an item. Next, the dogs went into a different room to find the "real" item that they had just seen depicted in the photograph.
Surprisingly, all of the dogs did very well on this experiment.
So yes, dogs understand human language and items in photographs!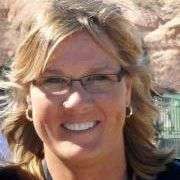 I like to help Dog Parents find unique ways to do things that will save time & money — so I write about "outside the box" Dog Tips and Dog Hacks that most wouldn't think of. I'm a lifelong dog owner — currently have 2 mixed breed Golden Aussies that we found abandoned on the side of the road as puppies. I've always trained my own dogs and help friends train theirs, as well. Professionally, I worked at a vet and have several friends who are veterinarians — whom I consult with regularly. (And just because I love animals so much, I also worked at a Zoo for awhile!) I've been sharing my best ideas with others by blogging full-time since 1998 (the same year that Google started… and before the days of Facebook and YouTube). My daily motivation is to help first-time dog owners be better prepared from the first day your new puppy enters your home. I like to help dog owners understand what's 'normal' and what you can expect in terms of living with and training your dog — how to get through the ups & downs of potty training, chewing, teaching commands, getting your dog to listen, and everything else that takes place during that hectic first year! When I'm not training, walking, grooming, or making homemade treats for my dogs, you will find me at the corner of Good News & Fun Times as publisher of The Fun Times Guide (32 fun & helpful websites). To date, I've written over 600 articles for dog owners on this site! Many of them have upwards of 200K shares.