This post may contain affiliate links. If you buy thru these links, we may earn a commission at no additional cost to you.
---
Whether you're a new dog owner, or you've had a dog for years… the fact of the matter is you can find a lot of great deals on items for your dog on eBay!
Here's how…
Find It Fast On Ebay!
Know exactly what you're looking for?
If so, then you can jump right to the exact category of dog stuff here: Dog Categories On eBay.
Take Your Time Exploring Dog Stuff On Ebay
If you're just looking for fun new things for your dog in general, then you probably want to go directly to the current eBay auctions that feature dog items.
From there, I like to sort the auctions in a way that's most meaningful for me. So I change the drop-down list to "Time: ending soonest". You'll see all of the dog-related auctions that are about to end. And that's precisely the time you want to place a bid… when there isn't much time left for others to outbid you.
If this is the first time in a long time that you've checked out the dog supplies auctions on eBay, then you'll probably just want to browse around on this visit. You may not want to buy until you have a better idea of what's really available out there and the price ranges that dog items are being sold for.
Here's a great eBay tool to see what dog items typically sell for, the best days to buy, categories to look under, and more!
You can fine-tune the list of auctions even further by clicking on the word "Price". I like to sort the results with the lowest prices at the top of the list. You can often find amazing deals this way — especially if the seller hasn't placed a "minimum bid" or a "reserve" on the item and the auction is just minutes from closing! Often, you can place a really low bid and walk away the "winner". Talk about FUN!!!
TIP: Some eBay sellers may not have a minimum bid or reserve price placed on their item, but they'll have some outrageous price for shipping instead. Many times, the end result is the same… you'd have to pay quite a bit for a single item. Usually, if it says "see description" under the Shipping column, it means they have some pretty high shipping fees or stipulations. (I skip those.)
From there, you can continue to fine-tune your search results using the options in the lefthand column.
Haven't found anything you're interested in yet?… Then check out the dog categories on eBay. Click on one of those, then fine-tune your results as described above.
Before You Decide To Purchase An Item On Ebay…
#1 Make sure that you take the time to check out the seller's Feedback Rating first. (Just click on the item itself and you'll find the seller's ratings to the right.) I don't usually buy from a seller who has anything less than 99% positive. Who wants to waste the time? I simply don't take chances on shady sellers who might not fulfill the order or who have a habit of sending poor quality items.
#2 Read the description of the item thoroughly before you place a bid on an item. The good news is… people are usually very honest and open about even the smallest details of the items they're selling. But if you have a question, email them. That's one of the reasons that eBay is so great… it's pretty easy to learn about the seller's history and contact them with questions. (Don't worry, email addresses are not exchanged… it's all done online through eBay.)
So that's about it… the basics of finding good deals on items for dogs at eBay. Have fun!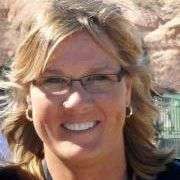 I like to help Dog Parents find unique ways to do things that will save time & money — so I write about "outside the box" Dog Tips and Dog Hacks that most wouldn't think of. I'm a lifelong dog owner — currently have 2 mixed breed Golden Aussies that we found abandoned on the side of the road as puppies. I've always trained my own dogs and help friends train theirs, as well. Professionally, I worked at a vet and have several friends who are veterinarians — whom I consult with regularly. (And just because I love animals so much, I also worked at a Zoo for awhile!) I've been sharing my best ideas with others by blogging full-time since 1998 (the same year that Google started… and before the days of Facebook and YouTube). My daily motivation is to help first-time dog owners be better prepared from the first day your new puppy enters your home. I like to help dog owners understand what's 'normal' and what you can expect in terms of living with and training your dog — how to get through the ups & downs of potty training, chewing, teaching commands, getting your dog to listen, and everything else that takes place during that hectic first year! When I'm not training, walking, grooming, or making homemade treats for my dogs, you will find me at the corner of Good News & Fun Times as publisher of The Fun Times Guide (32 fun & helpful websites). To date, I've written over 600 articles for dog owners on this site! Many of them have upwards of 200K shares.