This post may contain affiliate links. If you buy thru these links, we may earn a commission at no additional cost to you.
---
Do you dread going to the vet? I know, me too sometimes. (And I'm sure my dog dreads it even more than I do.)
I worked at a vet's office for awhile, and I learned a few tricks while I was there.
Today's quick tip makes the process of going to the veterinarian's office quick & painless — for all involved!
My Secret To A Quick Vet Appointment
It's a fact…
Doctors typically spend more time than they intend to with any given patient. This is true for human doctors as well as animal doctors.
With regard to vet appointments, the reasons for this are:
Dog owners have questions.
Dogs show different symptoms in the office than they do at home.
It takes time to get lab tests done.
Sometimes it's difficult to diagnosis and then dispense medications to treat your dog without taking the time to rule out everything else that could be causing "the problem".
That's why I've learned I always grab the very first appointment of the day! This ensures that your vet visit will get started right on time — rather than it getting pushed back later and later, due to the earlier appointments going long.
So… if you want to spend less time in the waiting room and more time chatting one-on-one with the veterinarian, be sure to get an early appointment.
Veterinarians tend to be in less of a hurry during their first appointments of the day. It's not until after lunch that they start trying to play "catch up" with the remaining appointments that day.
However, when the veterinarian is not in a hurry, you will be more likely to have the vet's full attention and you won't have to wait long to be seen. (Sure, other patients may have to wait until you get all of your questions answered, but at least it's not you who has to do the waiting for a change!)
I've seen firsthand that after the first few appointments of the day have gone past their allotted times, it doesn't take long before the doctor's remaining appointments for the day are completely out of whack and everyone's pushed back — anywhere from 30 minutes to an hour (…or more).
That means people — and their pets — are left to wait out in the lobby. And to be in the company of restless, hyperactive, barking, and often ill pets (and their irritated owners) is not all that pleasant of an experience.
And that, my friends, is why I always book my vet appointment for the first one of the day!
The best times to get in & out of the vet's office in a hurry:
8:00 AM (or whatever the first appointment of the day is)
8:30 AM (or whatever the 2nd appointment of the day is)
9:00 AM (or whatever the 3rd appointment of the day is)
1:00 PM (or whatever the first appointment is after the doctor's lunch hour)
1:30 PM (or whatever the 2nd appointment is after the lunch hour)
That's it. I don't book appointments at other times — unless it's an emergency. In which case, time is of the essence and all of this is completely irrelevant.
Other Ways I've Found To Speed Up Vet Visits
Here are 2 other tips to help you get in and out of a vet appointment really quick:
#1 – Take samples with you, instead of relying on the vet techs to get a poop sample while you wait.
#2 – Ask the vet your question over the phone, rather than making an appointment.
More Vet-Related Dog Tips
In addition to the links I've included above, here are some other resources to help you make the most of your vet appointments (…or even avoid them altogether!):
Like this post? Save it to read again later… or share with others on Pinterest!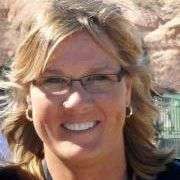 I like to help Dog Parents find unique ways to do things that will save time & money — so I write about "outside the box" Dog Tips and Dog Hacks that most wouldn't think of. I'm a lifelong dog owner — currently have 2 mixed breed Golden Aussies that we found abandoned on the side of the road as puppies. I've always trained my own dogs and help friends train theirs, as well. Professionally, I worked at a vet and have several friends who are veterinarians — whom I consult with regularly. (And just because I love animals so much, I also worked at a Zoo for awhile!) I've been sharing my best ideas with others by blogging full-time since 1998 (the same year that Google started… and before the days of Facebook and YouTube). My daily motivation is to help first-time dog owners be better prepared from the first day your new puppy enters your home. I like to help dog owners understand what's 'normal' and what you can expect in terms of living with and training your dog — how to get through the ups & downs of potty training, chewing, teaching commands, getting your dog to listen, and everything else that takes place during that hectic first year! When I'm not training, walking, grooming, or making homemade treats for my dogs, you will find me at the corner of Good News & Fun Times as publisher of The Fun Times Guide (32 fun & helpful websites). To date, I've written over 600 articles for dog owners on this site! Many of them have upwards of 200K shares.