This post may contain affiliate links. If you buy thru these links, we may earn a commission at no additional cost to you.
---
Emergencies happen when you least expect them.
Take the time to prepare now so your pet sitter AND your vet will know how to handle an emergency, in the event that you're out of town and your dog needs help.
How To Prepare Your Vet and Your Pet Sitter
If you will be going away for a day or so and leaving your dog with a pet sitter, one thing to keep in mind is: Accidents happen!
For peace of mind — yours, and your dog sitter's — you should take the necessary steps authorizing
a) your pet sitter to take your dog to the vet; and
b) your vet to provide any necessary treatment.
The last thing you'd want is for anyone to have to deal with issues of ownership or financial responsibility at such a time.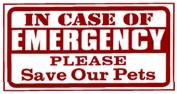 For The Pet Sitter:
Your best bet is to draft up a simple form that you sign and leave for your pet sitter.
Something like this:
---
I ________________ (Your Name) will be away from ______ (Date) to ______ (Date) and during that time ________________ (Pet Sitter's Name) will be caring for my pet.
I hereby authorize ________________ (Pet Sitter's Name) to seek medical attention, if necessary, and bill all costs to me.
Signed ________________ (Your Signature)
OUR VET: Office Name, Address, City, State, ZIP, Phone
EMERGENCY CARE CLINIC: (after-hours) Office Name, Address, City, State, ZIP, Phone
---
Also, don't forget to leave your vet's phone number, address, and even written directions (if your dog sitter has never been to this particular vet before) in a prominent location — say, on the refrigerator. I would also advise your pet sitter to phone ahead to let the vet know she's coming first.
Here are a few pet sitter forms that you can print out at home:
For The Vet:
In the event of an emergency, chances are the dog sitter would likely forget to grab the authorization form and take it to the vet with her, so you should also fax or mail a copy of the signed form to your vet. (At the very least, phone this information in to your vet.)
That way, they would be aware ahead of time of what to do should anything happen to your dog while you are gone. And, it would also bring to their attention the fact that someone different might be phoning or visiting the clinic with your dog.
Depending on your relationship with your vet, you may want/have to leave a credit card number on file with them to cover any costs. Phone them before you leave to make sure.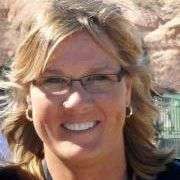 I like to help Dog Parents find unique ways to do things that will save time & money — so I write about "outside the box" Dog Tips and Dog Hacks that most wouldn't think of. I'm a lifelong dog owner — currently have 2 mixed breed Golden Aussies that we found abandoned on the side of the road as puppies. I've always trained my own dogs and help friends train theirs, as well. Professionally, I worked at a vet and have several friends who are veterinarians — whom I consult with regularly. (And just because I love animals so much, I also worked at a Zoo for awhile!) I've been sharing my best ideas with others by blogging full-time since 1998 (the same year that Google started… and before the days of Facebook and YouTube). My daily motivation is to help first-time dog owners be better prepared from the first day your new puppy enters your home. I like to help dog owners understand what's 'normal' and what you can expect in terms of living with and training your dog — how to get through the ups & downs of potty training, chewing, teaching commands, getting your dog to listen, and everything else that takes place during that hectic first year! When I'm not training, walking, grooming, or making homemade treats for my dogs, you will find me at the corner of Good News & Fun Times as publisher of The Fun Times Guide (32 fun & helpful websites). To date, I've written over 600 articles for dog owners on this site! Many of them have upwards of 200K shares.