This post may contain affiliate links. If you buy thru these links, we may earn a commission at no additional cost to you.
---
This happened to me not too long ago…
On a car ride with our dog one Saturday afternoon, Jim went into a pet store to buy some dog treats — while Destin and I waited in the car.
When Jim returned, I opened up the dog treat box (eager to share a couple of treats with the dog who had been "such a good boy" on this extra-long car ride) only to discover dozens of tiny gnats and insect-looking bugs hopping in and around the treats inside the box! (These were hard dog treats in a box, not the moist & meaty kind that require a stay-fresh sealed bag.)
Never before this had we ever stopped to think that dog food and dog treats do expire just like human foods do. (Shame on us.)
The date on this particular box of treats was several months past.
Jim took the box right back into the store where they eagerly offered him another box with a better expiration date. (They were quite embarrassed when they saw the bugs inside!)
Keep in mind, dog food and dog treats can go "bad" for other reasons, as well.
The major sources of damage to pet food are oxygen, heat, humidity, and light. 

– Source
The Shelf Life Of Dog Food & Treats
Yes, dog foods and treats have a shelf life — and often it is quite a lengthy period of time — but after that shelf-life has expired (as indicated by the "best by" date or the "expiration date" stamped on the side of the package), the stores are supposed to remove the product from the store shelves.
…Sometimes they miss a few.
That's why it's important to always check the date on the side of any product you buy that your dog will be ingesting.
So, what's the shelf life of dog food & treats? And how long after the expiration date is dog food still edible?
According to Katharine Hillestad, DVM, "Most dry foods have a shelf life of one year, while canned products are usually good for two years from the date of manufacture."
And here's something I found in a study prepared for the Grocery Manufacturers of America and the Food Marketing Institute that sheds a bit of light on "expiration dates" in general:
It is important to note that, across the broad spectrum of consumer packaged goods categories, date coding practices are intended to ensure that products are safe to consume and meet quality control specifications of the manufacturer for some time beyond the actual expiration date. Clearly, this is very different from category to category. For example, refrigerated orange juice will deteriorate much faster after date of expiration than will shelf-stable dry dog food. 

– Source
Be Careful If You Shop In Bulk
If (like me), you tend to stock up on a huge supply of your dog's favorite food or treat when it goes on sale, make sure you check the date each time you open a new box.
Who knows?… You might not make it through all those food treats as quickly as you thought you would.
Tips For Refilling Dog Treat Jars & Dog Food Containers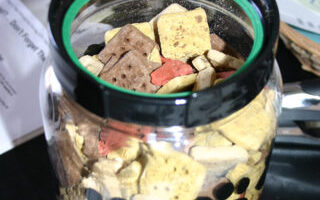 If you have a "treat jar" for your dog in your home, your car, your office, or at "grandma's house"…
Don't just keep pouring new fresh treats on top of the old stale ones each time you refill the jar. At some point, those treats at the bottom of the jar are going to go bad.
If it's been awhile since you've completely emptied your dog's treat jar, I would encourage you to be "extra kind" to your dog in the coming weeks, until you make your way to the very bottom of the treat jar. One idea: Use every last treat in that jar as an incentive to teach your dog some new tricks!
And if (like me), you empty large bags of dog food into a big Rubbermaid-type container and scoop out individual servings from there as you need them…
Make sure you completely empty out the food that's in there every so often — rather than just keep pouring fresh food on top of the remaining "old" food that's already in the container.
Better yet, thoroughly wash out the container itself before you pour fresh new food inside it. All those "crumbs" that remain at the bottom of a dog food bag are the perfect breeding ground for worms and other insects. (Been there, done that — especially in warmer/more humid climates. And even moreso if your dog's food is kept in the garage — which is never a good idea.)
The residual fat that settles on the bottom of the container can become rancid beyond its shelf life (the date stamped on the bag). This spoiled fat may contaminate fresh food added to the container, causing vomiting or diarrhea when fed to your pet. 

– Source
RELATED: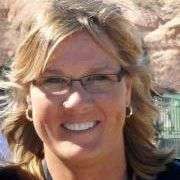 I like to help Dog Parents find unique ways to do things that will save time & money — so I write about "outside the box" Dog Tips and Dog Hacks that most wouldn't think of. I'm a lifelong dog owner — currently have 2 mixed breed Golden Aussies that we found abandoned on the side of the road as puppies. I've always trained my own dogs and help friends train theirs, as well. Professionally, I worked at a vet and have several friends who are veterinarians — whom I consult with regularly. (And just because I love animals so much, I also worked at a Zoo for awhile!) I've been sharing my best ideas with others by blogging full-time since 1998 (the same year that Google started… and before the days of Facebook and YouTube). My daily motivation is to help first-time dog owners be better prepared from the first day your new puppy enters your home. I like to help dog owners understand what's 'normal' and what you can expect in terms of living with and training your dog — how to get through the ups & downs of potty training, chewing, teaching commands, getting your dog to listen, and everything else that takes place during that hectic first year! When I'm not training, walking, grooming, or making homemade treats for my dogs, you will find me at the corner of Good News & Fun Times as publisher of The Fun Times Guide (32 fun & helpful websites). To date, I've written over 600 articles for dog owners on this site! Many of them have upwards of 200K shares.