This post may contain affiliate links. If you buy thru these links, we may earn a commission at no additional cost to you.
---
Dressing up your dog in funny outfits is a secret pleasure that we're all guilty of.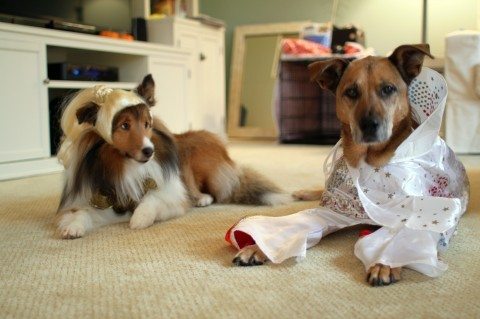 Must see: Pictures Of Dogs Wearing Halloween Costumes
As long as the costume is not restrictive or uncomfortable, many dogs can learn to love their fun outfits and enjoy the extra attention that comes with being dressed up.
Halloween is the best time of year to dress your dog in a hilarious costume that will get him lots of extra hugs and dog treats.
6 DIY Dog Halloween Costumes
#1 – Chia Pet Dog Costume
Remember those terracotta figurines from the Chia Pet commercials?
Everyone does — which means everyone will get the reference when you dress up your dog as a Chia Pet planter!
It's an easy dog costume to make.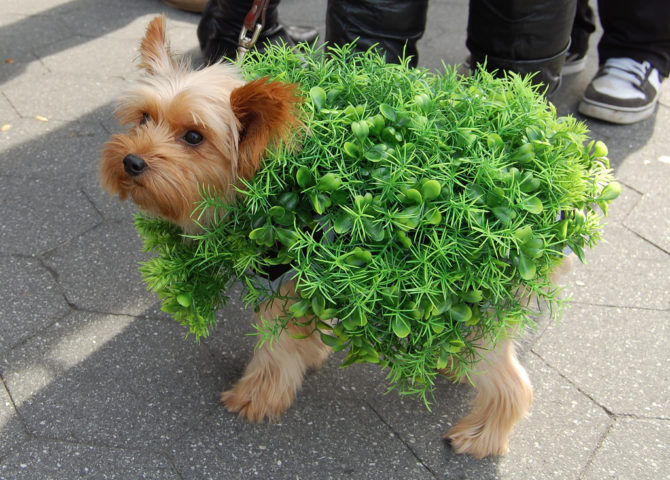 Here's how:
For a small dog, you'll need an orange baby sleeper that will imitate the look of the terracotta figurine.
Cut off the feet and add a hole for potty purposes
Then sew fake, Dollar Store greenery to the back and shoulders. Attach the soft, fabric leaves close together, avoiding parts that could stick out and annoy your dog.
If your dog is too large to fit in a baby sleeper, a large, modified t-shirt should work well.
How to DIY a Chia Pet Dog Costume
#2 – Lego Costume For Dogs
If you are dressing up as a Lego figure for Halloween, then make a dog Lego block costume as an adorable addition to your building set.
Here's how:
Use a shoebox (or other appropriately-sized box) to create the base for your dog's Lego block costume.
Glue 6 identical plastic cups to the top.
Spray paint the cups and the box all the same color.
The costume can be secured with elastic straps found in any craft store. Velcro tape can be added to the straps for easy on and off.
The following video shows how to make a Lego costume for humans. Just choose a smaller box size to make a Lego costume for your dog:
DIY LEGO COSTUME - LAST MINUTE
#3 – Horse Jockey Costume For Dogs
This one is a classic! Your dog is the racehorse and a doll is the jockey.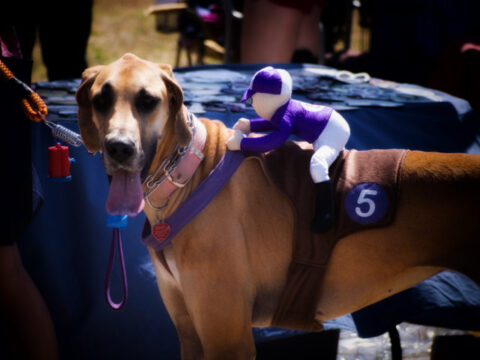 Here's how:
Find a floppy, lightweight fabric doll and sew Velcro tape to its hands.
Stick the doll's hands together around the dog's harness or collar.
Make a simple saddle with a bright piece of fabric, then glue (or sew) a big number to the side.
This outfit is cute with a head halter. Keep in mind, head halters are a training tool, so it might not make a good costume accessory if your dog is not already accustomed to wearing one.
Husky Puppy Halloween Costume Dog Freezes Funny Must See
#4 – Dog Sushi Costume
Like sushi? Then you'll love dressing up your dog as a California Roll.
Here's how:
Start with a white baby onesie or t-shirt.
Use fabric glue to attach white packing peanuts (to represent rice).
Add bits of leftover fabric for the pieces of fish and vegetables inside the sushi roll.
Finally, wrap your little sushi with a piece of seaweed made from faux leather or a stretchy black fabric.
Here's another example of a pet sushi roll costume, as demonstrated by a cat:
#5 – Smurf­­ Dog Costume
You will have to dye your dog's fur blue temporarily for this costume. There are many safe ways to dye dog fur.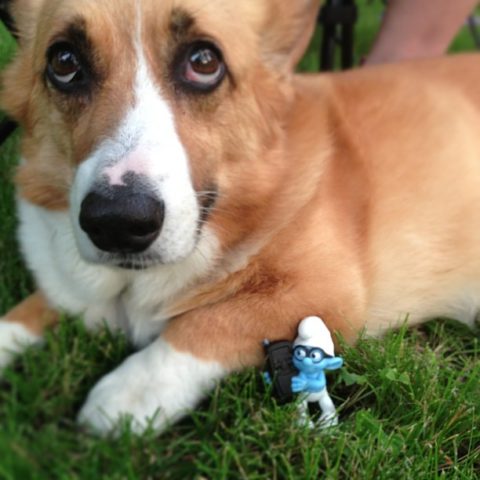 Here's how:
Specially made dog hair dyes are available, but hard to find.
It is also possible to dye your dog's fur using Koolaid. Simply mix half a cup of dog conditioner with a packet of unsweetened Koolaid drink mix. Comb it through your dog's fur and let it sit for 5 minutes. Rinse completely. Koolaid mix stains very easily, so this could become a very messy project.
Once your dog's fur is blue, add a white baby hat or modified sock to create that classic Smurf hat.
A white baby tank top makes a great Smurfette dress.
IMPORTANT: Do not dye your dog's fur if they have any history of skin sensitivity or allergies!
The FRENCH BULLDOG SMURFS at the New York City Halloween Howl Dog Parade
#6 – Spider Dog Costume
One of the funniest dog Halloween costumes I've ever seen is this dog spider costume:
Mutant Giant Spider Dog (SA Wardega)
If you want to get a lot of attention (and your dog can take the extra screams and sudden movements from people who become frightened), then you might consider making a dog spider costume yourself.
Here's how:
Buy a large spider prop from the Halloween section at any craft or department store. Cut the legs off and attach them to a black dog life-vest or a regular black t-shirt using these tips.
Or, if you're up for a little more sewing, follow Martha Stewart's step-by-step instructions for making a spider dog costume.
Basically, you can wrap any furry black/brown material around something soft and bendable (like a wire framed bandanas or black socks stuffed with shredded paper) to make the legs. Then glue the legs onto a similar colored t-shirt that fits your dog. Then add a black antenna headband, if desired.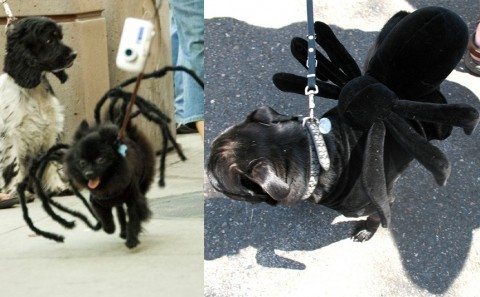 Good idea!… Homemade Dog Treats To Hand Out To Dogs On Halloween
Tips For Getting Your Dog To Wear A Costume
Be sure to practice before Halloween by lavishing your dog with treats whenever he wears his costume without fussing.
Of course, your dog's comfort and safety should be prioritized over his cuteness.
Give your dog frequent costume breaks and a few extra treats so they can have just as much fun on Halloween as the kids do!
Follow these tips:
Like this post? Save it to read again later… or share with others on Pinterest!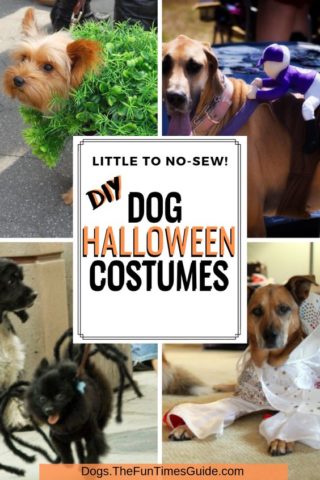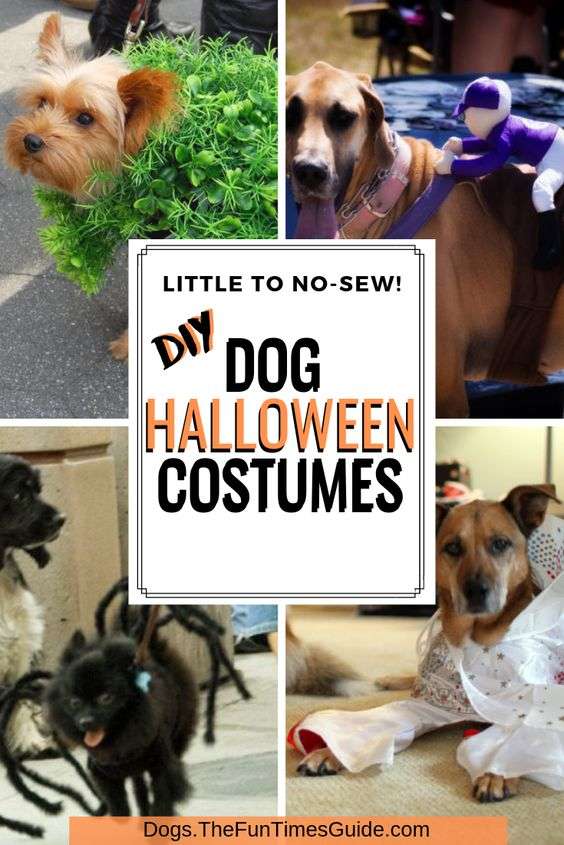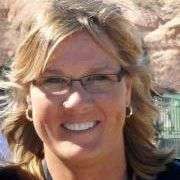 I like to help Dog Parents find unique ways to do things that will save time & money — so I write about "outside the box" Dog Tips and Dog Hacks that most wouldn't think of. I'm a lifelong dog owner — currently have 2 mixed breed Golden Aussies that we found abandoned on the side of the road as puppies. I've always trained my own dogs and help friends train theirs, as well. Professionally, I worked at a vet and have several friends who are veterinarians — whom I consult with regularly. (And just because I love animals so much, I also worked at a Zoo for awhile!) I've been sharing my best ideas with others by blogging full-time since 1998 (the same year that Google started… and before the days of Facebook and YouTube). My daily motivation is to help first-time dog owners be better prepared from the first day your new puppy enters your home. I like to help dog owners understand what's 'normal' and what you can expect in terms of living with and training your dog — how to get through the ups & downs of potty training, chewing, teaching commands, getting your dog to listen, and everything else that takes place during that hectic first year! When I'm not training, walking, grooming, or making homemade treats for my dogs, you will find me at the corner of Good News & Fun Times as publisher of The Fun Times Guide (32 fun & helpful websites). To date, I've written over 600 articles for dog owners on this site! Many of them have upwards of 200K shares.