This post may contain affiliate links. If you buy thru these links, we may earn a commission at no additional cost to you.
---
Thinking of changing your dog's name?
There are a few reasons that you might want to rename your dog:
Whatever the reason (see more reasons below), you're probably wondering whether it's actually possible to change a dog's name after they've grown used to it.
And if so… up til how old can you change a dog's name? And how do you get a dog to learn its name?
So today we're going to focus on how to rename a dog and what you need to do first — before calling your dog by a new name.
It's important to learn all of this before you start to call your dog by its new name — that way, you'll always have your dog's full attention while you're training them to adapt in their new home. Imagine how confusing it would be for you if someone just starting calling you by a new name and expecting you to answer right away!
So, let's get started and cover all these different aspects — so you can decide if it's appropriate to change your dog's name right now and how to do it successfully.
Can You Rename A Dog?
In short, the answer is yes — absolutely!
The dog's age doesn't matter.
As long as you train your dog properly to understand their new name, then there are actually very few instances when it is not acceptable to change your dog's name. (I'll touch on those in a minute.)
When It Makes Sense To Change A Dog's Name
These are the most common reasons for changing a dog's name:
They came from an abusive home. If your dog has been physically abused, then they will most likely associate their old name with a) being hurt, and b) the person that didn't care for them. In cases like this, it's always best that you rename your dog.
You adopted your dog from a rescue center. If you re-home a dog from a shelter, you may not like their original name. Or maybe you just want to give them fresh new start… including a new name.
Your dog has started to ignore their name. It is vital that your dog always responds to their name. If they happen to be a stubborn dog that has learned to ignore their name when you call them, then you'll need to give your dog a new name. A new name, along with a reward-based training program can help you to re-train your stubborn dog.
You don't actually know their name. There are situations where you might not know the name of a dog. For example, if you've found a dog that has no collar and you're unsuccessful in finding the owner, then you might want to offer the dog a new home along with a new name.
You've changed your mind about the original name you gave your dog. While this is not ideal, you can change your dog's name even if you just happen to have changed your mind about it. To avoid having to do this in the future, you should always spend a good amount of time choosing a name for your dog.
When You Shouldn't Change A Dog's Name
These are the times when it would not be appropriate to change your dog's name:
Your dog is old or has some issues. If you've rescued an older dog from a shelter, then you will probably want to keep their name for consistency — especially if the dog is anxious or finding the move into their new home stressful. That's not to say you can't rename an older dog. You'll just need to take all of their personal circumstances into account first: What is their health like? Have they recently lost a loved one? If they have other major issues going on in their life, then it's best not to change the dog's name. Let them keep something that they're familiar with — for their sake.
Your dog is deaf. If your dog is partially deaf or completely deaf, then you should definitely avoid renaming them. There really is very little point to giving them a new name if they can't hear it being said.
You've already changed your dog's name before. You can't just keep changing your dog's name each time you get bored with it. This can be extremely confusing for your dog.
How To Rename A Dog
Renaming a dog isn't much different from teaching them a new command or dog trick.
First of all, give it some thought before choosing the best name for this dog.
Use these tips for renaming a dog:
You only want to change a dog's name once — so make sure to choose a name that you like.
Make sure it's a name that you'd feel comfortable shouting out in public.
Choose a name that it isn't too much of a mouthful to say.
If you're worried about changing your dog's name (or if you're changing the name of an older dog), then you might want to choose a name which sounds similar to their old name. This can help to make the process of changing their name easier for them.
How Do You Get A Dog To Learn Its Name?
When teaching a dog to learn its name, you should always:
Use positive reinforcement.
Give praise.
Reward your dog each time they respond to their new name.
The first few times you try to teach your dog their new name, make sure that you practice in a quiet place — without any distractions.
Carry treats around for the first few days when you're introducing your dog to their new name. Whenever you want your dog's attention, call their name and give them lots of praise — then reward with a treat! (You should do this even when your dog doesn't respond to the new name — so they can start to associate the new name with positive things.)
Always use a positive tone of voice when saying your dog's new name. Avoid using an angry or upset voice — even if they're chewing on your chair leg! Just redirect them to something else instead.
It's really important that you (and everyone else that lives with you) stay consistent with the name. Don't alternate between your dog's old name and new name.
Once your dog responds to their new name more consistently, you can slowly start to withdraw the treats until they are no longer needed to get your dog's full attention. Instead of treats, simply reward with praise, petting, and/or hugs.
Like this post? Save it to read again later… or share with others on Pinterest!
Our guest contributor, John, is the founder of All Things Dogs. He's a member of the Association of Professional Dog Trainers, a graduate in Animal Behavior and Welfare, and a recognized author by the Dog Writers Association of America.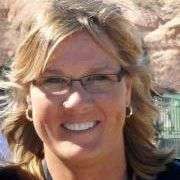 I like to help Dog Parents find unique ways to do things that will save time & money — so I write about "outside the box" Dog Tips and Dog Hacks that most wouldn't think of. I'm a lifelong dog owner — currently have 2 mixed breed Golden Aussies that we found abandoned on the side of the road as puppies. I've always trained my own dogs and help friends train theirs, as well. Professionally, I worked at a vet and have several friends who are veterinarians — whom I consult with regularly. (And just because I love animals so much, I also worked at a Zoo for awhile!) I've been sharing my best ideas with others by blogging full-time since 1998 (the same year that Google started… and before the days of Facebook and YouTube). My daily motivation is to help first-time dog owners be better prepared from the first day your new puppy enters your home. I like to help dog owners understand what's 'normal' and what you can expect in terms of living with and training your dog — how to get through the ups & downs of potty training, chewing, teaching commands, getting your dog to listen, and everything else that takes place during that hectic first year! When I'm not training, walking, grooming, or making homemade treats for my dogs, you will find me at the corner of Good News & Fun Times as publisher of The Fun Times Guide (32 fun & helpful websites). To date, I've written over 600 articles for dog owners on this site! Many of them have upwards of 200K shares.